LPL chief strategist Jeffrey Kleintop put out my favorite 2014 preview note of all the brokerage firms (and I've read them all, believe me).
One of his charts deals with the idea that historically strength has begotten strength in the US stock market. Anything can happen at all times but it's contextually helpful to understand the history (click to embiggen the chart).
Here's Jeff:
Looking Back
Some may fear an outsized gain in the stock market during 2013, is surely
to be punished with losses in the coming year. However, historically after a
one-year total return in the 25 – 30% range, the S&P 500 has followed it up
by more solid years of gains. In fact, the average return in a year following
a 25 – 30% gain was 12%, and stocks posted a double-digit gain in four of
the five occurrences (the exception was 1961's gain of 26.9%, which was
followed by a loss of 8.7% in 1962) [Figure 4]. In fact, most of the years were
actually followed by several years of strong gains, as was the case in 1943,
2003, and 2009.

Now here's the contrary argument  – some say that what happens in one year is statistically inconsequential for what happens in the following year based on probability. Here's Mark Hulbert writing at MarketWatch:
In fact, the stock market's odds in a given year are almost completely independent of what it did in the previous year. The accompanying table summarizes what I found upon analyzing the Dow Jones Industrial Average back to the late 1890s, when it was created.

Notice that, upon focusing on the entire period back to the 1890s, the apparent advantage the market has following 20-plus-percent gains complete disappears. In fact, it now appears as though the market enjoys a slight advantage following years in which the Dow fell — though, I hasten to add, this advantage is not statistically significant.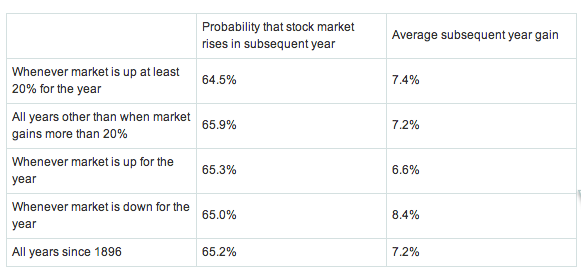 Josh here – I think it's a draw. I get the idea of a spillover effect as investors hasten to through more money at whatever just "worked" for them and a majority of investing decisions about the future are made based on the recent past. But I also have seen many situations where the beginning of the year after a good year overshoots. And sometimes that sets up a nasty countertrend which could wipe those early year gains out once the bulls get tired or run out of steam.
What do you think? Does strength beget strength from year to year? Or are there too many other variables coming down the pike to know?