It was much easier being an optimist before everyone else came around. As I said the other day, I no longer know what to think at this point (see: Now What?).
The data is all more constructive – Bill McBride (Calculated Risk) thinks we're on the cusp of a major lift this coming year. But the expectations have already run off to the races at this point. Even the black swan fetishists have dropped the black nail polish routine and crawled out of their Recency Effect caverns and spider-holes.
And so we're left with a sentiment bubble – if not fully formed then certainly one in the making. It's like the adrenaline surge people get from near-death experiences, a mass realization that things are turning out okay despite half a decade of misery and trauma. It's almost sexual in its urgency, its intensity.
Here's Peter Boockvar of the Lindsey Group on this morning's spike in bullishness, which is now totally embarrassing and berserk:
Investors Intelligence said Bulls rose again to 58.2 from 57.1 and is just shy of the highest level since October 2007. Bears remained unchanged at 14.3, the lowest since 1987. II said the 4 week average of bulls divided bulls+bears is the highest since at least 2004 and said "out of the previous twelve instances over the past ten years when this indicator formed a peak in overbought territory there has been just one weak signal and even then a correction came, just several weeks later. Each correction was of the magnitude of at least 5%."  For another comparison, at the current 4 week average read of 79.5%, it compares with about 73% in October 2007.
…and the chart, via Greedometer, who is unapologetically calling this a bubble: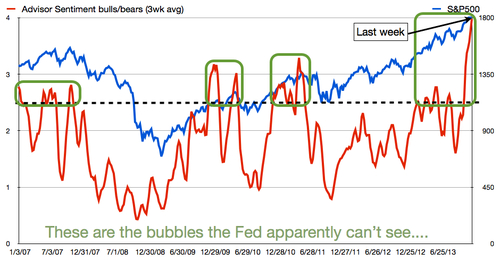 quoth the blogger:
If you don't see this bubble, you're probably one of the following:

– a long-only equity fund manager

– someone that sells to long-only fund managers (or needs them on your show)

– you work in a senior position at the Fed

– you are visually impaired

– some combination of the above.
Josh here – I gotta tell you, a 10% whoosh down sometime soon would be as welcome as rain in the desert. We're out of the only petrol that makes the market's motor hum constructively – Fear.
Read Also:
Advisors hit new all time record for bullishness. Beware… (Greedometer)
Update: Looking for Stronger Economic Growth in 2014 (Calculated Risk)