BlackRock has $4.1 trillion in assets under management – they're the largest investment management firm on earth – and probably 7 out of 10 people on the street where you live have never heard of them.
And as a result of being so large, the company owns an awful lot of shares in the world's largest public companies as well.
The Economist has a sprawling profile of the firm (it's the cover story of their latest print edition), from which the below chart comes: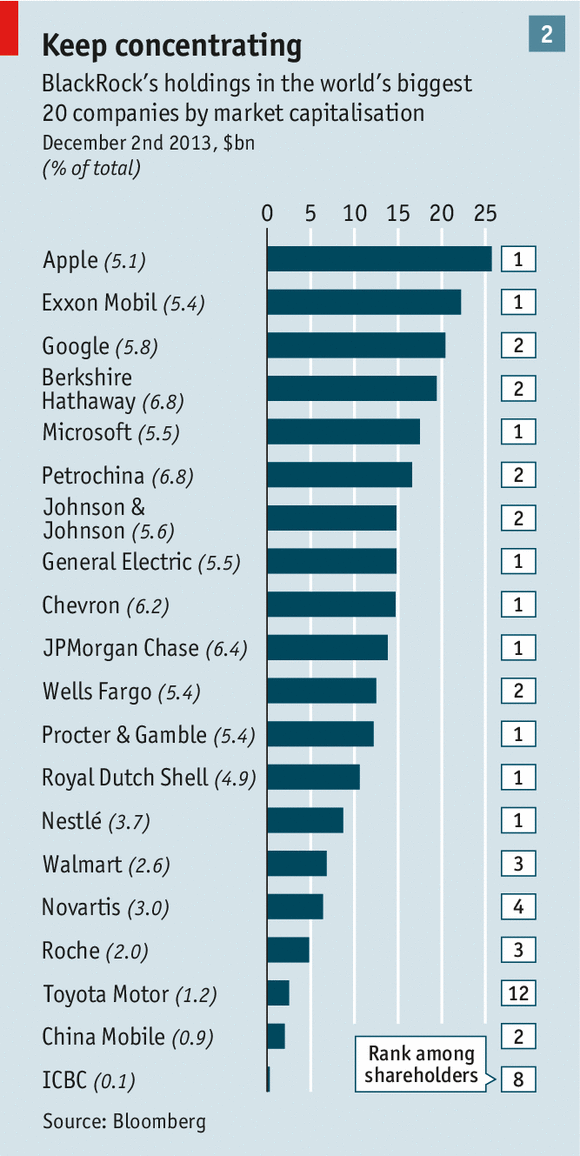 From the article:
Because BlackRock is often their largest shareholder (see chart 2), companies care what it thinks, even if the nature of its ETF business means that its level of investment in them is to some extent predetermined (to track indices, the company needs to keep hold of large chunks of the biggest companies on the market). When Stuart Gulliver took over HSBC, a bank, in early 2011, he flew to New York to ask for Mr Fink's support. And BlackRock prides itself on getting access to market-moving information just as any investment bank's trading desk would. Marketing presentations boast of the "access advantage" enjoyed by BlackRock, using "deep relationships with government and corporate issuers" to put it "in the flow of the most current information". That advantage is at least in part a factor of its awesome size.
BlackRock is becoming the New Boss. Thankfully, they haven't yet flexed these muscles in plain view just yet. Maybe they don't have to.
Source: