Thinking back on a great year for investing in the US stock market but a hard year on market participants overall.
US stocks went wild this year but almost nothing else kept pace – any attempt to hedge or diversify now looks to have been either futile or foolish here at year's end.
Consider:
The Global Dow Jones Index is up about 20% on the year, but the Global Dow ex-US is only up 9%.
Why bother with international exposure at all?
Long-term Treasurys are down 15% this year and their corporate bond counterparts are down 7%.  Munis, agencies and mortgage-backeds are all in the red, REITs are flat.
Why bother diversifying at all?
There are only 40 stocks in the S&P 500 that have a negative return on the year. There are more stocks in the S&P 500 with gains of over 60% YTD.
Why bother hedging at all?
The US stock market has spent over one full year above its 200-day moving average and hasn't been negative for a calendar year since 2011.
Why bother being tactical at all?
In hindsight, there was only one way to "win big" this year and "beat the markets": Buy and hold, long and strong, US stocks only. More importantly: No bonds, no shorts, no hedges, no diversification, no tactics.
No wonder trillions have been pouring into the passive products of Vanguard, iShares and State Street. It's the only game in town!
Investors are now preparing for the coming Battle of 2014 by exaggerating the posture and behavior that's worked for 2013. This is called the Recency Effect – believing the environment we've just been in is somehow a permanent one, extrapolating the just-was to construct an outlook for the soon-to-be.
They do it every year.
Many will throw away the portfolio playbook that didn't give them the best of all possible results this year. Diversification is broken. They'll move their chips into position solely on black, after all the roulette wheel just landed on black the last ten times – it's practically a can't-lose proposition.
At this time of year I'm more interested in whatever hasn't worked. The good news is that there's plenty of that to go around (via Capital Spectator, through Nov 2013):
***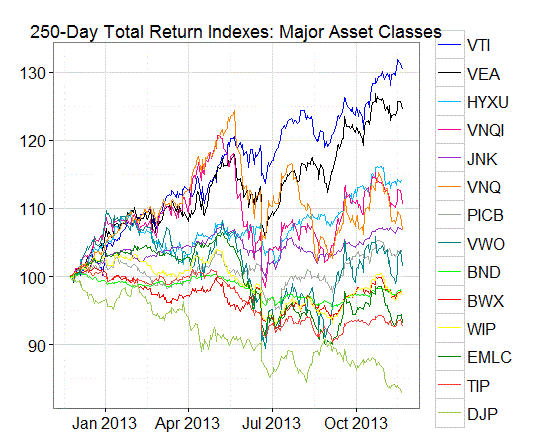 US Stocks (VTI)
Foreign Stocks Devlp'd Mkts (VEA)
Emg Mkt Stocks (VWO)
US REITs (VNQ)
US Bonds (BND)
US TIPS (TIP)
US Junk Bonds (JNK)
Foreign Devlp'd Mkt Gov't Bonds (BWX)
Emg Mkt Gov't Bonds (EMLC)
Commodities (DJP)
Foreign Gov't Inflation-Linked Bonds (WIP)
Foreign Invest-Grade Corp Bonds (PICB)
Foreign Junk Bonds (HYXU)
Foreign REITs (VNQI)