Savita Subramanian (BofA Merrill Quant Strategy)  is out with her latest look at the Sell Side Indicator, which is a measure of how bullish or bearish Wall Street firms are on the stock market.
Historically, it's been an incredibly good contrarian indicator. While it does not catch every bottom or top, the indicator has a higher r-squared (28%) than just about any other you can think of in terms of predicting subsequent 12-month returns for the S&P 500. Anecdotally, this pessimism-as-base-case on Wall Street has been one of the best tells to stay long (here's me in the summer of 2012 highlighting it).
And here's how the Sell Side Indicator stacks up versus the other tricks and treats your favorite Chief Strategist likes to pepper his monthly outlook pieces with: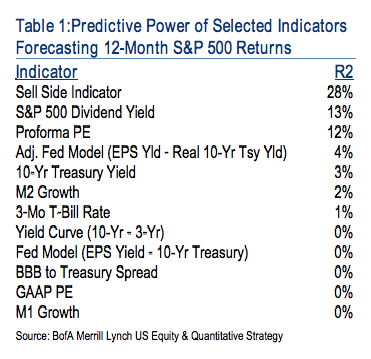 So where are we on the sentiment scale relative to the past? Subramanian notes that, while the Sell Side Sentiment index now sits at a 19-month high (up 12 of the last 15 months), we are still in "Buy" territory with stocks still way too forsaken and close to their 2009 sentiment lows. The strategist says "Historically, when our indicator has been this low or lower, total returns over the subsequent 12 months have been positive more than 95% of the time, with median 12-month returns of +27%." The indicator's current level would indicate an expected return for the S&P 500 of 18% in the next 12 months, based on the report.
Here's what it looks like: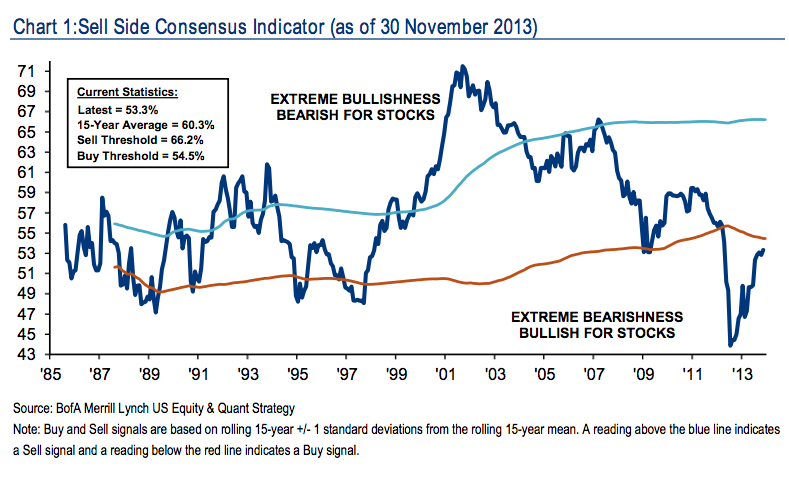 Source:
Bank of America Merrill Lynch