From Arthur Hill at the Stockcharts.com Blog, we get a look at a very important market internal measure called the Advance Decline Volume Line, which I believe to be a key to the continuing health of the rally. This measure is defined thusly:
The AD Volume Line is a cumulative measure of net advancing volume, which is the volume of advancing stocks less the volume of declining stocks. This indicator reflects the performance of large-caps because large-cap stocks typically trade much more volume than small and mid-caps.
Hill is looking at this AD Volume Line for the S&P 1500, which is the S&P 500 plus the Midcap 400 and the Smallcap 600, although obviously large cap volume will dominate this particular data series as the big stocks trade more shares each day. Here's what it looks like this year:
The chart below shows the S&P 1500 AD Volume Line ($SUPUDP) also breaking out and hitting a new high. This indicator has been trending higher the entire year with a series of higher highs and higher lows. The early November low now marks first support. With the S&P 1500 and these two breadth indicators hitting new highs, the long-term uptrend is clearly intact and clearly strong.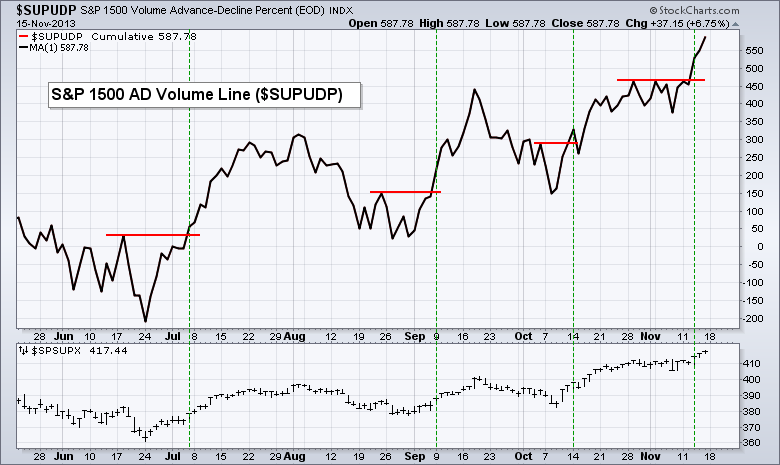 Josh here – Until something changes in these internals and there is a marked divergence from the index prices themselves, this bears all the hallmarks of a strong market getting stronger. Although there are other ways to measure breadth and internals that don't look as good (see Carter Worth's contrarian take here), advance-decline measures are the most mainstream and respected.
Source:
Breadth Indicators Confirm with New Highs (Stockcharts.com)