Why did the markets begin to go up in 2012 and never come down? Why was 2013 one of the best years for stocks on record?
Investors re-learned the lesson of not only not fighting the Fed, but also not fighting the Global Fed. That's right, we're all connected now.
In September 2012, the Bank of Japan launched its eight quantitative easing plan, bringing total asset purchases to 80 trillion yen. The ECB handed out another 529.5 billion euros, taking their bank lending program to north of 1 trillion euros. Also in September, the US Federal Reserve announced QE3, adding to the $2.3 trillion in liquidity they had already pumped in ad committing to another $40 billion in fresh cash per month indefinitely. In July of that year, the UK added another 50 billion pounds to their 375 billion pound asset purchase plan. There were also a total of 33 rate cuts around the world in addition to all of this asset purchasing, seen below…
Here's a chart from the Center for Applied Research on 2012's Ease-a-palooza: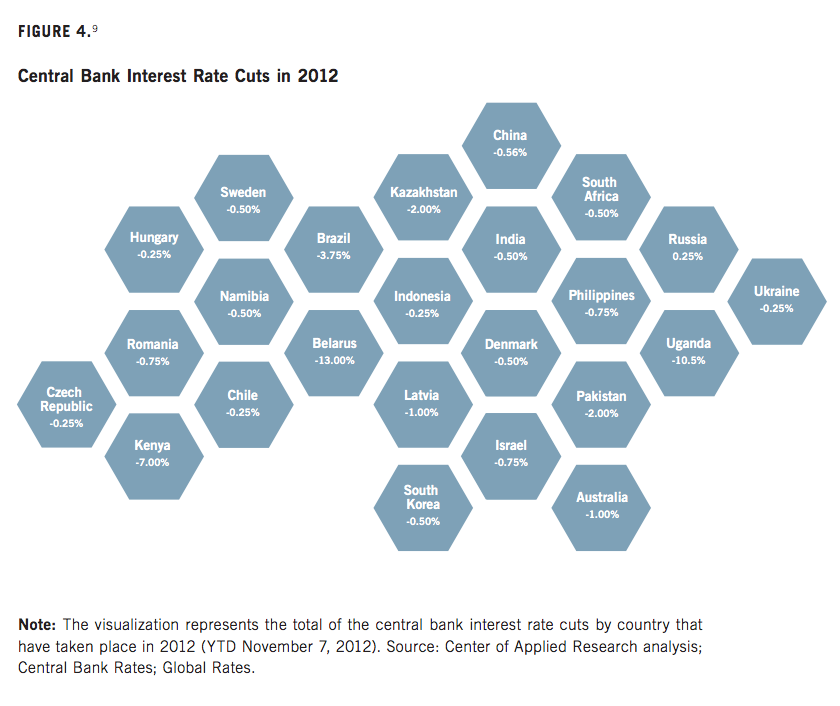 In hindsight, buying stocks seems like the obvious reaction to all of this stimulus coming from everywhere at once, does it not? Why was it so hard to do at the time for so many?
Three years ago I started thinking about the tsunami the Fed was sending toward the stock market. In October 2010, I talked about how "the more agile among us may want to start paddling their surfboards in front of the right wave now." It took a year from there before the wave could be spotted offshore in the form of QE2, but ever since then…
The lesson here is one you've already heard before – don't fight the Fed and especially don't fight every Fed around the world when they begin to ease all at once.
If the entities in control of trillions of dollars all want asset prices to be higher at the same time, what the hell else should you be positioning for?
It's complicated, but it's not always so complicated.
I know, I know, this will end badly. Someday.
Read Also: