There are a million different ways to observe market internals and breadth, but only a few important ones. Measuring the amount of stocks above a given moving average makes sense – as the broader market makes keeps making new highs, the last thing you want to see is leadership narrowing and less stocks in their own individual healthy uptrends. Unfortunately, as the S&P has been pushing into record territory, we've seen a bit of a divergence for its 500 components – although the overall numbers themselves are still healthy.
Oppenheimer's well-respected technician, Carter Worth, has been bearish for a while now, having issued his now notorious one-word research report over the summer, which simply said "Sell".  Bulls would argue that he's possibly biased and is looking for things to confirm that earlier view.
That being said, he's got a very good point here in a research note from November 4th:
Specifically, if one tracks stocks in the S&P 500 above their respective 150-day moving average and measures "breadth" based on this method—based on trend (stocks in healthy uptrends typically don't fall below their 150-day moving average while stocks that are deteriorating do just that)… then one gets a much different picture.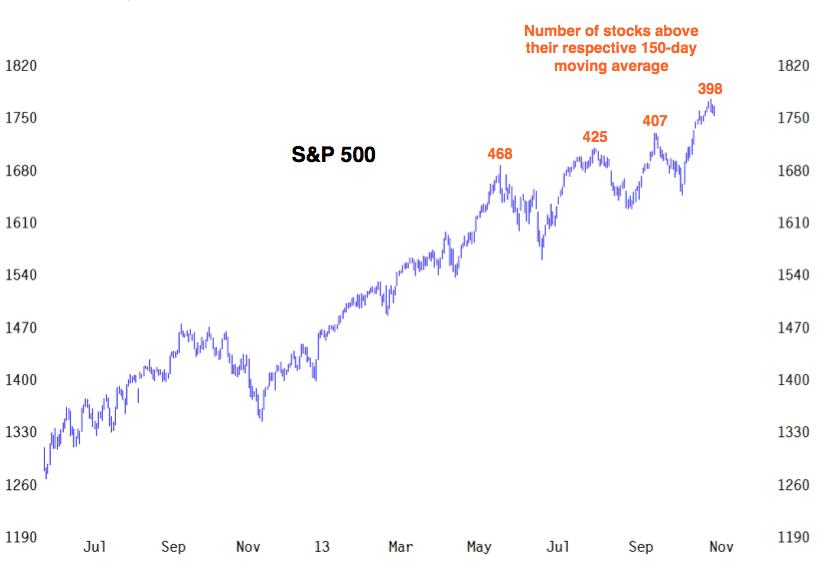 As you can see, the percentage of S&P 500 stocks above their 150-day during the May 22 high was 93%. This past week, at a new record high, it was 79.6%. Again, 79.6% is still pretty healthy, but the animal spirits have definitely been cooling off.
If one is only looking at the index level and not how it got there, this is the kind of thing that can be missed.
Three things can happen from here:
1. A real correction now.
2. Continued new highs but more stocks dropping out of the party. This would lead to a bigger correction down the line.
3. Continued new highs with that percentage turning back up again and a broader rally participation.
The thing about technical analysis is that it can lead you asking yourself the right question – but it's not going to be able to answer that question for you.