Investors are so over the whole gold thing now that five years of money printing have failed to produce inflation and the global economy has proved itself quite resilient amidst one political crisis after another.
Even central banks – including many in economically backwards, superstitious countries – are so over it.
Here's the Wall Street Journal: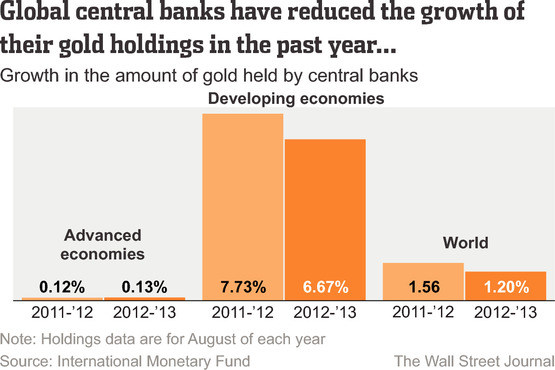 Central banks sold gold regularly until 2009. As a group, they became net buyers in 2010. The shift was driven by emerging-market central banks, which were grappling with rapidly rising foreign-exchange reserves that were a result of large trade surpluses.

But this year the tide has turned. Because of slowing economic growth and investors' increasing preference for assets in the developed world, these emerging-market central banks have been using cash reserves to stem economic turmoil and support their currencies. That leaves fewer dollars available to buy gold.

Central banks are on track to cut back their gold-buying by 34% in 2013, according to forecasts by metals consulting firm Thomson Reuters GFMS. The retrenchment follows two consecutive years of rising purchases, according to the IMF.

Russia sold 12,000 ounces of gold in September, the first such sale in a year, according to IMF data.
Source: