I missed Breaking Bad the first time around, I've been catching up starting with Seasons 1 and 2 this month on my iPad. I prefer watching some shows this way as opposed to waiting for new episodes and fast-forwarding through commercials. Basically, I pay $14 to iTunes for the season and it's at my fingertips in HD, commercial-free, all at once. I can watch three episodes in a row or break up a single one throughout the day.
The shares of AMC Networks ($AMCX), which airs the show, are up over 100% since October of 2011, thanks to Breaking Bad, Mad Men and their biggest hit, The Walking Dead. While not everything they've put on the network catches fire the way these three shows have, once something hits big it quickly becomes a bonanza. According to Barron's, "This year, AMC's revenue is expected to climb 16% to $1.6 billion, fueling a 73% jump in earnings per share, to $3.26, rising to $3.93 next year."  They note that only 7% of AMC's airtime is made up of original programming – that's a lot of room to replace black-and-white movies with more potential hit shows.
I found this great story at Priceonomics (via Tadas) this weekend that talks about how hard it is for the networks to find a hit show like Breaking Bad. Apparently, the success rate for a sold script is only 2% when all is said and done, the other 98% of attempted shows get stalled or stopped somewhere along the road toward getting folmed, promoted, aired or renewed. The networks spent $720 million on the last crop of new show premieres and only ended up with a handful of products that may become hits and have some longevity.
That wasteful search becomes worthwhile when you consider the economics of having a hit like Breaking Bad on your hands. AMC Networks was able to sell the 21 minutes worth of advertising time during the season finale episode for between $7 and $8 million.
AMC raised the price of a 30-second spot on the finale of Breaking Bad to as much as $400,000. That's no small accomplishment. It's approximately double the rate advertisers pay for prime time spots on much larger broadcast networks, with much larger viewership numbers: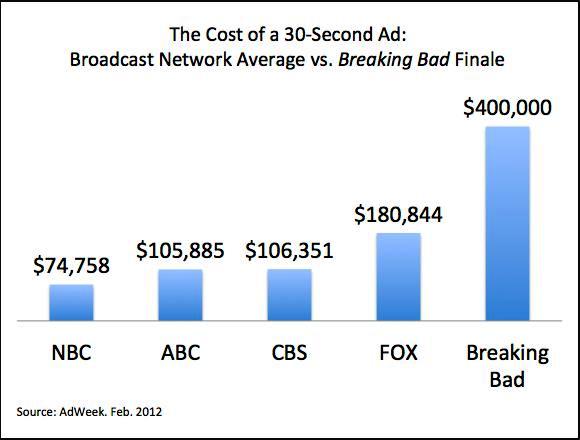 Josh here – When you consider that the average cost to produce each episode of the show was $3.5 million, you can see how the profitability becomes enormous – and that's not even counting the re-runs and DVD packages and streaming revenues and foreign rights, etc.
Sources:
The Economics of a Hit TV Show (Priceonomics)
AMC Networks: Looking Good After Breaking Bad (Barron's)