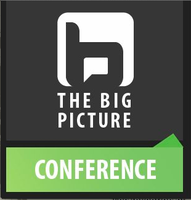 I never promote stuff on the blog that I'm not totally excited for in real life, and I truly could not be more excited for our upcoming The Big Picture Conference 2013, to be held October 8th in New York City.
This year we're expecting our largest crowd yet, mostly owing to the insanely high quality speakers list for the event, partial list here:
In the meantime, I thought I'd explain why I'm so pumped for the event and why I think you'll really enjoy it.
10. Bang for your buck. Our idea this year on pricing was to blow all other conferences away in terms of the maximum bang for your buck. We priced at $249.00 this year and I think we offer an incredible amount of content for a price even treble that amount. We wanted to be as inclusive as possible but still keep the intimacy The Big Picture conference has become known for. Our venue, the McGraw Hill Auditorium, is just right in that regard.
9. My idea for my own panel was to invite some of the most well-known, intelligent chief market strategists in the business and discuss the state of their profession in 2013. Jeff Kleintop (LPL), Dan Greenhaus (BTIG) and Art Hogan (Lazard) are three of the smartest, most insightful strategists in the business – they'll join me to talk about markets, media, turning out the noise and amplifying the signal. I'm also planning to leave lots of time for Q&A so you guys can start getting your questions ready now.
8. Stephanie Pomboy (Macro Mavens) is one of the most respected and influential economists in the world. Her client list includes governments, billionaires and major corporations. Stephanie's doing a presentation that you won't want to miss.
7. Crazy stuff happens. Last year David Rosenberg pulled a pair of rose-colored glasses out of his pocket and began walking back and forth blindly across the stage. "Oh, now I get it! Now I see why you're all so happy about this economic recovery!" The year before that, I moderated a panel consisting of James Altucher, Howard Lindzon and Henry Blodget. Altucher led off with a story about getting an erection on the way to the conference and then Howard Lindzon began dropping F-bombs uncontrollably. Blodget turned white as a sheet, but there was no escape. Good times…
6. There will be trillions in AUM represented on stage. James O'Shaughnessy is doing a presentation for us. Last year, James made the case for why stocks had much more upside, quantitatively speaking. If you recall the gloom of last October, this wasn't exactly a lay-up call. James nailed it, obviously, and this year we have no idea what he'll have to say. Jack Brennan, the Chairman of Vanguard is also speaking at the conference. Jack ran Vanguard as CEO from 1996 to 2008 and has overseen the company's massive expansion into a $2 trillion asset management giant. He'll be covering the state of the financial services and advisory industry, what's working now and what is coming in the future.
5. Networking! One of the key reasons to attend any conference is for the chance to meet with like-minded (or not so like-minded) professionals. The swapping of intel, shared experiences and war stories is sometimes the best part – not to mention the potential business opportunities that arise from these kinds of encounters. My very unscientific guess is that 60 some-odd percent of attendees are involved in the wealth management and/or investment business directly. These include portfolio managers, financial advisors, family office people, hedge fund investors, analysts, traders etc.
4. The media. There's always a lot of coverage of The Big Picture conference in the press and this year will be no different. On hand will be reporters and representatives from Bloomberg, CNBC, Wall Street Journal, Yahoo Finance, Business Insider, Forbes, Fortune, the New York Times and more. Last year it was a lot of fun to watch some of the most well-known bloggers and journalists covering finance meet their fans and readers in the audience as they covered the event.
3. Barry's presentation. Barry's new presentation he's been on the road with is entitled 'Romancing Alpha, Forsaking Beta'. In many ways, it's back to his roots after several years of doing his Bailout Nation / Credit Crisis stuff. Barry began writing the Apprenticed Investor column at TheStreet.com almost a decade ago and I still remember some of the lessons to this day. The new show he does is all about how frequently we seem to be fixated on the wrong thing when putting money to work. He gotten a big response on it from the circuit this summer, if you haven't caught it yet this is your chance.
2. Breakfast, lunch and snacks. Yes, we're feeding you.
1. We have Art Cashin, a rare treat. Art's a director for UBS and has been on the floor of the NYSE for forty years. No one has better stories, he'll be laying 'em on us during a fireside chat with Barry. You almost never get to hear and see Art off the floor, this will be a truly special, once in a lifetime moment for traders, investors and market aficionados.
I could go on and on but I think you get the drift. I love The Big Picture Conference, this is my third go-round, and I think you will too.
Click  below to reserve your spot and I'll see you there!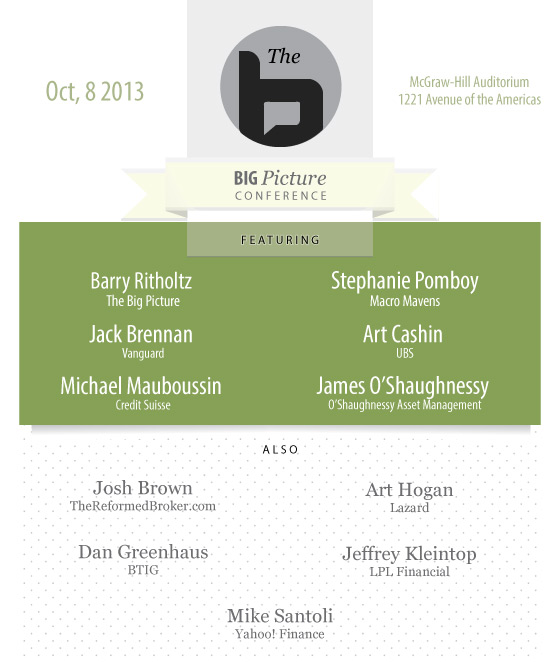 The Big Picture Conference 2013