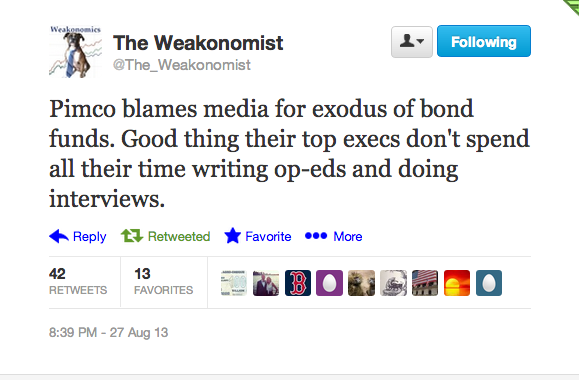 LOLZ at the most recent airing of grievances against the financial media by none other than the mighty PIMCO. The Bond Kings have it in their heads that the media is spinning a false narrative about the riskiness of the bond market and driving investors out of fixed income funds…
Here's Doug Hodge, the COO at PIMCO, as quoted by CNBC yesterday:
"In the aftermath of the financial crisis,the media—which play a large role in setting the tone of the markets and the psyche of investors—went from being cheerleaders for bonds, stressing their virtues and role in maintaining a diversified portfolio, to romancing the notion that bonds are riskier than stocks."
There's some truth to it, but the very same media did the opposite for the prior ten years – it obsessed over the risks for equities and drove a trillion dollars into bond funds, the prime beneficiary of this largesse being none other than PIMCO itself.
The financial media is not a toy to be used and discarded as you please. It is very serious about itself and it will swing it's big, fat pendulum extraordinarily far in both directions – too far, eventually – thank you very much. This is how it works. We have some money with PIMCO and I have a great deal of respect for that firm. They are the largest bond manager, so I use them as an example here.
The media was absolutely culpable in both the creation of the Bond Kings mythology as well as the notion that plowing huge chunks of one's portfolio into low-yielding investments with interest rates having no eventual direction but up was somehow safe. At the top of the bond market earlier this year, investors were actually paying the government, in real terms, to hold onto their cash – and there's no question that the media was somewhat culpable in feeding into the idea that this was somehow "conservative."
And now she's gone from suck to blow, the shoe is on the other foot and now the media is all like "You have no choice but to buy stocks and flee from capital-destroying bonds."
As a result, investors have spent the summer ripping their cash out of anything that even smells bond-y. Outflows from bond funds in June topped $69 billion in June, $15 billion in July and, according to TrimTabs, a whopping $30 billion in August.
I saw this coming last October but was, admittedly, at a loss as to what the timing would be (see: 33 Times, You Poor Dumb Bastards). Now we know the timing – it's here. And the Bond Kings aren't thrilled, needless to say.
But the financial media is a two-way street, and once it switches narratives it will almost always run the new story to its furthermost extreme.