Virtually every sector of the market has gotten jiggy this year with the exception of basic materials, thanks to the Chinese economic shitshow and related demand-side weakness around the world.
But a true cyclical recovery in the US and now possibly Europe ought to change some of those dynamics – and the beaten-down materials names may be beginning to reflect this idea.
Here's my friend Jonathan Krinsky (Miller Tabak + Co) with the technical take on this possible rotation:
Of the 10 basic S&P 500 sectors, only Telecom has performed worse YTD than Materials. Therefore, if this overall market rally is set to continue, we would have to imagine there will be rotation into this group, and perhaps last week was the first signs of that.

If we look at the weekly chart of the S&P 500 Materials sector (2nd chart), we can see it has been clearly making higher lows since the 2009 bottom. Unlike the broad market, and many other sectors, however, it has yet to clear its 2007/2008 highs, and only recently exceeded its 2011 highs. This gives the look of an ascending triangle, with the presumption of an upside resolution.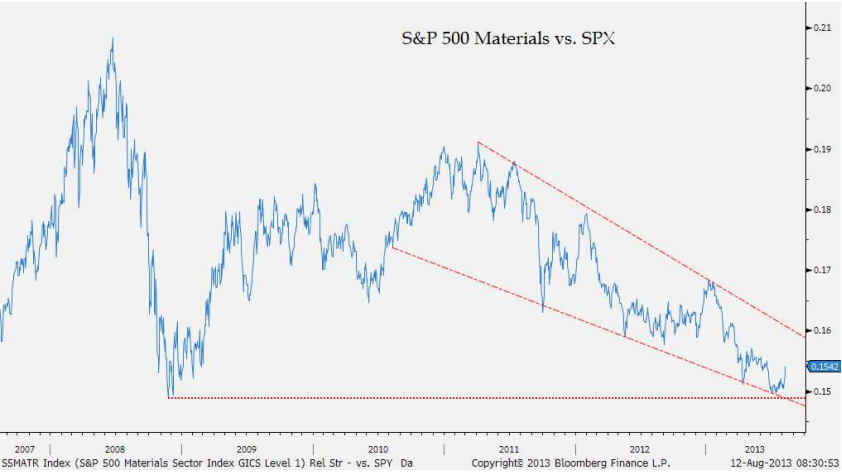 Jon notes that this potential bottoming in relative performance is also starting to happen as the overall market seems to be weakening, so take that for what it's worth.
Source:
Miller Tabak + Co