I spent the first half of the year and (plenty of last fall) debating the prospects of a Great Rotation with the naysayers.
Many of the doubters were those who work in credit trading or bond management – they did not want the good times to end and this bias clearly colored their arguments (and perhaps added a tinge of nastiness to them).
My argument was a very simple one – talk to ten wealth managers and a dozen or so high net worth investors and it would become very obvious what was about to take place in the investable markets. Capital does not chase value, it follows performance, and stocks had been winning for too long to continue to escape notice. Once the bonds started looking shaky, it had become a fait accompli.
The debates had tapered off by late spring and now the evidence has become undeniable. It took a few relevant periods (one-year, six-months, etc) of stock vs bond outperformance to do the trick, but Americans are back to investing for their futures again. It's a shame they're coming in so late, but this is the nature of the beast.
Chart below from Goldman Sachs (via Lil Weezy at Business Insider):
This chart from the note is Goldman's own "Rotation Index" which looks at relative stock-vs-fixed income fund flows. As you can see, the rotation into stocks is surging like mad in recent weeks.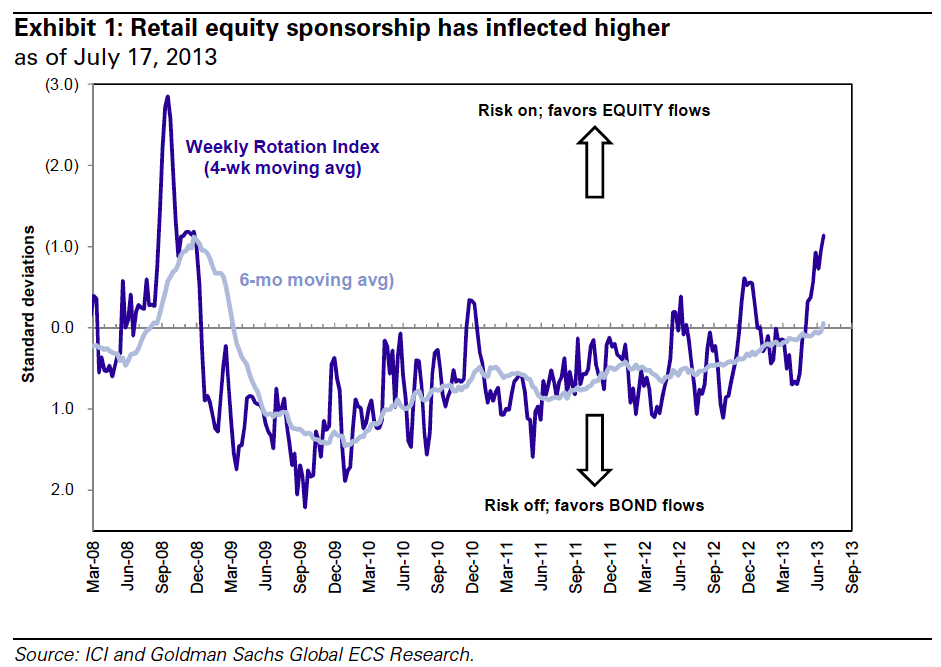 So there you have it.
Bracing for correction any moment now 🙂