The Nasdaq has been incredible for the last 18 months, and is up almost every day for the last three weeks.
Bank of America Merrill Lynch's chief technician, Stephen Suttmeier, takes a look at the broad up-channel and what it could mean longer term. He also notes how Apple's weakness has not ended up mattering at all:
The NASDAQ Composite broke out from a basing pattern that had been in place for
12 years in early 2012 and this moved the NASDAQ into a new secular bull market.
Since the breakout, pullbacks in the NASDAQ have held the breakout point in the
2900-2700 area. Initial chart and uptrend support moves up to 3200-3100. Key 50%
and 61.8% Fibonacci resistance levels are near 3120 and 3595 – the NASDAQ has
moved above the 50% level and is testing the 61.8% level. There is eventual upside
potential to rising channel resistance is projected in the 3800-4000 area.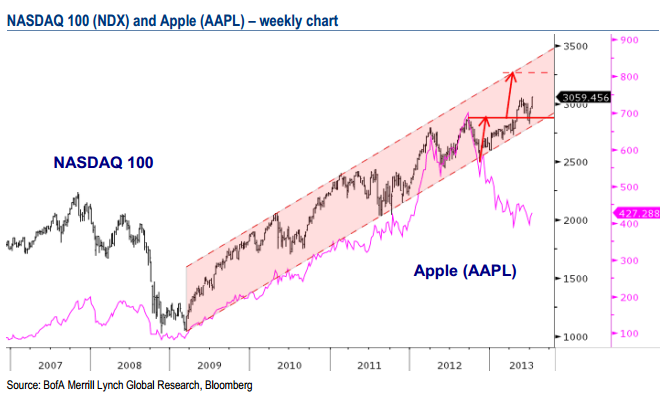 Source:
Bank of America Merrill Lynch