It's very simple.
Optimism as a Default Setting is the only way to successfully fund a retirement over the long stretch. Unless you believe that you have the god-like ability to dance into and out of the markets with good timing on a consistent basis. I know you can't and I don't even know you.
Fun fact – pick any day of any month of any year over the last 50 years – if you bought the stock market on that date, you had a 75% of being up one year later. That's the math of being in the game and being long-biased at all times.
To manage risk, there is nothing wrong with modulating one's exposure up or down based on technicals or valuations or whatever your poison of choice is. But all-out is a losing strategy for most investors. And as to leaning short – I know it's sexy to have all these hedges on and be long stuff and short stuff and playing both sides – but the truth is so few of those guys make any money it's like a giant inside joke for those of us in the industry. What's the point of being wrong in both directions and possibly right in a flat market? Please. I'm not saying it can't be done, I'm saying it can't be done by most and even if you could do it – should you is the bigger question.
Anyway, back to the long bias…
This week, BlackRock trotted out an updated version of the classic "If you missed the best five days" chart, it's worth a reminding glance. Don't worry about missing the best five days – think about how many smart asses missed some of the best  few months and quarters because of HFT or Occupy Wall Street or the debt ceiling debate or Portugal or some such other nonsense that had them "in the safety of cash".
Keep this in mind: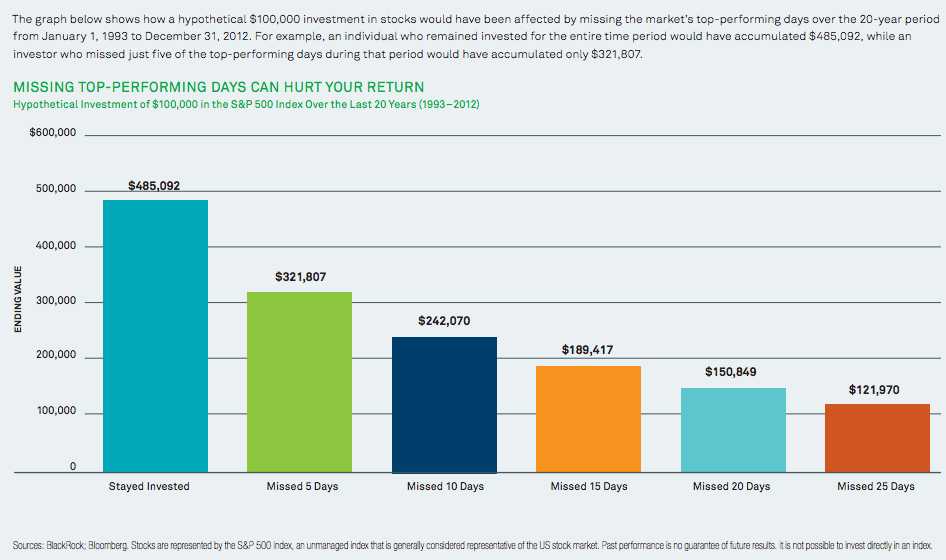 If you don't know, now you know.
Read Also:
Optimism as a Default Setting (TRB)
Chart Source:
BlackRock