Market breadth is extremely important – much more so than surface volume statistics, in my opinion. When we look at breadth – or advance/decline measures in general – we're looking at how many stocks and sectors are participating in the broader trend. Declining breadth in a lengthy rally or sell-off is one of the best tells of a coming reversal known to trader-kind.
My friend Jonathan Krinsky at Miller Tabak & Co points out a breakout in breadth for the S&P 500:
Breadth Breaking Out?

One of the better ways to gauge the internal health of the market is the cumulative advance-decline line. This
simply takes the number of issues that advance in a given day, and then subtracts those that decline. If the
number is positive, it is added to the prior days reading, and if it is negative then it is subtracted.

What we have seen recently, is that the cumulative A/D lines for the Nasdaq and the S&P 500 have broken out to
fresh highs. The NYSE Composite (stocks only) has not yet done so, but appears to be close.

This is clearly a positive and puts another dent in any current bearish thesis.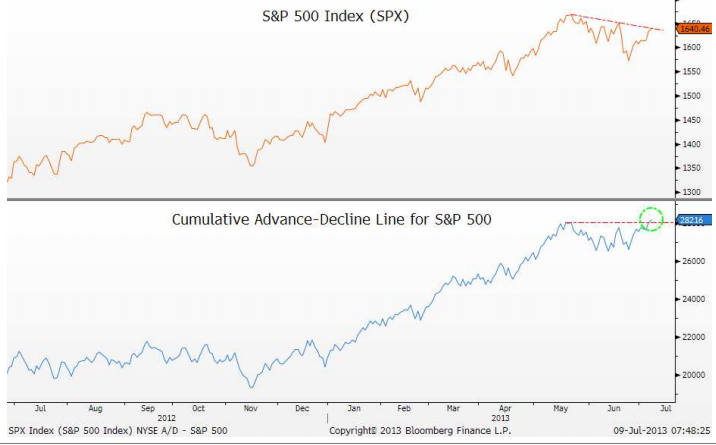 Looks pretty great – especially if the NYSE Composite can bring up the rear and confirm…