I got to watch strategist Rich Bernstein do his live dog-and-pony at a conference this past spring – he was excellent. One of my favorite quotes from his talk was:
"The market doesn't care about 'Good' or 'Bad' – only better or worse than expectations."
This is so true, it's why Hewlett-Packard and BlackBerry had doubled off their lows in the recent past and why Apple couldn't resume it's uptrend. Please tattoo this to your loved one's tush and re-read it whenever they get out of the shower.
The good news is that no one is looking for much out of Q2 earnings, which are about to get started this week.
Here's CNNMoney: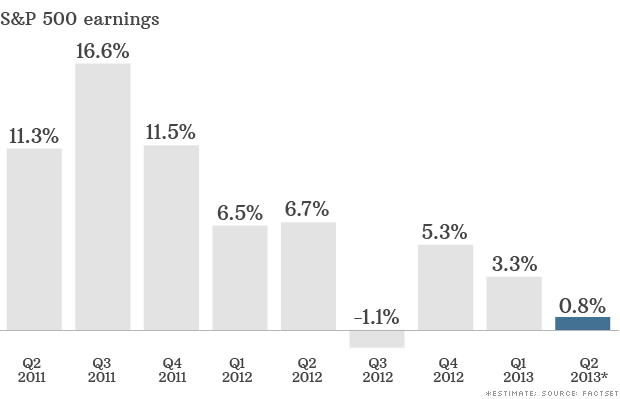 Companies in the S&P 500 are expected to report overall earnings growth of less than 1%, according to FactSet.

Exclude the financial services industry, with projected profit growth of 17%, FactSet is forecasting an overall earnings decline of 2.4%.

…a record number of companies have already issued negative guidance for the quarter.

Out of the 108 companies that have released forecasts, 87 have projected earnings below consensus estimates, according to FactSet. That's the highest number since the data provider started keeping records in 2006.
The media thinks this is a bad setup as the market sits below all-time highs. They don't understand that stocks form tops when everyone expects greatness and are disappointed. They've never traded before, so shhhhhh…
By the way, for a sector-by-sector rundown, Brian Gilmartin at Trinity Asset Management does a great job with forward expectations:
Here is the current earnings and revenue growth EXPECTATIONS by sector for the SP 500 for Q2 '13:

Cons Disc: +6%, +5.7%

Cons Spls: +2.9%, +2.3%

Energy: + 1.2%, -7.1%

Fincl's: +17.5%, +5%

Hlth Care: +0.2%, +4%

Indust: -2.6%, +1.1%

Materials: -7.2%, 0.8%

Tech: -3.7%, +1.9%

Telco: +18.7%, +1.7%

Ute's: -6.9%, +6.4%

SP 500 +2.9%, +1.6%
Sources:
The bull market's profit problem (CNNMoney)
7.6.13: SP 500 Earnings: Forward 4-quarter Estimate Reaches New Record High This Week (Fundamentalis)