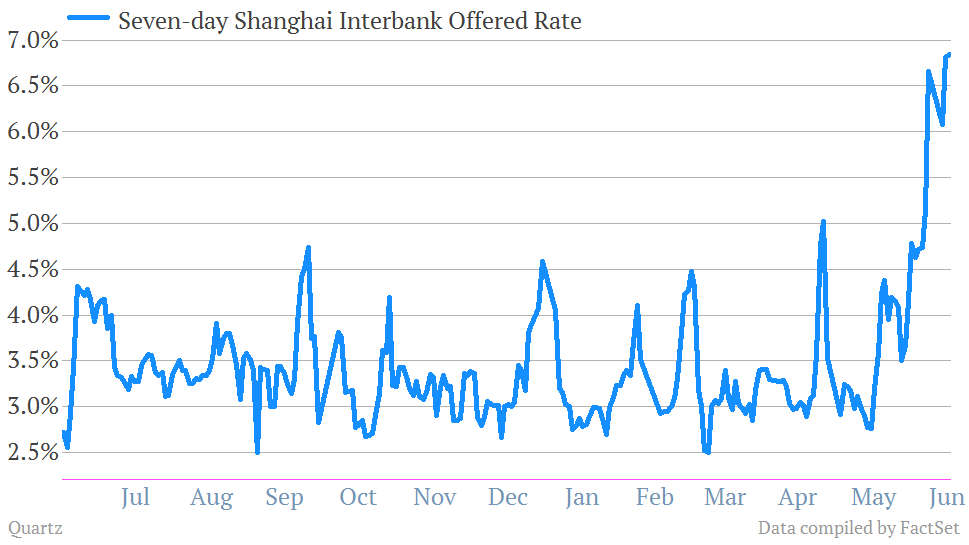 The chart above depicts the spike in seven-day "Shibor" lending rates (via Quartz)
Below is a quote from Barron's this weekend:
"I would say that China is now roughly at the stage [of indiscriminate credit growth] the U.S. was in March 2008, when Bear Stearns had to be rescued and the subprime market was unraveling…What will tip the scale will likely be a major event in China similar to Lehman's bankruptcy six months after the fall of Bear Stearns, which will be some bailout of a major player that Beijing will do everything it can to disguise so as not to shake confidence." – David Cui, Bank of America Merrill Lynch China strategist out of Shanghai
Jonathan Laing has been the author of many of the most memorable Barron's cover stories in recent years and this weekend's piece on China is definitely falls into that category. What Laing does here – better than most finance journalists have been able to – is connect all the dots to give us a true picture of that trembling nexus between China's state-run banks and its shadow banks. We see all the fault lines and where they may lie, we get the true shape and color of what a worst-case scenario might look like.
For investors, the rational argument re: China has long been one of bemused skepticism, cool detachment. Knowing that everything the Chinese government reports about its economy (along with any information from its proxies) is likely to be manipulated but, well, "so what?" has been the smartest way to proceed. This attitude has kept you out of China stocks and indirect China plays (coal, iron ore, Brazil, Australia) and long the US markets.
The question now, in the face of a spiking SHIBOR (as in Shanghai LIBOR, the interbank lending rate that indicates growing counterparty distrust among Chinese banks), is whether or not ambivalence toward the world's third largest economy will be enough? What if the banking and real estate-related shitshow moves too quickly for Chinese officials and their vast foreign reserves to paper over it? What if it gets out of hand and the "handoff" from a government-driven infrastructure economy to a consumer-driven urbanization economy hits an air pocket (as seems to be happening already)?
This bit about how everyone's hoarding apartments as an inflation hedge was easily the most disturbing passage from Laing's story this weekend:
Yet even with the overbuilding, market prices of apartments haven't cracked, at least according to government reports. Developers can still borrow money for new projects even while trying to roll over and carry debt on their inventory of unsold apartments.

Faith remains undiminished that continued migration from the countryside to the cities will cure all housing oversupply. Besides, apartment purchasing has become the No. 1 investment game in China after the stock market crapped out in 2007, with the Shanghai Index falling nearly 70% since.

Apartments are now more than living space — they have become a store of value and an insurance policy against penury in old age. Living in them or even renting them out is deemed to diminish property value should someone ever show up to lease one. So they remain vacant. Press reports recently said a party official was busted for, among other things, secretly owning some 50 apartments. A collapse in the Chinese real-estate market would require only a slight shift in investor psychology. And once prices start to crumble, the results to the credit system and, ultimately, the general economy promise to be severe and widespread. Likewise, buildings and land are bedrock collateral supporting many corporate and local government loans.
I'm sorry, but you cannot have lived through the 2007-2009 period and not be nervous about the similarities between the Chinese real estate bubble and the one we had. And the fact they it's all being financed by banks and local legislatures for no good purpose other than the continuation of the financing fees and payoffs that all these real estate transactions throw off – how can anyone brush this aside? The sheer dollar amounts involved make it impossible to ignore.
The only question is whether or not the Beijing, with its trillions of dollars in foreign currency reserves, can plug all of the holes in the Chinese financial system when the water starts rushing in. And if it cannot, in what parts of the world's financial system will the worst collateral damage be inflicted?
I consider this a must-read article, if you don't already have a Barron's sub, here's your excuse.
Source: