Yesterday was the first day of summer and the longest, by daylight, of the entire year. It also shattered another record…
The most interesting factoid about yesterday's action happened in the trading volume data on the Big Board: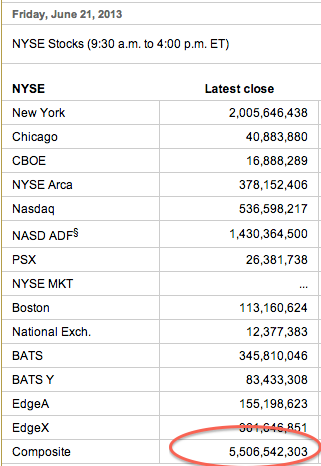 The NYSE Composite hit 5,506,542,303 (That's 5.5 billion) shares traded. This is the highest volume day since November 30th, when we printed 5.6 billion. That last week of November, post-Thanksgiving, marked the beginning of the massive QE3 rally that ran pretty much uninterrupted until the last week of May, an astonishing half-year run that will be remembered forever.
Does a high volume spike mark a turning point or a change in trend as huge portfolio adjustments have clearly been made? We've only had one other 5 billion-plus share day on the NYSE Composite this year, my friend Jonathan Krinsky tells me.
For context, the most active day in history was 10/10/2008, about a month after Lehman's collapse and in the midst of the TARP fights and AIG bailout. That day we printed 11.1 billion in total trading volume. During the events of the Summer 2011 Euro freakout, we routinely traded in an elevated 5 billion to 9 billion range. Can we expect something similar this summer as FOMC and Chinese banking system fears take hold?
If so, you can expect a return to hyper-correlated, risk-on / risk-off type trading and quite a bit of volatility.
We shall see.