361 Capital portfolio manager, Blaine Rollins, CFA, previously manager of the Janus Fund, writes a weekly update looking back on major moves, macro-trends and economic data points. The 361 Capital Weekly Research Briefing summarizes the latest market news along with some interesting facts and a touch of humor. 361 Capital is a provider of alternative investment mutual funds, separate accounts, and limited partnerships to institutions, financial intermediaries, and high-net-worth investors.
361 Capital Weekly Research Briefing
May 20, 2013
Timely perspectives from the 361 Capital research & portfolio management team
Written by Blaine Rollins, CFA
You know it is good when…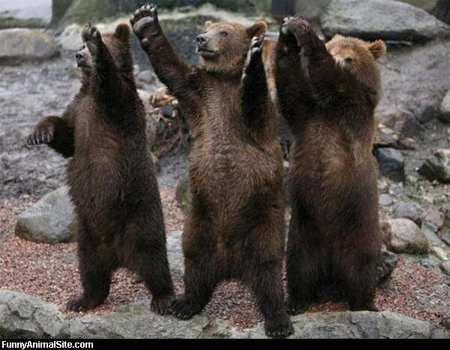 @Mella_TA: Bravooooo
The May bar in this chart is now looking like an exclamation point on its move to all-time highs…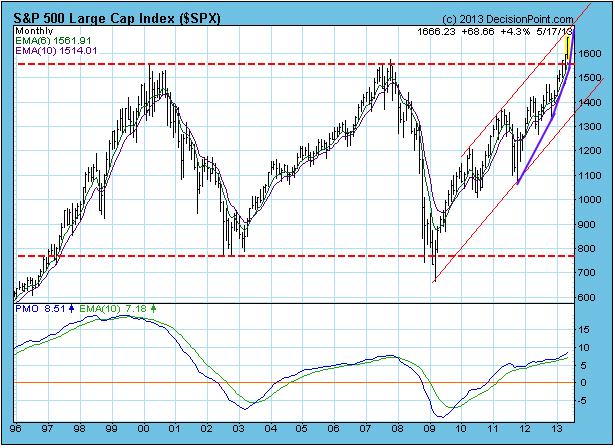 And the New Highs in individual stocks are confirming the breadth of this rip higher…
@cperruna: 536 NH's is the 16th largest reading for NYSE starting with 1980 data – 1/20/04 also had 536 NH's, $DJIA was at 10,528 $NYA $SPX
Most important to Bulls is that Small Caps have now reclaimed leadership…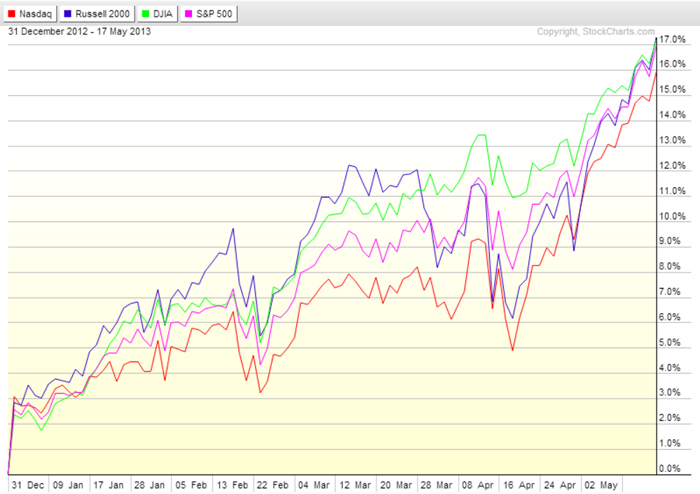 So onward and upward. What signals should Bulls be on the lookout for?
Change in breadth (Up v. Down Volumes, Advancers v. Decliners)
Signs of distribution (Sharp down days accompanied by large % increases in trading volumes)
Change in leadership away from RISKON sectors (don't want SmallCaps, Financials, Industrials, Transports or Housing to lag)
At least an episode of 3-4 down days in a row. (The Dow Industrials still hasn't seen 3 linked down days since December!)
Keep an eye on credit spreads and junk bonds (HYG & JNK hold over $25b in junk bonds so are a good thermometer of risk)
Be afraid of any shock in the Treasury bond market (a slow erosion of value is fine but daily 1+ point pullbacks could impact the system)
So far the rise in 10 year yields have been orderly…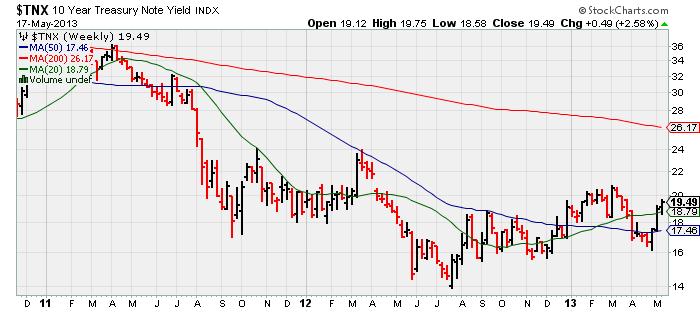 And the lift in risk free yields has not dented Mortgage Rates (nor residential housing activity)…
@stlouisfed: Average interest rate on a 30-year fixed-rate #mortgage rises to 3.51 percent from previous week's 3.42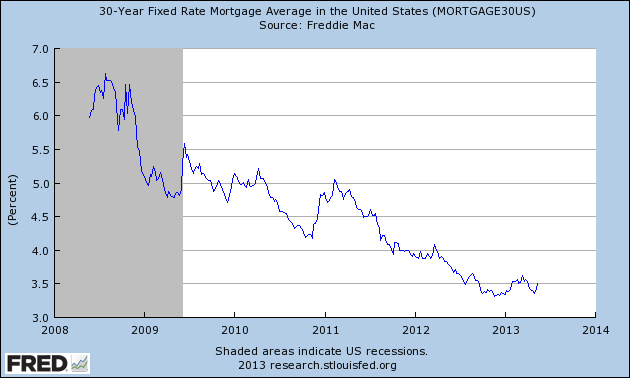 Meanwhile, rising housing and equity prices along with the slowly improving jobs data is helping Consumer Sentiment…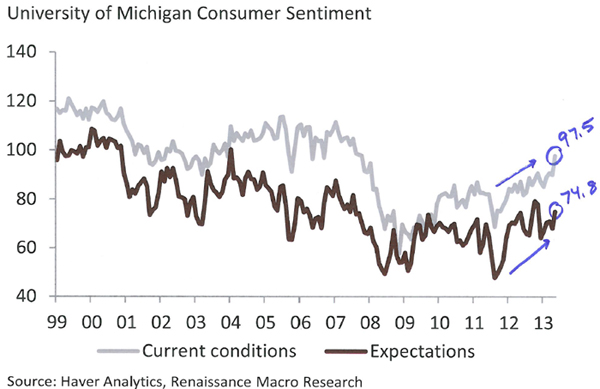 Another great week for the RISKON trade with Financials and Industrials leading the way…

If you are one of the few fans of the M. Night Shyamalan's, Unbreakable… Financials: Bruce Willis as Gold Miners: Samuel L. Jackson…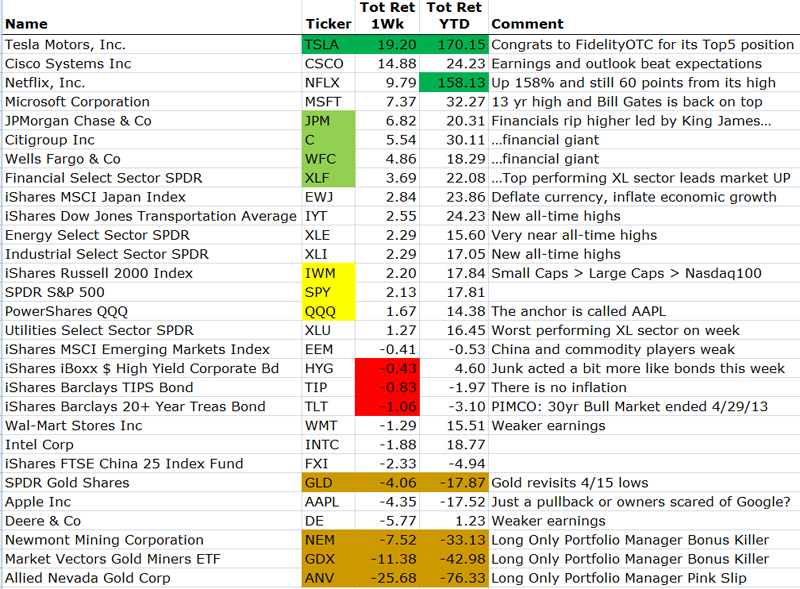 If you didn't buy that Powerball ticket in Zephyrhills, FL, then hopefully you still own your Great, Great, Grandfathers shares in boring, old JNJ…
@RyanDetrick: $JNJ is now up an amazing 20 weeks in a row. This is a record for any stock since 1990. Not bad for a 127 year old company. $DIA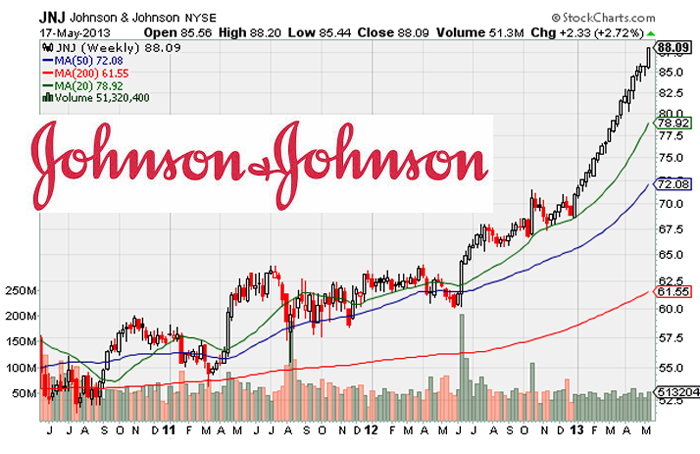 Junk had a bit of a recovery this week. We are still watching this closely…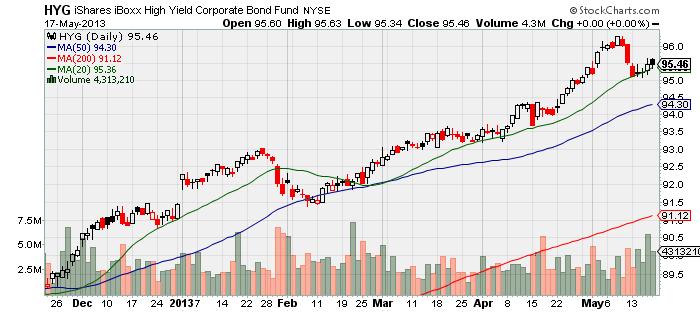 Main reasons for Bank Stocks outperformance: 1) No credit issues, 2) Widening 2/10 yr yields, 3) Big and Rising dividends…
@DavidSchawel: US banks all in yields (div+buybacks) higher than US HY yields for the first time in more than 25yrs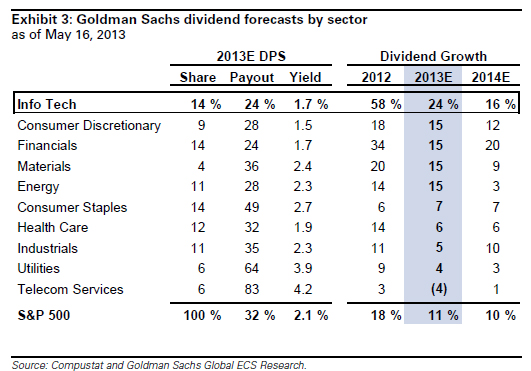 A great "No Sell in May" call by ISI Group this spring…
The S&P this May has so far diverged quite significantly from the 2010/11/12 "Sell in Mays". And ISI's company surveys have surged +1.7 over the past three weeks, approaching a quite significant upside breakout. If they don't fall back over the next two weeks, then we're probably out of the woods, i.e., no Growth Problem.
And if you are looking for a Great Gatsby indicator, ISI Group follows that also…
+ ISI's Limousine Cos. Survey moved up from 68.4 to 69.4, the highest level on the survey since December 2010. Contacts reported another good week for group and corporate travel.
(ISI Group)
The mother of all RISKON investments, Greece, continues to reward investors…
@RichardBarley1: #Greek 10-yr yield closing in on 8% this morning per #Tradeweb. A week ago it was 9.6%.
Greece has been the surprise market of 2013 – the ASE stock market jumped ~11%+ this week and is now up ~27% YTD (behind only Japan). The press has been full of articles pointing to prominent HFs purchasing Greek assets in anticipation of large returns. (JPMorgan)
"Until recently, many analysts believed that Greece was a lost case. We proved them wrong," Samaras said in a speech in Beijing during a trip to China on Friday. "Most of them now witness not a "Grexit" – an exit from the euro zone – but a "Greekovery" – a recovery of the Greek economy." (Reuters)
Ten-year Greek government bond yields fell nearly a full percentage point to 8.2 per cent, the lowest since June 2010. Fitch raised Greece's rating to B minus from CCC on Tuesday, and said the outlook was stable. Greek bond yields have now been below 10 per cent since the start of the month, indicating that investors now doubt that the country will slump out of the European currency bloc. In March 2012 yields peaked at 37 per cent. The rating agency said Greece's progress towards eliminating its budget and current account deficits, along with signs of an economic stabilisation, had led it to raise its rating by one notch. (FT)
And new data last week showed that Abenomics appears to be working in Japan…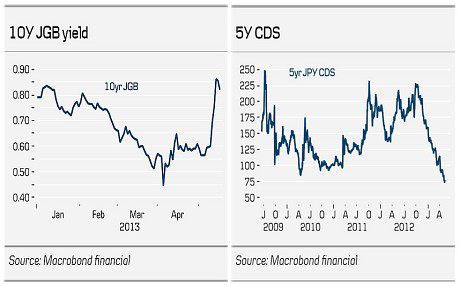 Growth jumped to a 3.5pc rate in the first quarter, vindicating the government's efforts to break Japan's deflation psychology and lift the country out of its 20-year ice age. "Abe's kickstart appears to have succeeded," said Flemming Nielsen from Danske Bank. Retail sales are soaring as a "wealth shock" electrifies the economy. The Nikkei Index has risen 70pc since November, with foreign hedge funds among the first to jump on the bandwagon. The weaker yen is already delivering a powerful punch, accounting for almost half the growth. The currency has dropped 30pc against the dollar and China's yuan since August, and 37pc against the euro. The yen-slide – or "Enyasu" – has raised concerns that Japan is exporting deflation through a "beggar-thy-neighbour" push for export share, a claim rejected by Tokyo… Danske Bank said rising yields should be viewed as success, since they mean the BoJ has finally convinced markets that it will defeat deflation. The plummeting cost credit default swaps used to insure against a Japanese sovereign default is a sign that investors think the policy reduces the risk of blow-up.
(Telegraph)
China is the big market that everyone dislikes, but would love to invite to the party…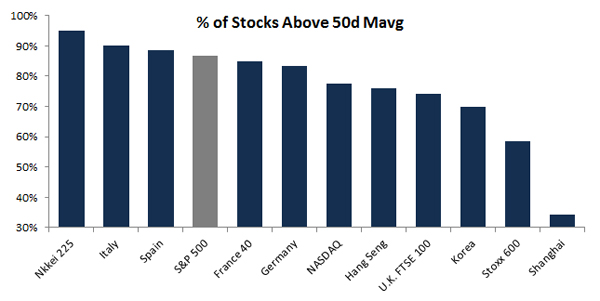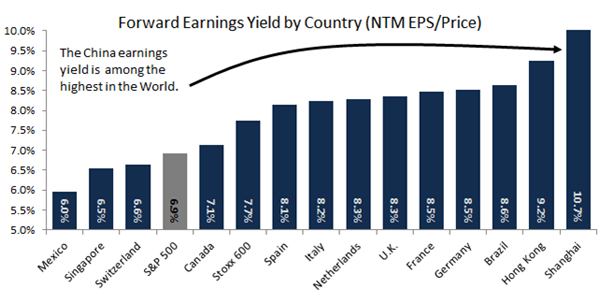 (ISI Group)
Property prices are most important to the Chinese banking system. Maybe a floor is being put in place?
@lindayueh: #China's house prices +4.9% accelerated to its fastest pace in April in 2 years, driven by jump in Beijing, Shanghai (Reuters)
The Chinese market broke a 3 month downtrend last week. Keep an eye open here…
@hmeisler: Yet everyone hates this particular market.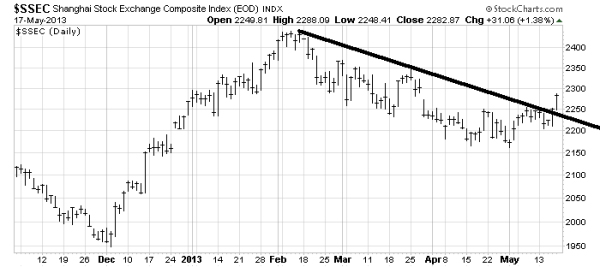 THIS IS A GAME CHANGER… Georgia Tech is going to offer an online Master's degree in Computer Science for $7,000. Imagine 80% price deflation for a degree that has very high employer demand…
Georgia Institute of Technology has announced a partnership with Udacity to offer an online Master's Degree in Computer Science for $7,000, down 80% from the existing cost of $40,000 for the on-campus, instructor led program. Suddenly, master's programs around the country will have to compete with Georgia Tech's $7,000 program, and that won't be easy or fast in coming. The traditionally taught graduate degree in computer science at Georgia Tech is a very well-regarded program that is in high demand and has very positive outcomes in terms of jobs and earnings. Georgia Tech graduates tend to do very well in earnings upon graduation, especially in computer science. Now students from around the world will be able to obtain the same degree online at an 80% discount – which is, no doubt, a sonic boom rattling the windows in the offices of college administrators across the country.
(Forbes)
Video interview with Georgia Tech:
(WSJ)
Happy 16th birthday of being a public company Amazon…
@JeffMacke: "'World's Largest Bookstore'?!" That'll never work. RT "@BrianSozzi: On May 15, 1997 $AMZN went public at $18.00 per share $AMZN"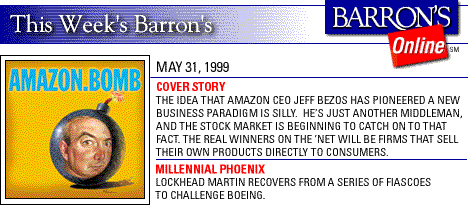 It was a difficult week for the weather in Washington D.C. The Bulls hope the clouds do not travel north…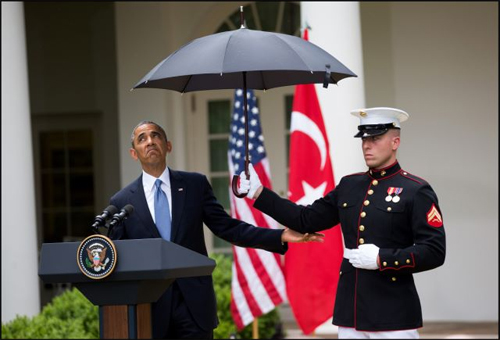 @dougmillsnyt: President Obama checks the rain during a news conference in the Rose Garden…
It has not been a good week for President Obama. You've got Benghazi, the IRS scandal, this AP records scandal, and, worst of all, his Chicago Bulls got eliminated by the Miami Heat. Do you know what that means? LeBron James is going to get audited by the IRS. (Jay Leno, The Tonight Show)
@rupertmurdoch: Growing IRS scandal makes perfect case for flat tax and abolition all deductions. Nothing could be fairer and abuse free.
Finally, a great picture of two retiring Football legends who made the game better… for the entire planet…
"It's my favourite moment, my best memory in football," Beckham said. "I have still got the photograph. It was in his office that I actually signed the papers to become a Manchester United player at 14, leaning over his desk. I was signing for my dream club."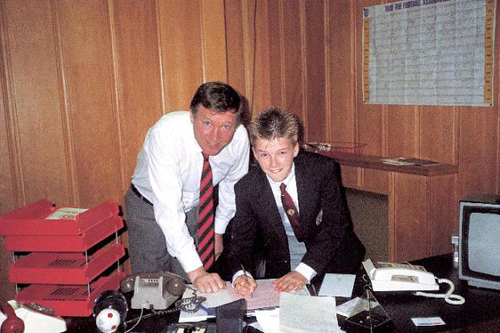 Blaine Rollins, CFA, is managing director, senior portfolio manager and a member of the Investment Committee at 361 Capital. He is responsible for manager due-diligence, investment research, portfolio construction, hedging and trading strategies. Previously Mr. Rollins served as Executive Vice President at Janus Capital Corporation and portfolio manager of the Janus Fund, Janus Balanced Fund, Janus Equity Income Fund, Janus Aspen Growth Portfolio, Janus Advisor Large Cap Growth Fund, and the Janus Triton Fund. A frequent industry speaker, Mr. Rollins earned a Bachelor's degree in Finance from the University of Colorado, and he is a Chartered Financial Analyst.
In the event that you missed a past Research Briefing, here is the archive…
361 Capital Research Briefing Archive