Yes, we've seen Q1 earnings reports from Alcoa and JPMorgan this past week, but the real action begins Monday…
From my boys at Bespoke:
On Monday morning we'll hear from Citigroup (C) and Charles Schwab (SCHW), while on Tuesday we get reports from Goldman Sachs (GS), Johnson & Johnson (JNJ) and Coca-Cola (KO) in the morning and Intel (INTC) and Yahoo! (YHOO) after the close.  Bank of America (BAC) reports on Wednesday morning, and then American Express (AXP) and eBay (EBAY) report on Wednesday afternoon.  Thursday will be the heaviest day for earnings next week, with key reports from Morgan Stanley (MS) in the AM and Google (GOOG), IBM and Microsoft (MSFT) in the PM.  General Electric (GE) and McDonald's (MCD) round out the week with reports on Friday morning.
Bespoke also has a list of the stocks that have done the best and worst upon issuing their earnings reports historically, good to be aware of.
Markets have been able to shrug off a handful of so-so quarters and have rallied despite the fact that 80% of companies offering guidance this season have guided negatively.  There's a silver lining to this – most companies that give weak guidance end up meeting it or exceeding it. It is rare for a stock to guide lower and then miss that revised estimate as well.
Over at Fat Pitch, Ukarlewitz tells us there's quite a bit at stake this quarter – Wall Street seems to be betting on big improvement:
Investors are betting heavily that the trend in US earnings is getting set to change. This is a big bet. In the past seven quarters, going all the way back to 3Q 2011, EPS growth has been zero. In 1Q13, it is expected to decline; then, amazingly, it is expected to grow 10-15% in the next three quarters.

Make no mistake, Wall Street is very bullish. If they are right, then SPX is trading in-line with historical norms. In fact, SPX could rise to 1650-1700 this year ($112 EPS at 15x).

But, if quarterly EPS, which has never been greater than $25.9 since 3Q11, stays in this range this year too, then SPX is currently valued over 15.3x, the highest since 2007 and excessive for the low level of growth. Fair value (using the 10 year average PE of 14.2x) would be closer to 1475.

Interestingly, at 1590, SPX is basically in the middle of this 1475-1600 range. Handicap the odds of reaching one or the other and you can figure out your expected reward versus risk.

Guidance during this earnings season is now critical to the upward march of SPX.
Expectations are high and it appears as though they are the real catalyst that could decide whether we're to have a correction or a fresh advance from here.
And then just for fun, Markit lists the most heavily-shorted stocks going into earnings, a great list for traders to keep tacked up somewhere as these situations can lead to explosive to short-term moves: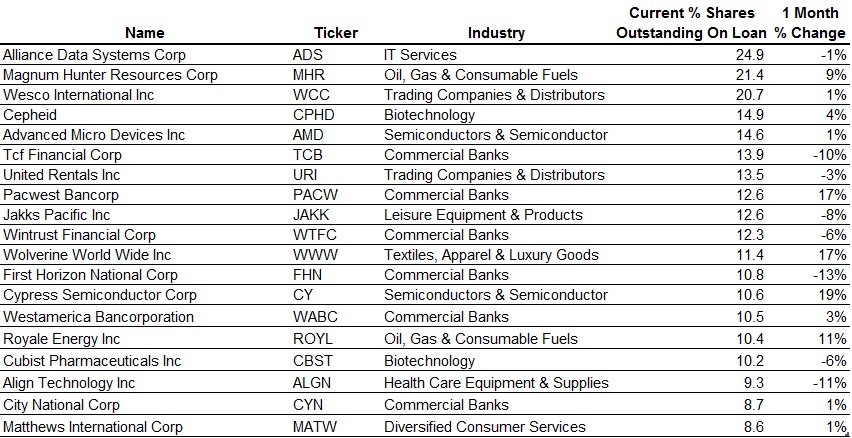 Be careful out there! Know your holdings and where they sit on the calendar!