One of the more exciting new guys to begin contributing to StockTwits / Twitter of late is Ari Wald, chief of technical strategy at PrinceRidge.
The below comes from his latest note – JB
***
STUDY: Strong Trends Tend to Continue
In our view, recent rally highs in the S&P 500 can be considered "good highs."  In other words, stocks have run a lot in a short amount of time, but confirmed conditions indicate "buy-the-dip" strength.  The S&P 500's weekly RSI, for instance, has reached a "bullish overbought" reading above 70 for the first time since January 2011.  Contrary to what one might expect, this is a bullish signal for the S&P 500.
In fact since 1928, the S&P 500 has averaged a 6.7% gain over the next 26 weeks when weekly RSI makes a fresh close above 70 ("bullish overbought").  This compares to -1.2% when weekly RSI closes below 30 ("bearish oversold") and a 3.5% gain during any 26-week period (table and signal definitions below).  This implies that strong trends (i.e. those that are confirmed) tend to continue, and supports our view that a cycle top has not been reached.
You can click to embiggen the below chart / table: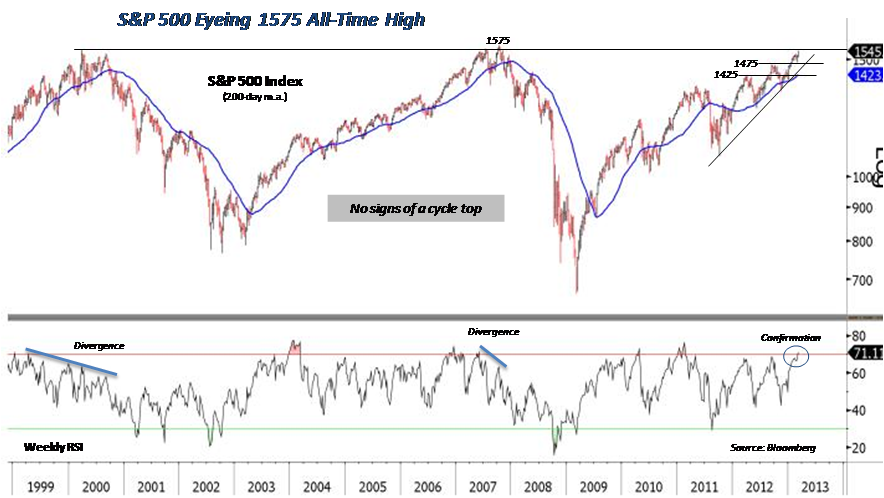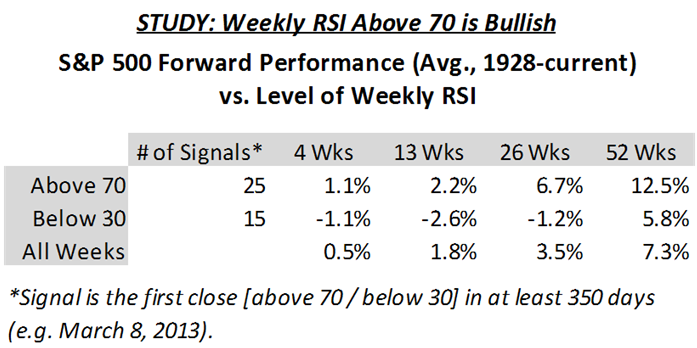 ***
Thanks Ari!
Source: