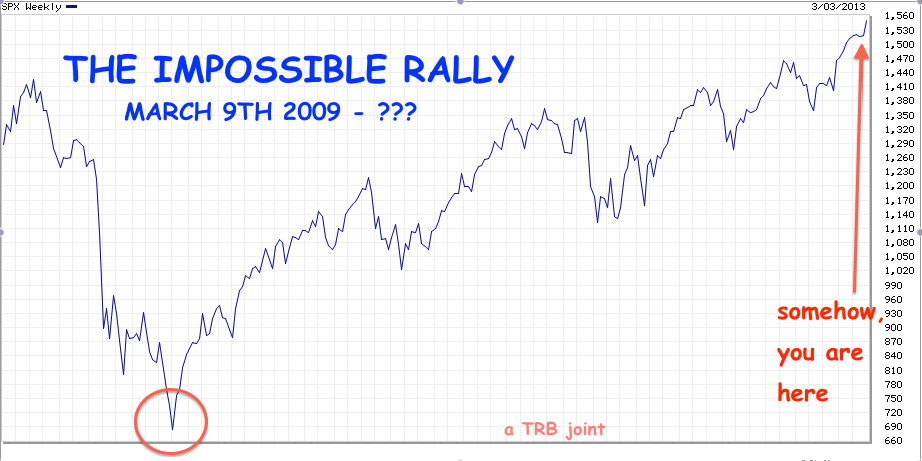 Today, in case you've lost track, is the fourth anniversary of the March 9th "Generational Bottom" for the stock market. We are now headed into the fifth year of what many of us have been calling "The Impossible Rally" and I thought this would be a good time to recap and reflect.
Today, four years ago, the Dow Jones industrial average lost 80 points, or 1.2%, to end at 6,547.05, its lowest point since April 15, 1997. The S&P 500 index lost nearly 7 points or 1%, to end at 676.53, its lowest point since Sept. 12, 1996. The Nasdaq composite lost 25 points or 2%, to end at 1,268.64, its lowest point since Oct. 9, 2002.
That day, Merck had announced a $41 billion acquisition of its rival drug maker Schering-Plough and the market didn't even blink. It had been going down so hard and for so long at that point that no one believed it would ever go up again.
That morning Roubini and Faber were out doing their typical Gloom and Doom show, scaring the wits out of anyone who would listen.  One was talking about an intensifying recession with no way out, the other predicted the S&P would be dropping below 500 by year's end. The opposite ended up happening, of course.
CNBC and other financial media outlets were enjoying the sudden surge in interest in the economy and markets. Ratings were through the roof thanks to the spectacular collapse of the financial system that had been in full swing since the Lehman Moment six months before. The New York Times said CNBC was "on a War Footing" – forced to both make hay while the sun was shining and simultaneously defending the incredible wrongness of a few of its biggest stars.
As for me, I was selling stocks and managing kids in suits at a dead-end regional brokerage firm in midtown Manhattan. In truth, I had ceased all trading by January of 2009 and essentially spent my days keeping clients and registered reps from committing suicide. If you want to talk about contrary indicators, here's my post from the day the Dow hit 6500 – no commentary, just a Youtube video of R.E.M. playing 'it's the end of the world as we know it' live in Toronto.
I was just about to walk away from the business entirely and go sell paintings on the sidewalk or my organs on the black market. I couldn't take another day of apologetic phone calls, answering to management about why gross commissions were down or giving pep talks to the sales force. I was sick of everyone being mad at me all day long, all the time – as if I had any control or answers. I was 32 with a baby to feed and another on the way and a wife who couldn't understand why I wasn't bringing home any money. Don't judge me until you've been there, you have no idea…
But there was a divergence in the tape that only the technicians seemed to have been picking up on, just as I and most others were at a forlorn nadir of doubt and disgust.  Even though the broad averages were making new lows, each day there were less and less stocks participating on the 52-week low list. Stocks were slowly finding their bottoms – their own points at which whoever was still holding had refused to sell – even though the big indexes had not yet.
And then it just stopped going down.
Within six months the S&P 500 was up over 60% from the March 9th 2009 low and had finished out the year up 25% from where it started in January.
Today marks four years since that amazing bottom – according to Bespoke Investment Group we're at 1,460 days, making this current bull market the eighth longest of all time! Further, in terms of the strength of the rally: "Since the closing low on 3/9/09, the S&P 500 has rallied 129.3%, which ranks sixth all time.  If the S&P 500 can manage to rally another 17 points, the current bull will move up the ladder to fifth strongest all time."  Wilshire Associates estimates that $11 trillion in investor wealth has been regained as a result of the rally's run.
To which I say Happy Fourth Birthday to the Impossible Rally – the most hated, doubted, fretted over, denied and despised bull market we may ever see as long as we live and trade. The amount I've learned – about both stocks and myself – just from trading and investing in this trend has been absolutely staggering, the kind of education that you truly cannot put a price on.