The big article leading off the New York Times Business section today entitled:
Investors' Quandary: Get In Now?
with the opening line:
"So is it too late for investors to join the party?"
All your favorite market gurus are in the piece – Birinyi, Arnott, Wein, Rosenberg etc.
It's all so embarrassing. Everyone has an opinion of what you should do but no one knows you.
Guys, when are we going to stop this behavior? Why is there anyone who is saving for retirement who is in this position of wondering whether they should first get into stocks now after a 140% rally over the course of four years? What have they been doing all this time? What combination of fake news, superstition and smartassery had them on the sidelines?
I just don't get the amateur market-timing, this nonsense that would have had someone all the way out of equities for long stretches of time – especially someone who needs their saved income to maintain its purchasing power over decades. Especially someone who has no no immediate need for the funds. Aren't they aware that they can nudge their exposure up or down to get comfortable in different environments but that "all-out" is a loser most of the time?
What are they thinking? Have they seen the data?
If not, here's a slice:
Between 1926 and 2010, there was not a single rolling 20-year period – pick the starting point in any month of any year during that eight-decade stretch you'd like – with negative returns for stocks. Hasn't happened.
Keep in mind what went on during this 1926 to 2010 period – prohibition, a legendary stock market crash, a Great Depression, World War II on multiple fronts, Korean War, Red Scare, nuclear scare, Presidential assassination, Vietnam War, Disco, stagflation, oil embargo, Cold War, two wars with Iraq, Presidential impeachment, 9/11 and Afghanistan, The Credit Crash, housing crash, Lehman bankruptcy, $50 billion ponzi scheme revealed, bailouts and TARP, unemployment crisis, Muslim Marxist President elected, Euro crisis, etc.
Through all of that, not a single 20-year period of down stocks.
Between 1950 and 2010 – 60 years – the worst 10-year rolling period saw a decline of only 5.1% with an average annualized return of 7.3%. The worst 5-year period was a decline of 8.5% but with an average annualized return of 7.5%.
And people are in 100% cash because….?
So "Is now the time to get in?" is the wrong question entirely. The right question is "Why are you out in the first place?"
Here's the poster Carl Richards sent me, which hangs on my office wall as a constant reminder: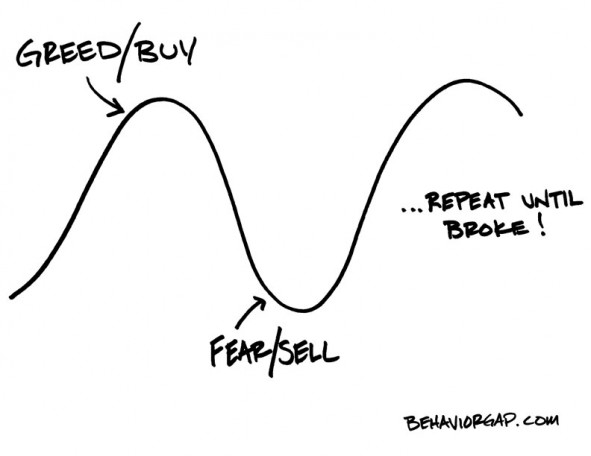 Something has to break this cycle. So that the next time stocks are at what might be a short-term peak, the question of whether or not to buy becomes irrelevant.
Read Also:
Investor's Quandary: Get In Now?  (NYT)