We hear this every six months or so and eventually it will probably be true. But stock market-wise you haven't missed out yet. We have a small Africa weighting for clients nestled into one of the broader ETFs we own. I see no reason to take that any further right now, I feel like there'll be plenty of time to invest should Africa's promise ever actually bloom – politically, economically, socially etc.
Here's The Economist taking another whack at the story this weekend: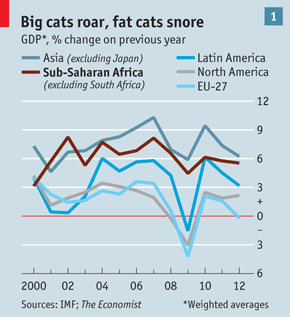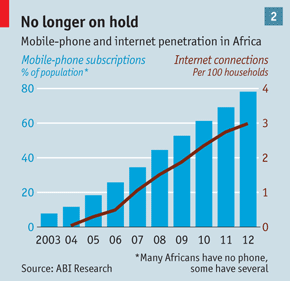 Africa's chief attraction is that it has been growing while richer regions have stalled (see chart 1). Its demographic prospects are promising, too. As America, Europe and China age, Africa can expect a bulge of workers in their productive prime. Though skills are in short supply, they are becoming more abundant. According to the McKinsey Global Institute, the consulting firm's research unit, in 2002 only 32% of Africans had secondary or tertiary education, but by 2020, 48% will have.
Google, IBM and many technology firms are already placing their bets on the population and its growing infrastructure needs. The Chinese have been there for a decade doing mineral deals and god knows what else.
I wouldn't be a size buyer of the handful of Africa ETFs and funds just yet, but this bears watching…
Source:
Information technology in Africa: The next frontier (The Economist)