I was once asked which was better – dividends or buybacks. My answer was dividends are better but both are great. And either are preferable to most big acquisitions in terms of what a company should do with its cash. bBut that's really as far as I thought about.
Chris Brightman of Research Affiliates (Rob Arnott's shop) is out with a piece of research showing why we need to stop thinking about just dividends and start focusing on what he calls Total Yield.
Here's Shawn Tully at Fortune:
Brightman sees dividends as a key metric — but not the sole one. His latest brainstorm is a value-oriented methodology that screens not only for dividends but also for the impact of stock buybacks. In theory, when a company reduces its number of shares by, say, 2% while keeping profits and the price/earnings ratio steady, it should translate to a 2% increase in stock price. So Brightman adds the percentage of shares repurchased to the dividend yield percentage to calculate what he calls "total yield." He argues that stocks with the highest total yields are far and away the best buys on the market.
And the below graphic gives us an illustration of the concept: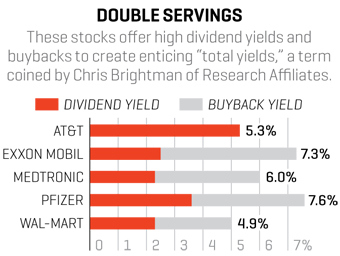 Head over for the whole thing, I believe this concept is a very important one for true investors to be mindful of given the low-return expectations for this market in 2013.
Source:
Thriving on the dividend and buyback diet (Fortune)