Yesterday I had mentioned the fact that the mathematical arguments being trotted out by long-only permabulls to justify higher stock prices were getting increasingly tortured.
But of all the stupid stuff we're seeing get trotted out this week, the ol' Fed Model is perhaps the worst.  I knew it was inherently flawed but never to the extent that Lance Roberts demonstrates at Street Talk Live:
This brings us to the "stocks are cheap based on interest rates" argument. Despite the fact that prices and valuations are stretched well above their historic norms this does not deter the media from finding some other flawed argument to try and lure "suckers"… um…I mean…investors into the Wall Street casino.

The chart below is the "Fed Model" which is the basis for the "stocks are cheap because earnings yield is higher than bond yields."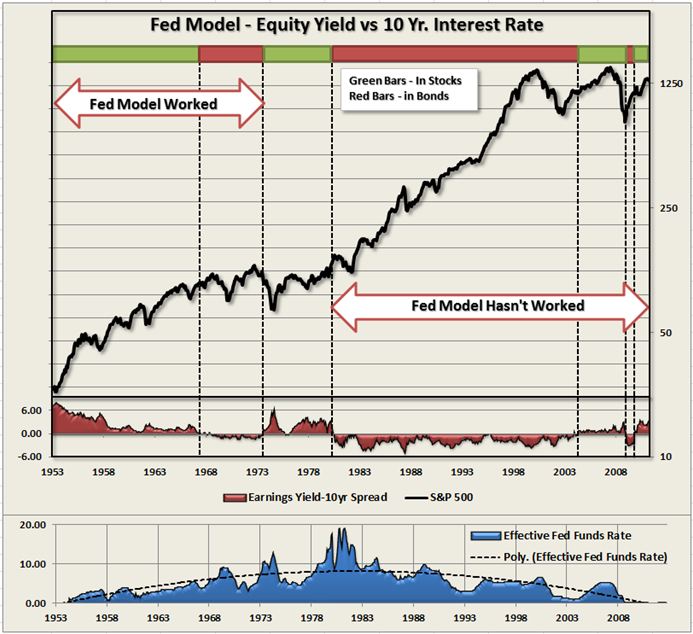 Following this model would have kept you out of stocks primarily when you should have been in and vice versa. This is due to the intervention by the Fed to suppress interest rates to support economic growth. These suppressions have driven interest rates consistently lower over time and have been the primary factor in the creation of one bubble after the next. Subsequently, when the Fed raises interest rates, it causes a dislocation in the markets.

The fallacy of the model is quite simple. THERE IS NO SUCH THING AS EARNINGS YIELD. The earnings yield is simply the inverse of the P/E ratio whereby corporate earnings are divided by the price of the market. However, as an investor in a stock you do not receive the earnings yield in the form of a cash payment.   However, YOU DO receive the interest yield from bonds.

This is a very, very flawed analysis and one that should be forever stricken from your investment valuation models.
I side with Lance on this one. I may be more constructive on equities than he is at the moment, but when I hear this earnings yield business making its way back onto the airways, I am forced to switch the channel or kick the screen off the wall. Either way.
By the way, the rest of the piece looks at why this cyclical bull probably cannot morph into the next secular bull just yet, please read it…
Source:
The Next Secular Bull Market Is Still A Few Years Away (Street Talk Live)
* The term "clownraped" and all derivative usage cases thereof copyright The Fly, iBankCoin, all rights reserved.