Welcome to the stock market circa 2013, where everyone is a contrarian mastermind and every piece of optimism is an automatic sell signal.
Everyone's soooo clever with their magazine cover indicators. They saw the Barron's cover from this Saturday and couldn't wait to mock it, it's almost like a reflex at this point. Anyway, here's the "Kiss of Death" everyone's carrying on about this weekend: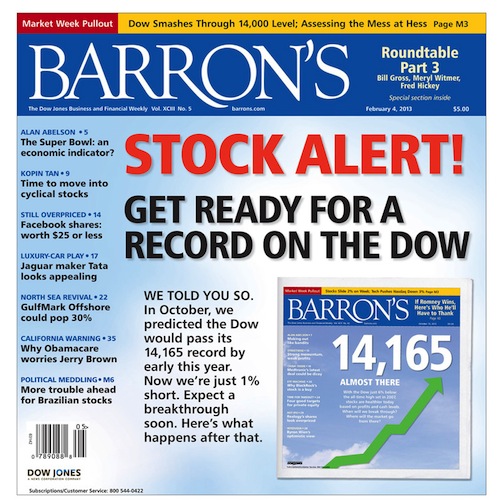 So here's the deal, maybe this is the market top. Maybe we don't quite make that new high above 14,165 on the Dow or worse – maybe we hit it and then crater. Who knows?
But I do know this…if it falls apart, it will have nothing to do with a Barron's cover. After all, how would you have liked being short any of the below?
How about fading that 9/3/2012 cover below with the Bull bouncing a cannonball off his chest, everyone thought that one was laughably bullish…what are we up, 20% plus from there? More?
Or what about the now-infamous "Bye Bye Bear" cover from November 2010, how'd the other side of that trade work out for you?
Or what about the Buy Goldman cover from last October? That was  hilarious too, hope you didn't automatically bet against it!
Or how about the "Time To Buy" Banks cover from the end of 2011? Seemed ridiculous with BofA and Morgan Stanley moments from succumbing to mortgage litigation and Euro exposure. God help you if you shorted that cover, most of the large cap banks mentioned went on to double over the next year while the sector itself went on to beat every other in the S&P with a 27% gain. They'd be scraping your too-clever ass off the sidewalk right about now.
Bottom line, Barron's gets it right and wrong with their covers – with no particularly discernible way to trade off of them, long or short. But the knee-jerk reflexive contrarianism on the web each weekend is just as unhelpful as blindly believing in whatever the editors choose to sell us that week from the newsstand.
Grow up. It's a magazine. And when everyone knows it's a fade, it's not really a fade anymore is it?