The psychologically important Dow Jones Industrial Average is within inches of a new all-time high and Main Street is still completely clueless as to the how and why. They barely understand the what.
In the meantime, market watchers, kneejerk contrarians and other assorted paper-trading pseudo-pundits would have you believe that we have reached some noteworthy peak of extreme sentiment, some apex of greed, just because for the first time in half a decade the fund flows have temporarily reversed back into stocks from cash and bonds. As though one month of inflows versus five years of outflows somehow means a nail the coffin for both the economy and the stock market.
I disagree.
Of the concerns I have (and there are several), sentiment does not even factor in (and it may even be a minor positive). I'll explain…
Stocks have been a non-conversation for the general public for quite some time – the damage done during the 2000 tech bubble was still not forgiven by the next peak in 2007, the credit crisis and Great Recession have pushed the public's reconciliation with equities off even further. And don't even get me started on the Flash Crash, Facebook's Muppet Public Offering (MPO) and on and on. There's more reasons for the apathy, detailed here: FIVE REASONS WE HATE THE STOCK MARKET
And after all of this, there's been a smattering of attention being paid to the stock market for the last few weeks now and somehow this is supposed to represent a bad thing.
For those who've been talking about stocks being in some state of euphoria, I would caution that I believe this to be an early call.  I would characterize the inflow data we've seen for equity mutual funds and ETFs to be noticeable, but hardly firm enough to be indicative of full-blown mania. My guess would be to say that it is more likely we're at the "Optimism" stage in the below classical stock market sentiment cycle chart: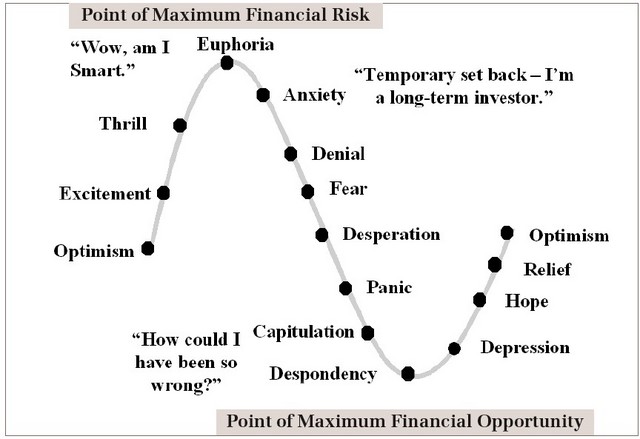 How do I know we're merely at the Optimism stage and not further along? I don't. And there is no universally agreed-upon formula or statistic I could cite here to make my case.
So as proof, I offer up the following "Main Street" coverage of the Dow's ascent above 14,000 from newspapers around the nation this weekend. There was hardly a single article that didn't immediately warn readers about the likelihood that stocks were at a top. When the papers begin buying into the boom, acting as though it's a given that you should be in and sharing stories about newly-minted tycoons, that is probably when you're closer to the euphoria stage.
But that is not what Main Street is hearing upon this milestone, they are hearing skepticism and disbelief and warnings:
First, here's the Associated Press, reprinted everywhere:
Joe Gordon, managing partner at Gordon Asset Management in North Carolina, wasn't celebrating Friday. He thinks the gains won't last. The fact that small investors are finally piling back in the stock market, he said, is not a reason for optimism but a sign that it's getting overhyped and due to fall. After the Dow hit its all-time record in 2007, it fell almost steadily for the next year and a half. It lost more than half its value before starting to tick back up again.
The Los Angeles Daily News dismissively treats the milestone as an afterthought to the January jobs report and lumps it in with an auto sales figure:
The nation's economy began the year on a high note last month with 157,000 jobs added and upward revisions for November and December, the Labor Department reported Friday. More positive signs arrived when the Dow closed above 14,000 on Friday for the first time in five years, manufacturing posted an increase and U.S. automakers announced double digit gains for January.
The Patriot-News of Central Pennsylvania gives us a single throwaway line about Dow 14k which was followed immediately by a list of economic risks before using this event to tell us about local stocks like Rite-Aid and Hershey:
Dow's close above 14,000 is generally being cheered by analysts as a reason for optimism, one that can comfort investors and those looking at their 401(k) accounts. Of course, with unemployment still high, and gas prices rising, there are reasons for concern about the economy.
Even more doubt at the Milwaukee Journal Sentinel, here's the couplet they chose to open their story with:
Investors sent the Dow Jones industrial average above 14,000 Friday, the first time that threshold was crossed since the Great Recession and financial crisis.

It was a sign of resilience in the stock market, but also a milestone that doesn't necessarily predict where stocks are headed in the short term, financial professionals said.
The San Francisco Chronicle opted to not even bother doing a story on the milestone, snipping the first four paragraphs from the above referenced AP story instead. Mania? Really?
The Denver Business Journal's staff managed to mention in it in the context of a story about local biofuels penny stock GEVO Inc.  The St Louis Business Journal assigned it to a web editor rather than a reporter and gave it a few passing sentences.
The Oregonian and the Seattle Times also relied on the AP snippet, the former gave it one paragraph's worth of coverage.
Here's the disapproving headline from the Boston Herald: "Dow soars to 14,000, but job growth sputters along"
And then there was this gem of a headline at the Lehigh Valley Express-Times from mid-morning Friday: "Dow goes above 14,000, quickly falls back" – almost as though to reaffirm the ephemeral nature of the thing itself.
Most of the nation's other news sources, from Orlando to Oahu, ignored it or went with a single paragraph. I'm sorry, but point me towards the mania – I can't seem to find it in any corner of the country.
And while we are seeing some acknowledgement that there is improvement, we are miles away from anything even remotely similar to "The Winners of the New World"
The conclusions I draw are the following:
1. The public is beginning to find out but they are mostly clueless as to what's been happening for the past few years. Clueless by design, they've chosen to allow the markets to exist without their active or knowing participation – even those with ongoing 401(k) contributions. And they are hardly confident in their decision to dip a toe in – flows are gravitating toward US large cap value, emerging markets indexes and dividend vehicles, hardly the stuff of reckless speculation.
2. There is a sense that at any time the gains since the 2007-2009 black hole will disappear, be taken away. Please go talk to a few investors if you disagree.
3. Virtually no one seems pleased at the repairs and the improvement in our capital markets, there is a huge emotional disconnect in the coverage of the 14k milestone – it is very different from the way I remember the Dow 10k coverage at the beginning of my career. Then you were a fool for being left out, now you are a fool if you can't understand how fucked you are for being in.
4. We know that the newspapers are all very resource-constrained and that they rely heavily on wire service and AP coverage in general – but if this market move were truly happening in the context of a popular mania or some such grand gold rush, you'd better believe there would be original coverage by actual reporters. Think about housing euphoria or the stock market mania of 15 years ago.
And so , yes, there is curiosity about stocks once again, there is interest. But there is also dubiousness, apprehension, suspicion and leeriness.
Euphoria? If this keeps up then of course, eventually. But not here, not yet.
I'd be more worried about the Fed getting antsy, earnings jitters, default rates in junk bonds picking up, Spanish and Italian debt markets misbehaving, etc. Those are real concerns and any of them could derail the rally at any time.
If you want to make the argument that a sell-off is coming, make it based on stretched valuations and not based on public sentiment.
Because that would be early.
Read Also:
You Can't Have it Both Ways (TRB)