You'll forgive us for hunting for the next stock that could offer a 200% return off recent lows in the tech space after the months-long comeback of Research In Motion. It has been breathtaking to watch – a tripling of the share price while the product everyone's watching for, BB10, is just coming out now. We want some more of that.
And right on time, the new buzz I'm hearing in traders' circles is that Nokia (NOK) is the next one to go. (Disclosure: I have zero long or short position in the stock as of now and no plans to do anything this week.)
After splitting two for one, Nokia shares hit a high of about 60 bucks a share 13 years ago and have spent most of the time since then falling apart like a grown-up child star. Late last summer, NOK dropped below $2 a share for a period long enough to have a cup of coffee and then promptly doubled to $4 where it currently sits.
There are some major similarities between Nokia's current situational set-up and what we saw with RIMM that are getting traders and turnaround investors very excited.
First, these are both once-dominant telecom and wireless OEMs with huge global presences and user bases along with a history, even if a distant one, of innovation.
Both became walking punchlines last year among techies and investors even as major new products were in the works. Hopeless doesn't even begin to describe the prevailing sentiment that swirled around these companies. Since the iPhone's launch in 2006 2007 it was thought that they could do no wrong while Nokia and RIMM slowly began to look like roadkill. Until recently. Mean reversionists will absolutely adore this 5-year chart (NOK in blue, RIMM in green, AAPL in red):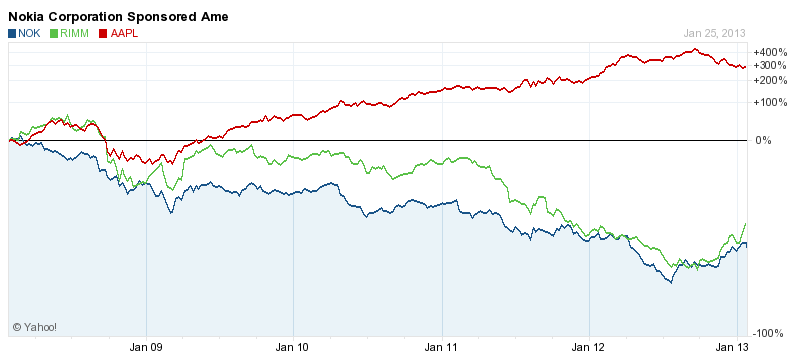 Another similarity is that neither RIMM nor Nokia was ever in any real imminent danger, balance sheet-wise. This is important because the dynamics of competition within the tech sector change slowly – and then all at once. See Apple circa 2001 and then again in late 2012 for an astonishing manifestation of this phenomenon. The point is that he who can live long enough will eventually see an opening. Nokia has a net cash position of more than $5 billion USD and in the quarter just reported saw sequential profitability across all segments surge.
Another important thing to consider is that the North American market is screaming for a third platform to announce itself and restore some checks and balances to the industry. One of the more perverse earnings headlines of the last week came from Verizon, who announced that because so many iPhones had been sold, margins – and thus earnings – were compressed. Think about this for a moment. Apple's greedy subsidy demands and Google's Android hegemony are probably the single biggest threat to the carriers' margins out there and so the idea of their getting a third platform to push in stores is an appealing one. Maybe it'll be BlackBerry but it could also very well be Nokia's Lumia, which is quite a phone – not perfect but surprisingly promising.
The Lumia's initial launch here was stillborn owing to timing snafus with Microsoft's mobile windows cycle  (Lumia runs Windows, in a royalty / platform support partnership with MSFT). But the launch of Lumia is proof enough that Nokia can make a competitive, cutting edge gadget. It's something to build on and the carriers are generally upbeat about its prospects. Anyway, this moment would be that aforementioned opening we talked about, a chance for  a resurgent Nokia to be valuable to AT&T, Sprint and Verizon.
One other consideration – given that the tech sector is prone to upsets just when one player looks like its running away with the ball, it's important to think about RIMM and NOK as being more interestingly positioned than those who are already entrenched. Nokia's smartphone business accounted for just 1% of the total North American pie in 2012. If they can grab just two or three percent, the narrative shifts from "death" to "Nokia just doubled its market share!"  Then the tone of the headlines becomes more positive, investors take notice and the term "scrappy" starts being thrown around. All because of an almost imperceptible shift – call it the Law of Small Numbers.
I want to touch on the Microsoft thing for a moment because I think it's important – Microsoft has a lot to gain should Nokia's Windows-running Lumia platform gain ground. A lot. They have a lot of money and tons of respect to earn, the Lumia hardware is what gives them the best possible shot at smacking the critics around. With the launch of Windows 8 and all of the touch-native flourishes to their new stuff, the fact that they're figuring out mobile should not be snickered at – they are starting to figure out mobile. The opportunity to gain carrier favor is lost on no one in Redmond, Washington and the chance to stick it to Apple and Google will not be passed up. There's also a make or break element to it at this point. Mary Meeker tells us that more than 13% of web traffic this year will be mobile, MSFT can't afford not to have a phone to back.  They will.
As I publish this note, Nokia has an enterprise value of under $10 billion, which is incredible when you consider that it was once one of the largest market caps in all of technology. Its NYSE-listed ADR trades approximately 62 million shares a day and 312 million shares are currently sold short. It's hovering right around the 50-day moving average of 4.16 while it digests the gains of this winter and has no earnings release due out for 90 days. Stephen Elop, Nokia's ex-Microsofter CEO sums up where the company stands nicely in his Q4 commentary released january 24th:
"We are very encouraged that our team's execution against our business strategy has started to translate into financial results. Most notably we are pleased that Nokia Group reached underlying operating profitability in the fourth quarter and for the full year 2012.

While the first half of 2012 was difficult for Nokia Group, in Q4 2012 we strengthened our financial position, improved our underlying operating margin in Devices & Services, introduced the HERE brand to expand our mapping and location experiences, and drove record profitability in Nokia Siemens Networks.

We remain focused on moving through our transition, which includes continuing to improve our product competitiveness, accelerate the way we operate and manage our costs effectively. All of these efforts are aimed at improving our financial performance and delivering more value to our shareholders."
Nokia slashed its dividend to zero last week as well, announcing to The Street that it is now time to marshal its resources for the fight to come. There is a new deal for the Lumia with China Telecom which opens up the Middle Kingdom's hundreds of millions of customers to the product and Nokia wants to be in a position to push there. This is precisely what they should be doing. And if North America becomes a real market for the Lumia – Windows 1-2 punch, then the rally we've seen so far in shares of Nokia will look like peanuts.
All the while, virtually no one is paying any attention.
And this is how the "Nokia is the new Research In Motion" meme has gotten started…