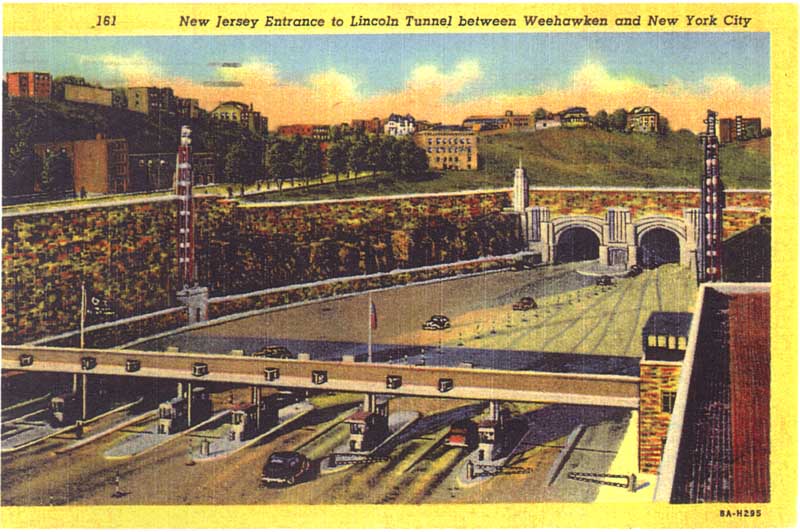 Today is the 75th anniversary of the opening of the Lincoln Tunnel, which connects the west side of Manhattan with Weehawken, New Jersey and allows over 100,000 commuters a day to get to work. It was a single tube on opening day, December 22nd in 1937. It's construction was part of FDR's New Deal, at a time when the term "shovel-ready project" actually had meaning. The first tube's construction, funded by the Public Works Administration, began in 1934 and cost $85 million or about $4.15 billion in 2012 dollars. Two other tubes have been added on to it since, one at the end of WWII when construction materials became available and another in the 1950's.
The 1.5 mile underwater tunnel was remarkable at the time it was built seven decades ago and it's become indispensable now. It is a conduit of commerce and economic activity. It is exactly the kind of thing we should have spent the last five years dreaming up and executing as society.
Instead, we've spent that time ensuring the bonuses of Too Big To Fail bankers with ultra-low interest rates and forgiving accounting policies. In an age of deteriorating infrastructure, the average American cannot name a single large-scale project that our lawmakers and President had the guts to commission. Compared to the Lincoln Tunnel and the Grand Coulee Dam, the Obama-era projects resemble nothing more than roadside ditch-digging and a handful of steel and iron band-aids.
Once upon a time were daring with our public works projects then and we actually put legions of people to work. Not just government-hired workers, we're talking private enterprise and small businesses that sprung up to serve various needs peripheral to and central to these massive projects. Contractors and consultants and caterers and everything in between.
And the results were bigger than just the thing we were building. Often, the journey is just as rewarding as arriving at the destination; we learn things about science and engineering and efficiency and manufacturing along the way. Kennedy's Mission to the Moon wouldn't bear fruit until six years after his assassination but the legacy of that push and all of the cumulative breakthroughs and benefits from the space program live on today some fifty years later.
You would think, given our economic issues, that now would be a good time for Congress and the White House to start thinking big. Energy, the environment, cancer, obesity, gun control, border safety – all are massive challenges in search of a large-scale, societal solution. All of these issues require a major mobilization from coast to coast, the kind of private sector action that government should be attempting to stoke with forward-thinking policy and carefully-directed investment for the public good.
This is not about Small or Big Government or about lawmakers cherry-picking favored industries on which to lavish quid pro quo campaign favors. No, what this is about is recognizing that we're spending the money somehow, it may as well be spent in the best possible way.
But we're not up to it. We don't dream big anymore, we're too busy squabbling over tax rates.
Happy Birthday to the Lincoln Tunnel.  Hopefully it will inspire future generations even if this one remains oblivious to our heritage of audacious ingenuity.
Read Also: