I'm always thinking about secular booms and secular busts – industries that will thrive or die regardless of the business cycle, which can only help or hurt a little but will never alter the course of one of these things.  The digital distribution secular trend turned out to be a last stand for Blockbuster and it is having a game-ending impact on companies like Barnes & Noble, Best Buy etc.  The aging of the Baby Boom generation means an obvious bull market in medical care, devices, therapies and assistance.
But here's a trend probably worth thinking about – the paperless office.  It seems fairly inexorable, even if far-off.  Or maybe it's not so far off as we may think.  After all, isn't that the running subtextual joke in the background of all those seasons of The Office (British and American)? Watching a paper company die in slow motion turned out to have been way less dreary than you may have originally thought it would.  But I digress…
The below comes from Tim Taylor's blog, the Conversable Economist (not sure if conversable is a real word or not):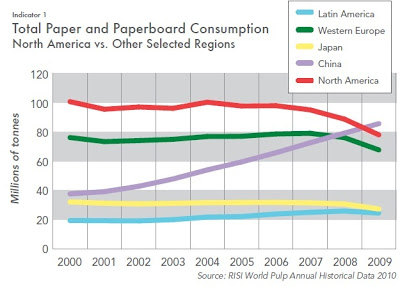 "Consumption of paper and paperboard products has experienced significant decline in North America since 2007. This is attributable primarily to the aftermath of the financial crisis in the United States at the end of the decade. The poor economy motivated many companies to perform a close analysis of their paper use and inspired the adoption of innovative and more efficient systems. These new systems will remain in place into the economic recovery and likely have a lasting impact on printing and writing paper consumption. In addition, the shift in the patterns of consumption of news and other media from print to digital formats is also apparently having an irreversible effect in some paper sectors such as newsprint.

"Total global consumption of paper is still rising, reaching 371 million tonnes in 2009. However, total paper consumption in North America has declined 24% between 2006 and 2009. Per capita consumption of paper in North America dropped from more than 652 lbs/year in 2005 to 504 lbs/year in 2009.
Source:
The Paperless Office: Headed that Way at Last? (The Conversable Economist)