Has the NFL become a bit too pussified this year, freaked out as it is by the rolling, disturbing episodes involving concussed (and thus deranged) players? We just had a murder-suicide this morning by a Kansas City player that the league is already garnering blame for (because why else would a player do such a thing if not for the ongoing traumatic brain injury he's incurring as part of the game?).
By the way, fear not, because the sick bastards at CBS Sports were kind enough to let us know that this particular murder-suicide that leaves a baby parentless shouldn't have too big of an effect on your fucking fantasy football team: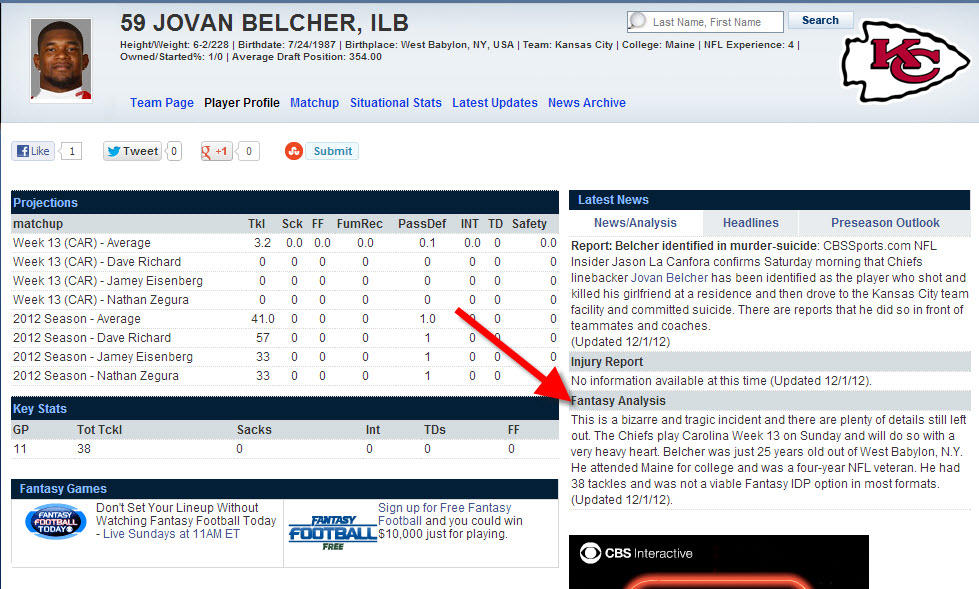 Anyway, here's the intro to Bill Simmons's weekly recap including a State of the NFL 2012 summation I found hilarious:
We will remember the 2012 NFL season for Peyton Manning's astonishing comeback; the bumbling replacement refs (and the ensuing furor about the bumbling replacement refs); Golden Tate's "Fail Mary"; San Francisco's ballsy quarterback switch; the dueling Andy Reid/Norv Turner collapses; Atlanta shattering the record for "How the hell did they win that game?" victories; a truly bizarre Saints season that's playing out like the worst sports movie ever made; ChuckStrong; a slew of sloppy Thursday-night football games; Adrian Peterson's comeback; the Ass-to-Sanchez fumble; the magic of RG3 and the anti-magic of Blaine Gabbert; Houston winning two overtime games in less than 100 hours; Adderall's emergence as the NFL's new drug of choice (or handy excuse for a four-game suspension, or both); too many Aaron Rodgers commercials; God's blistering hatred of Cleveland and Kansas City; and, of course, Roger Goodell turning into Warden Norton from Shawshank, botching a variety of high-profile situations, contradicting himself in the most basic ways and making a legitimate run at Gary Bettman's "Most Inept Commissioner" crown.Somehow, we're not going to remember Tim Tebow even a little — he's about three years away from appearing on Survivor with a scruffy beard and pretending he's an insurance agent from Tampa.

Just know that we'll remember the lingering effect of concussions — and how it affects the way we watch football — over everything else that happened this season. The sport changed, and it continues to change, and really, I don't know where we're going anymore.
Head over for Bill's thoughts on how the (well-deserved) heightened fear of player injury is altering the game right before our eyes.
Source:
The Year of Living Cautiously (Grantland)
Screen capture above thanks to @halfshaftblues: