Yes, I've renamed Black Friday. It shall henceforth be known as Wack Friday, my contempt for the entire concept can be best summed up below by my early morning tweet stream…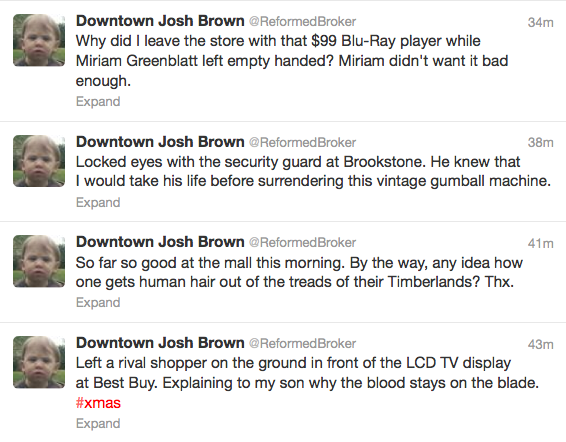 MarketWatch has a story up today that dissects this stupidity with much more data and eloquence. They list the ten things stores won't tell you about this day, including the fact that:
4. "You should have stayed home."

Jen Dorman, 28, was on the hunt for a cheap slow cooker. She spent hours at the stores on Black Friday two years ago looking for a doorbuster discount. By the time she got to the stores, the model she wanted was nowhere to be found. "I felt like I'd gone through an obstacle course and I was wasting all this time," Dorman says. Tired and annoyed, she says, she returned home and searched for the appliance online and found it. What's more, it was selling at a lower price than the brick and mortar stores were advertising. Oh, and, she got free shipping too.

As retailers compete for more sales, they're putting their Black Friday deals online as well, says Baker. Toys "R" Us shoppers will be able to get the same deals online as in its stores, says company spokeswoman Jennifer Albano. Macy's will also offer many of the same in-store deals on its site.

That means consumers can avoid the long lines altogether by staying home and shopping online. And in some cases, they can get those deals early. Retailers including Kohl's and Sears will offer some of their Black Friday deals on their websites days before the big event. Target will also offer early online access to some deals on Thanksgiving Day.

Black Friday is no longer reserved just for in-store purchases, says Kathy Grannis, a spokeswoman for the National Retail Federation. But just because they're on their computer, consumers shouldn't think they'll avoid the hype. Expect to receive text messages via your smartphone touting free shipping, discounts and coupons.
Source:
10 things stores won't say about Black Friday (MarketWach)