361 Capital portfolio manager, Blaine Rollins, CFA, previously manager of the Janus Fund, writes a weekly update looking back on major moves, macro-trends and economic data points. The 361 Capital Weekly Research Briefing summarizes the latest market news along with some interesting facts and a touch of humor. 361 Capital is a provider of alternative investment mutual funds, separate accounts, and limited partnerships to institutions, financial intermediaries, and high-net-worth investors
361 Capital Weekly Research Briefing
November 12, 2012
Timely perspectives from the 361 Capital research & portfolio management team
Written by Blaine Rollins, CFA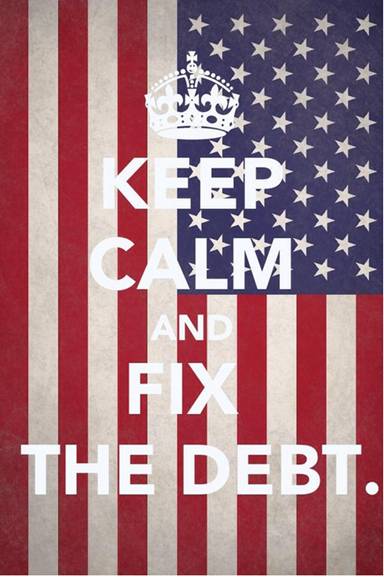 Investors are watching the Eurozone/Greece negotiations and the Middle East tensions, but right now it is all up to Washington D.C. to act on the Fiscal and Monetary Cliffs which will expire at year end. The financial markets sell RISK on fears of lack of progress and buy RISK on hopes of progress. Retailers are hoping for some signs of an advance before Black Friday, but with Congress on vacation this week, it will be up to those lawmakers working in the back rooms of Washington to get a deal to the goal line for their bosses to sign next week. On Friday, the four Congressional leaders went before the microphones on the White House lawn and made the first effort to convince the financial markets that a deal will be done before year end.
Notable quotes:
• "This isn't something we're going to wait until the last day of December to get it done,"… "We have a plan. We're going to move forward on it." (Senate Majority Leader Harry Reid)
• "I think there's a one-third probability we'll get a deal, about one-third we'll go over the cliff and be able to reach a deal right afterwards. That'll be OK. But there is that one-third chance we won't and end up in chaos. The markets have felt that no one would be dumb enough to let this happen. Now they can see that it is indeed possible. This could happen." (Erskine Bowles on CNBC)
• I'm not worried about the fiscal cliff because I've seen the end of Thelma and Louise and that plan worked out fine. (@upsidetrader)
@zerohedge: Number of Congressional sessions through end of 2012…


"Right now capital is on strike! And when capital is on strike, you're not going to create any jobs." (Erskine Bowles)
U.S. companies are scaling back investment plans at the fastest pace since the recession, signaling more trouble for the economic recovery… Companies fear that failure to resolve the fiscal cliff will tip the economy back into recession by sapping consumer spending, damaging investor confidence and eating into corporate profits. A deal to avert the cliff could include tax-code changes, such as revamping tax breaks or rates, that hurt specific sectors.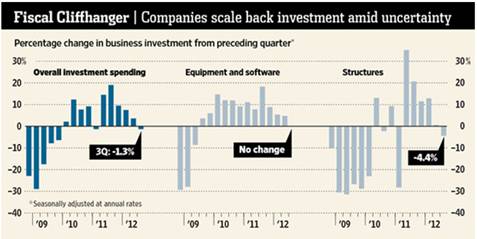 (WSJ)
In the meantime, U.S. economic data points are feeling the effects of Hurricane Sandy…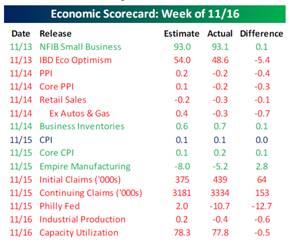 (Bespoke)

Government run entities wish that they could blame Hurricane Sandy for their numbers…
• Postal Service's losses soar to record $15.9B. The U.S. Postal Service's FY loss more than tripled to $15.9B, mainly due to defaults of over $11B. Revenue slipped 0.8% to $65.2B as mailing volume declined 5%, although online shopping helped boost package revenue 8.7%, suggesting it's not all doom in the Internet age. However, paralysis due to Congressional control and labor costs continue to maim the USPS, with the latter accounting for 80% of expenses vs. 61% at UPS and 41% at FedEx.
• FHA losses hit $16.3B. The Federal Housing Administration's projected losses amounted to a much larger-than-forecast $16.3B at the end of September, an annual independent report shows, with the agency holding reserves of $30.4B vs. expected losses of $46.7B on the loans it has insured. A bailout of the FHA, which is suffering badly from backing loans made from 2007-2009, is getting ever more likely, although a decision won't be made until February. (Seeking Alpha)
• The federal agency that insures pensions for more than 40 million Americans last year ran the widest deficit in its 38-year history. The Pension Benefit Guaranty Corp. says its deficit grew to $34 billion for the budget year that ended Sept. 30. That compares with a $26 billion shortfall in the previous year. (AP)
The markets had a difficult week until Friday's White House lawn appearance by Congress…



Mostly a RISKOFF week with the exception of one off acquisition or company news specific events…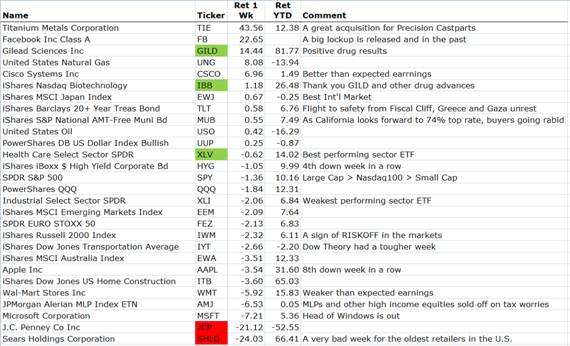 Even with the bounce Friday, all sectors of the market ventured into oversold territory last week…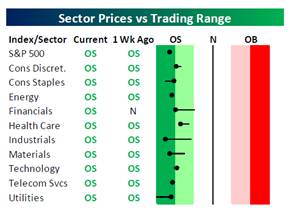 (Bespoke)
One of my favorite measures even hit an oversold condition as selling became broad based and indiscriminate…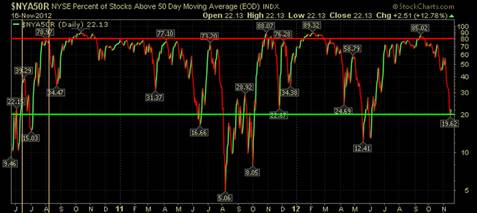 Also, the AAII Investor Sentiment Survey shows that equity investors were running for the shelters…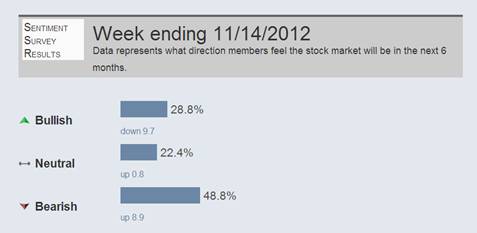 (AAII)
One of my favorite market barometers is the high-yield bond market and last week it went up against the New England Patriots…
Investors yanked a record volume of cash from BlackRock Inc. (BLK)'s exchange-traded fund that buys junk bonds as the notes lose value for the first month since May. The $16.3 billion fund reported an outflow of 2.4 million shares yesterday, equal to about $218.9 million, according to data compiled by Bloomberg. That's the biggest daily withdrawal in the five-year history of the iShares iBoxx High Yield Corporate Bond Fund, the largest of its kind. (Bloomberg)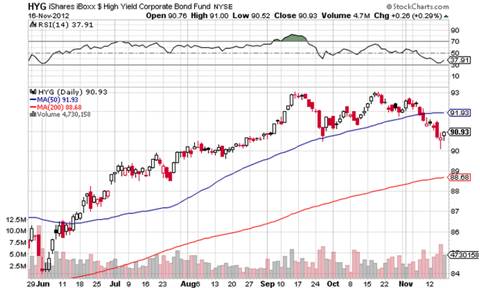 As for the most over-owned stock by portfolio managers, the good news is that it is HIGHLY oversold and now yields 1.9%…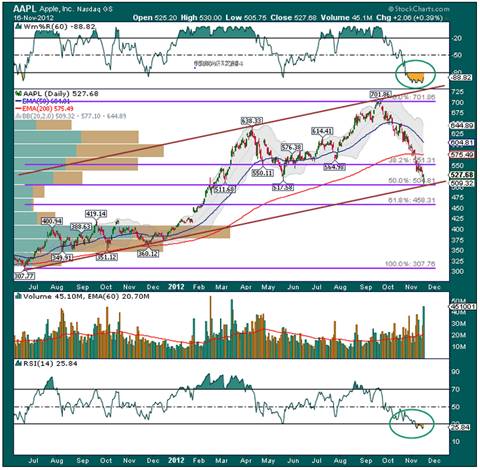 (@stocktiger)
Merrill Lynch LOVES U.S. Real Estate…
It is one of their favorite investment themes and will hopefully ring true for all leveraged U.S. homeowners. They are forecasting a +5% gain in price this year and a +36% gain over the next decade.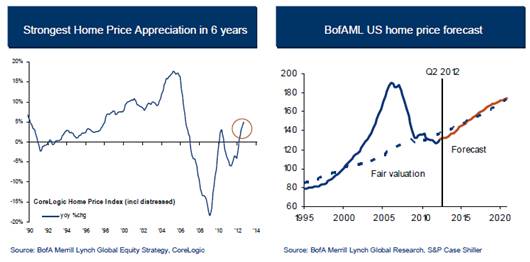 Meanwhile in China, signs of bottoming in their real estate prices…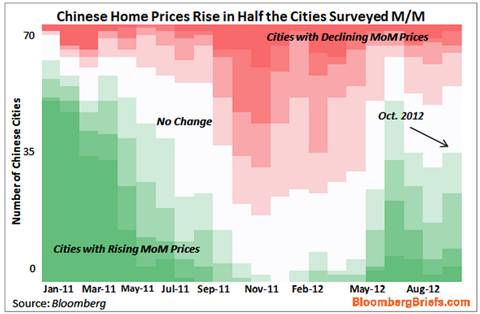 (@M_McDonough)
And as holiday shopping nears, Best Buy will match Amazon on price for the season, but it won't be cheap to do so…
75 percent of the items offered by Best Buy are cheaper on Amazon, on average by 17 percent. Based on Best Buy's Q4 2012 earnings statement and InvisibleHand's internal price data, Best Buy's price-match promise could, conservatively, cost it more than $400 million of gross profit this quarter with an EPS (earnings per share) impact likely to exceed -$1.12. With numbers like this, it's amazing Best Buy is still in business. (PandoDaily)
Speaking of Amazon…Fortune Magazine's 2012 Businessperson of the Year = Jeff Bezos
Given what he's built in the 17 years since turning on the Amazon store, Bezos might be forgiven for thinking of his legacy. He isn't. "I have joked that I want my legacy to be 'World's Oldest Man,'" he deadpans. The father of four has, however, gained insight over the years into what makes him tick. "I have realized about myself that I'm very motivated by people counting on me," he says. "I like to be counted on. I like to have a bunch of customers who count on us. I like being part of a team. We're all counting on each other. I like the fact that shareholders are counting on us. And so I find that very motivating." (Fortune)
Professional Sports Stadiums and Arenas increasing threat…
@ReillyRick: Roger Goodell says people stay home from NFL games because of HD. Oh, there's way more reasons than that. (ESPN)
Okay, who brought the dog to the Greek protest march?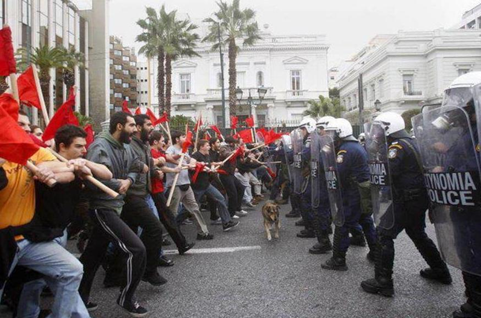 (@TheStalwart: "Austerity Dog")
Have a Great Thanksgiving Everyone.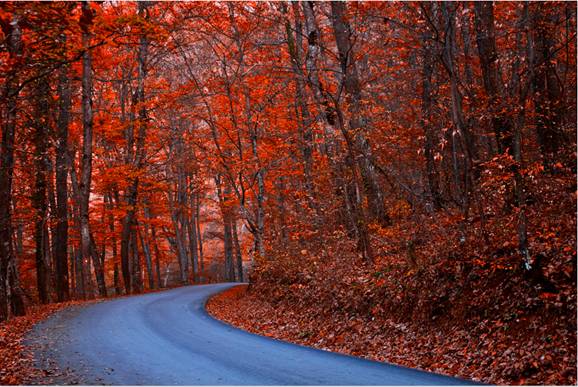 (500px)
Blaine Rollins, CFA, is managing director, senior portfolio manager and a member of the Investment Committee at 361 Capital. He is responsible for manager due-diligence, investment research, portfolio construction, hedging and trading strategies. Previously Mr. Rollins served as Executive Vice President at Janus Capital Corporation and portfolio manager of the Janus Fund, Janus Balanced Fund, Janus Equity Income Fund, Janus Aspen Growth Portfolio, Janus Advisor Large Cap Growth Fund, and the Janus Triton Fund. A frequent industry speaker, Mr. Rollins earned a Bachelor's degree in Finance from the University of Colorado, and he is a Chartered Financial Analyst.
In the event that you missed a past Research Briefing, here is the archive…
361 Capital Research Briefing Archive