When venerable bond shop PIMCO began a new equity mutual fund push, people took notice. Especially given Bill Gross's highly visible commentary regarding the reality that bond yields couldn't drop another 30 years. I was quoted in a Bloomberg story about this a few weeks back btw, read it here.
Anyway, PIMCO brought on a manager from Thornburg Investment Management to run their dividend products and I had the pleasure of attending a lunch yesterday introducing him to the New York asset management community.  Brad Kinkelaar's presentation was a rundown of dividend-related intelligence from the PIMCO team and I came away with a handful of new insights I wanted to share with you below. Here are five things I learned:
1. Kinkelaar makes a very important point about how, during some decade-long stretches, the income from dividends is really all an equity investor has.  Have a look at dividend income as a percentage of stocks' total return by decade below. You'll notice that even during "good" market decades like the 1980's, it's still an important component of your returns: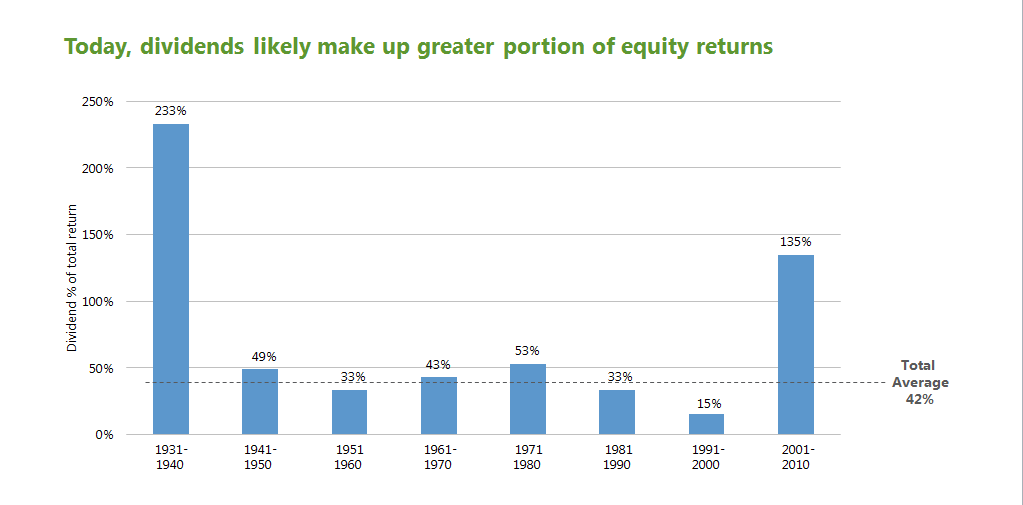 2.  It's important to understand that it's not the very highest payers you want – many high-yielding stocks got there the hard way through share price declines. It's really the 8th decile of payers that puts you in the sweet spot for total returns. Nominal yields alone are not the story.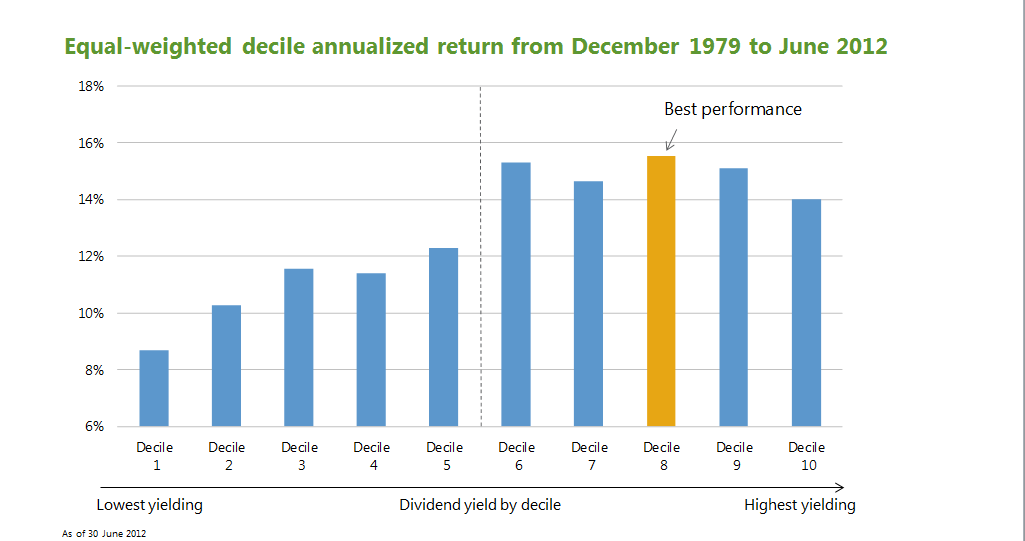 3.  Also, it's not just high dividend payers that you should be looking for, it's companies that are growing their dividends at high rates that really amp up performance. The below chart speaks volumes. Unfortunately, one cannot simply "buy the blue line" as Kinkelaar reminds us that the companies fitting into that category are always changing. This is the pitch for active management and stock picking within the dividend space, obviously.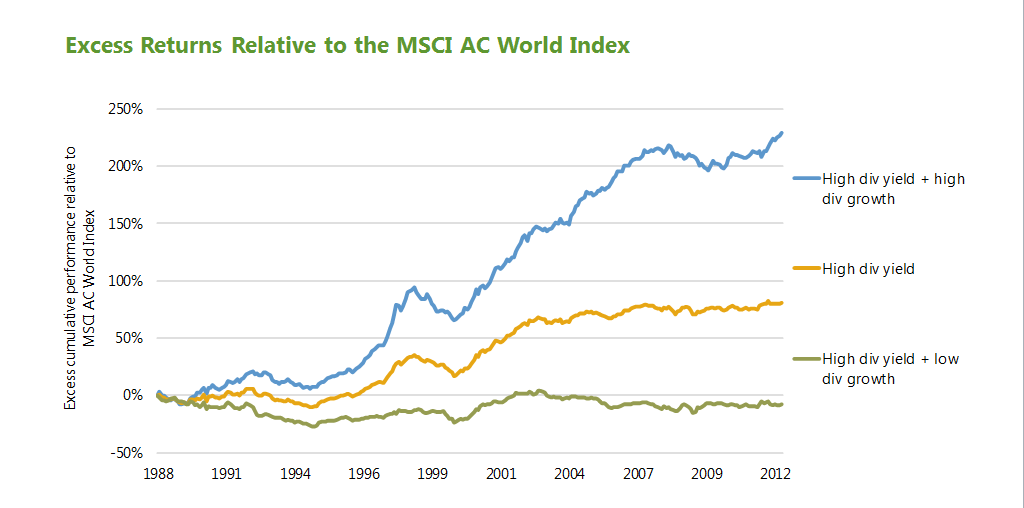 4.  There's a very important lesson in the below chart involving not sticking with just US equities for dividend exposure. This is a point I've made many times. In the US, we have this concept where companies only pay dividends when they've run out of things to invest in to grow the business.  Kinkelaar explains that overseas, this is not how it works at all. Foreign companies that are growing are also paying good dividends, there's no stigma about paying shareholders today and over the long-term in capital appreciation like we have here. He didn't mention it, but I would also add that many foreign countries have tax laws that actually punish companies that retain  too much profit, so dividends are actually favored by legislation. Below you'll find the universe of international dividends by sector yields and country: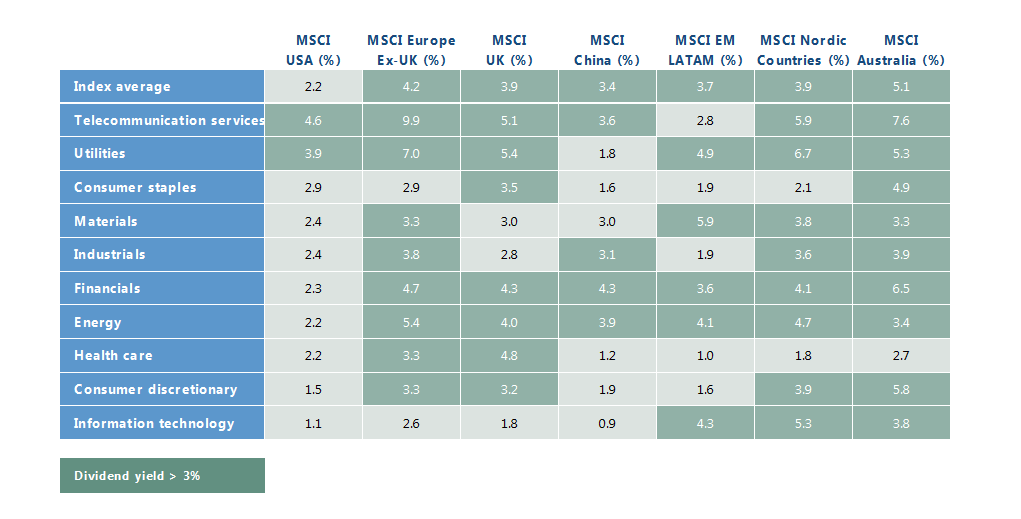 5.  Kinkelaar's dividend stock portfolio is currently weighting US telecoms and utilities at zero. This is because they also want to be "good value investors" and not overpay for stocks just because of their yields. US telecoms are currently trading at a 79% premium to their average multiple – an absurdity that PIMCO seeks to avoid entirely. They find better value in EM and European telecom stocks like Vodafone, for example.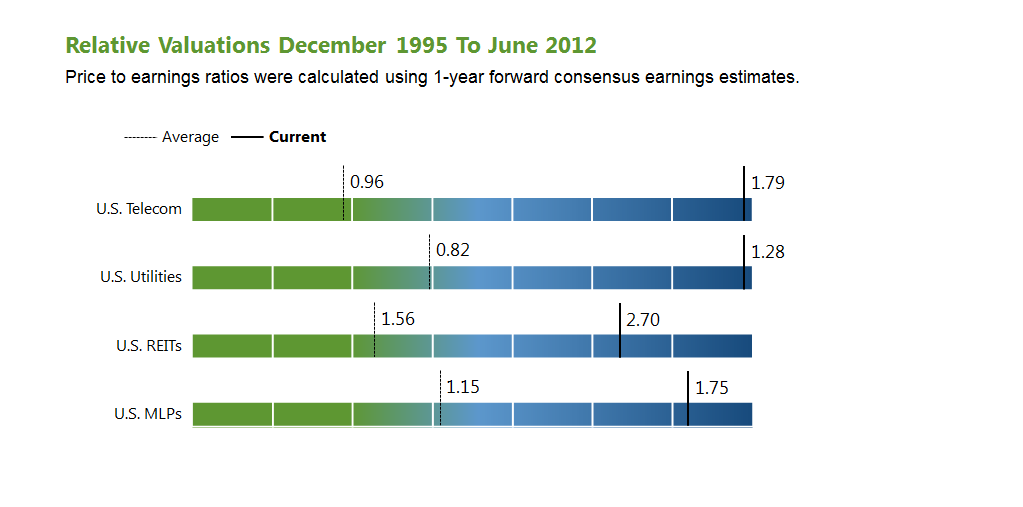 So my takeaways are not to focus just on the nominal dividend yield percentage but on the possibilities for total return given valuation. Also, to think about the space more broadly than just US value stocks, especially now given the chase for yield here in America. Hope this was helpful.
All charts from PIMCO, please consider this information for educational purposes and not as a solicitation to trade or invest in any securities.