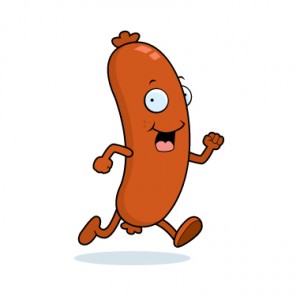 What I'm reading this morning:
Stephen J. Guilfoyle "Sarge", is the U.S. Economist at Meridian Equity Partners since 2007. Stephen joined Meridian after a long career at Credit Suisse. Stephen has worked on the trading floor of the NYSE continuously since July 1987 and actively serves as a Sergeant in the National Guard.
***
Good Morning,
What's up for today? It's Central Banking day around the globe, but I would not expect the fireworks that we've become addicted to for this time around. At 07:00 ET the Bank of England will make their a policy announcement. They are expected to leave the benchmark Official Bank Rate at 0.5%, and leave their quantitative easing program at 375 billion pounds. If you're looking for surprises, this may not be your day. The European Central Bank steps to the plate at 07:45 ET, and they are also expected to leave their benchmark, the Minimum Bid Rate unchanged at 0.75%. I would say that this is less of a sure thing than it is for the BOE. A press conference is scheduled for 08:30, at which ECB President Mario Draghi will speak, and hopefully clarify the ECB's plan for buying sovereign bonds in the secondary market when asked (aka the OMT meaning Outright Monetary Transactions). The burning question here, is just what is the ECB's idea of an acceptable cost to borrow for a sovereign in need of a bail-out?
Think we're done with the central banks for today? Think again. Later on, after we're done trading here in the States, the Bank of Japan is scheduled to make their policy announcement sometime before midnight New York time. They too are not expected to change their minuscule Overnight Call Rate, not change their asset purchase plan. Their press conference, like the other will follow, so it will probably actually be Friday in NY.
You do have a couple of domestic points to worry about today. At 08:30, the weekly Jobless Claims are due. Consensus today is for 370K, which would be an increase over last week's 359K. The range today is 364K to 375K. Continuing Claims dropped by 4K last week, and will also be closely watched. At 10am, Factory Orders for August will be released. The expectation for this one is for a decrease of -6..0%, which would make it the worst month in a crazy long time. I only have data on this going back to January 2007. The range for this item spans from -10.0% to -1.2%. Just for giggles, July printed in positive territory (+2.8%). Stick around into the afternoon, and 14:00 ET will bring us the FOMC Minutes from the policy meeting that ended on 13 September. That was the meeting where QE infinity was announced, so it will be worth paying attention to.
There are no significant earnings releases that I thought I should warn you about. There are however two speakers that you may wish to be cognizant of, aside from all of the central banking press conferences. Bank of Canada Senior Deputy Gov. Tiff Macklem speaks from Winnipeg at 13:30 ET, and St. Louis Fed Pres. James Bullard speaks tonight at 19:45 ET from Memphis. Mr. Bullard will open himself up to Q&A.
***
This post originally appeared at  Guilfoyle's Market Recon. 
Follow the Sarge on Twitter here: @Sarge986