One of the things technicians pay attention to in addition to price (although "only price pays") is the internal makeup of a given rally or sell-off.  They are looking for divergences that may betray the surface trend everyone else sees. They are looking for clues as to whether the trend is just getting started or about to take a turn in a new direction. Many fundamental analysts and "chief strategist" types look at this stuff too but shhhhh – don't tell them it's technical analysis!
Volume used to be a very important tool and an easy one to use at that – declining volumes in the face of a continuing move were often looked at as a sign that less and less people were participating, hence the move may "may be getting long in the tooth." In recent years volume has become less relevant due to the New Normal of machine-driven trading that removes emotional participation as a noteworthy gauge. Other internal readings, like relative strength, advancers and decliners (the A/D line) and money flow, have grown in importance thanks to the vacuum left by our disinterest in volume of late.
But one very important metric often gets left out in these discussions and so I'm glad my friend JC at All Star Charts was good enough to put it out there at the end of this week.  Below, JC looks at the breakout in "net new highs" – stocks making new 52-week highs minus stocks making new52-week lows.  This is one of the most important breadth indicators and one that matters even more when the broad market approaches a major high as it is now.
Here's JC:

Remember right after Labor Day when we were waiting for Net New Highs to stop declining? Wow that feels like a century ago. Just a couple of days after we were complaining that the internals weren't confirming the new highs in price, boom – net new highs start to breakout. Right on cue.

At the time, we were worried that the divergence we were seeing was way too similar to what we saw in the Spring, just before the market corrected sharply. But, "no sir, not this time", said Mr. Market. Take a look at the breakout in new highs just after our post that has certainly continued throughout this week.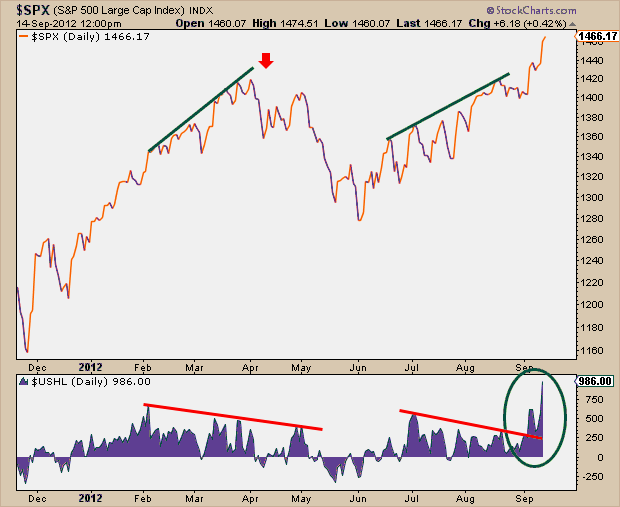 Josh here – This is an important metric to keep an eye on.  For me, the net new highs list was one of the key tells of fall 2007 (in hindsight of course).  Back then, the indices were lying to us – charging higher each day while less and less stocks went up with them.  I remember saying to JC (we worked together) that there were a handful of stocks that if you don't own, you might as well not even bother coming in to the office. Boy, was I on to something (without realizing it at the time).
Fortunately, this is not the case here – at least not yet.
Source:
Net New Highs Are Soaring (All Star Charts)
Read Also: