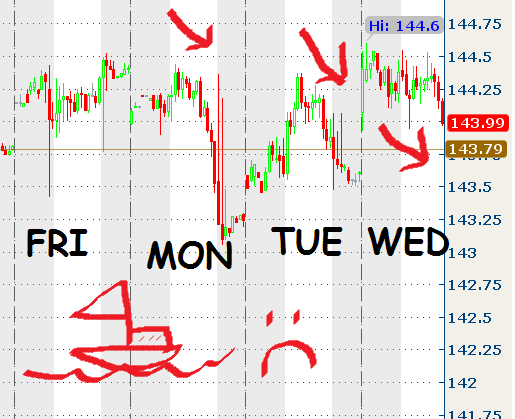 That's the 30-minute SPY chart above and a sweet f*cking sailboat I drew in MS Paint.
Here's the thing, you absolutely do not want to see this new pattern of late-day sell-offs become a thing. They are the absolute worst, much worse than opening gaps down.  They signal fatigue and a lack of enthusiasm once the mutual funds who have taken in new money overnight complete their morning buys.  This is very bad especially given that all of the positive catalysts are now behind us – the German ESM favorable ruling and iPhone 5 being the latest milestones in our rearview.
That said, the mother of all potential catalysts is tomorrow.  But if the market fades after in the 2 o'clock hour, momentum to the downside could really pick up.  Don't bother watching the Vix, it'll be coincident rather than leading.  Watch Apple, Goldman Sachs and the EURUSD.
If the market "doesn't like" the Fed tomorrow, understand that this well-established pattern of late-day give-ups is already in force.  A weak close today makes it a trend if you ask me.