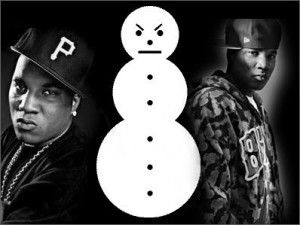 With apologies to Young Jeezy aka The Snowman, a down-south rapper with an aspirational flow and a sensitivity to all things recession-related, I'm borrowing his elemental truism about Scared Money's inability to Make No Money so I can make a handful of points today…
I came across this story in the business section at USA Today and I smiled. If I were running a hedge fund with just a single input – sentiment – I'd be 30-1 leveraged long the S&P as a result of it.
It begins with a deliciously observant title, once that may eventually end up in my own mini-museum of journalistic turning points for the stock market (along with the infamous The Death of Equities BusinessWeek cover from 1979).
Anyway, here goes:
Financial crisis ushers in 'The Age of Safety' for investors
By Adam Shell, USA TODAY

Cash hoarding. A record $9.43 trillion — enough cash to buy 120 of the biggest companies in the Standard & Poor's 500-stock index — is now sitting in money market mutual funds, bank savings accounts and CDs, according to Crane Data.

But all that cash isn't making anyone rich.

"The rate of return is effectively zero," Crane says. "How much of the $9 trillion is scared money is arguable. But the overall numbers are gigantic."

Rich retrenching. Even the richest of the rich, the One Percent, are thinking defense first, according to "The 2012 Survey of Affluence and Wealth in America" from American Express Publishing and Harrison Group. One Percenters put 56% of their free cash into savings and money market accounts last quarter, up from 24% in 2007. In contrast, they are investing only 44% in financial markets, down from 76% five years ago.

Mom and pop selling. Main Street investors have been lightening up on stocks since the financial crisis. In the four years ending 2011, individual investors yanked more than $395 billion out of stock mutual funds, according to the Investment Company Institute. In contrast, more than $775 billion has been funneled into the perceived safety of mutual funds that invest in bonds.
Is there anything better this?  And the fact that it appeared in USA Today!?! Perfect!
Oh, and how about the fact that Wall Street strategists have never been this bearish in the aggregate. Or what about the sitcom debuting this fall called The New Normal?
Young Jeezy would look at all this scared money and laugh, as he cooks up another kilo and cleans his guns for the sabbath.
Hoarding cash is pretty dumb, being "all-out" is always dumb and not being able to see past the next "scary" headline on a perpetual basis disqualifies you from using the term "investor" to ever describe yourself.
But I love it all so much, the numbers are hilarious.  It means we're getting close to the Magic Hour for sure, gang.
So hang in there.
Source:
Financial crisis ushers in 'The Age of Safety' for investors (USA Today)