A lot of guys who run money tactically make some use of the 50-day and 200-day moving average crossovers as their signals to buy or sell whole chunks of equity exposure for the clients.  Which is good, not great. We pay attention to some of that but we certainly aren't living and dying by it absent other inputs.
There are no fool-proof timing signals that "always work" – at least that I'm aware of – but even having any discipline and systematic risk management approach is often better than none at all.  Some of the simpler moving average crossovers have been shown to have saved people a lot of aggravation in 2008 (they had you out of the way when applied to the major indices, for example) but they don't always get you back in when you should be. They also are plagued by false signals and headfakes – just like any other system.
John Hussman took a look at these crossover risk-on, risk-off signals and the concept of trend following the other day…
The charts below feature a variety of moving-average crossover strategies using the S&P 500. The darker blue line tracks the total return of the S&P 500, and the others track a variety of strategies that are long when the S&P 500 index is above the given moving average, and in T-bills otherwise (the moving averages are exponential – giving a weight of 2/(N+1) to the most recent observation, and the rest to the prior value of the MA, where N is the length of the MA). The moving average lengths are Fibonacci numbers, which is a common practice among technicians.

At first glance, these strategies seem very promising, particularly for the 21-week moving average crossover, which produces a cumulative return about 40 percentage points more than a buy-and-hold since 1950. Unfortunately, over 62 years, that difference is actually quite small, amounting to just 0.5% annually. And even that excludes all transactions costs, taxes, and slippage. If you look carefully, you'll also notice that drawdowns are not particularly small. In fact, the 21-week crossover strategy has a maximum drawdown during this period of nearly 40%. The reason is that the strategy has had an awful tendency to buy into rallies just at the point where they fail abruptly, and to sell into declines just at the point where they rally sharply. You can see this reflected in the drawdown of the 21-week crossover strategy (purple) during the 2000-2002 decline. The trend is your fickle friend.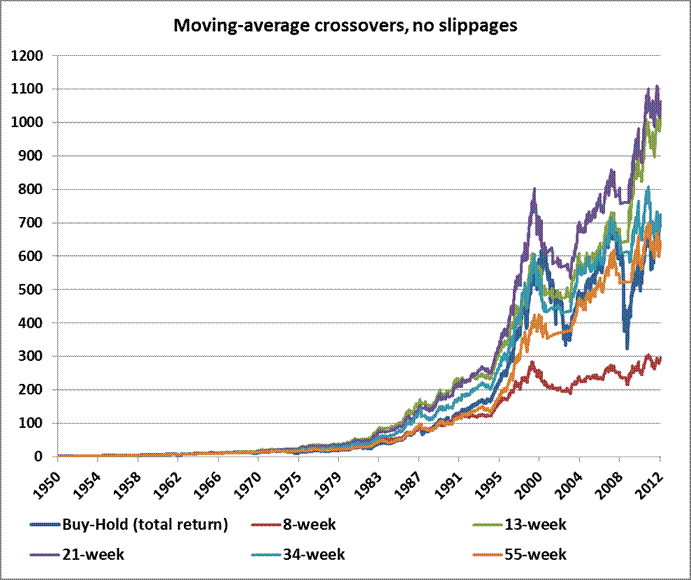 Head over for the whole discussion, it's great stuff.
Source:
The Trend is Your Fickle Friend (Hussman Funds)