Last July I told you about a startup investing company that seemed to me the epitome of absurdity and lack of industry savvy.  It was called Motif Investing and it was based around the premise of designing portfolios based on what they call "motifs" but what the rest of us call fads. I'm America's foremost authority on investing fads and themes, I know it when I see it.
But whatever, they raised like $20 million and actually launched it.  Wait til you see this screen shot of the homepage, it's about the most tone deaf thing I've ever seen (annotation mine):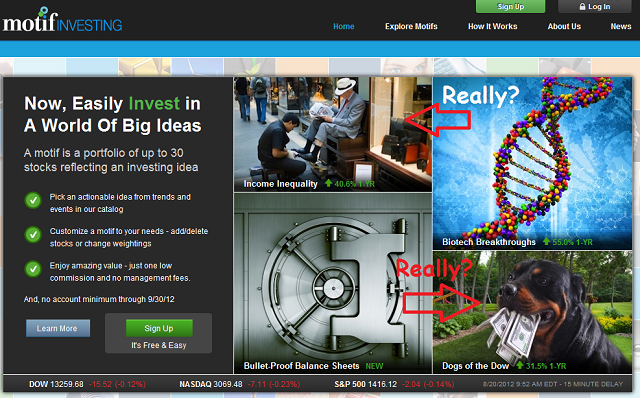 I'm not sure which serious investors will like better, the dog with money in his mouth or the tasteless image of a shoeshine guy depicting income inequality.
The reality is that if you want to play a "motif", you can just buy an ETF or two.  I don't quite understand what the hell this is all about.  I put this in the same category as SigFig and WealthFront and the brain-dead Betterment and all the other tech startups that have absolutely no idea about the investing business.  They're gonna burn a lot of venture investors' cash as they learn, I can tell you that.
Read Also:
Investing Fads and Themes by Year, 1996-2011 (TRB)
hat tip Jason