If you had told me emphatically in 2007 that the worst credit crisis in fifty years was going to cripple the American consumer and that a balance sheet recession was imminent, I would have made a short list of stocks to, well, short.  And somewhere near the top of that list would have been Whole Foods Market ($WFM).
And I would have gotten my ass kicked, beaten bloodier than Charlie Sheen's left nostril (little known fact, he can't go right).
Whole Foods has been one of the biggest success stories of the post-crash era, an almost inexplicable outcome: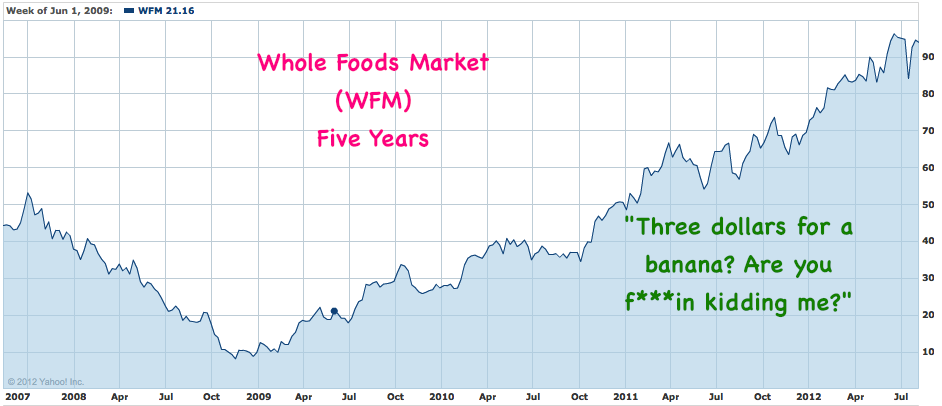 Whole Foods not only survived the recession but they've thrived on it.  Granted, the high-end consumer was in okay shape throughout but there was something else happening here.  They were able to clearly iterate their value proposition to the middle class consumer at a time when every spent dollar began to mean something again.  They ramped up their own house brand offering more SKUs than ever (which kept margins high) and cut some of the more egregious prices in the store to hang on to loyal customers.  This strategy, juxtaposed with the depressing, linoleum-and-fluorescent experience of shopping at a mass-market grocery store apparently did the trick.  The customers kept coming and new stores were rolled out while many other chain stores retrenched.
Walter Robb is part of the five-person executive committee that guides the company and I really loved this profile of him in BusinessWeek…
The nickname you've gotten in some places is "Whole Paycheck." How do you counter that?
We realized in January or February of 2008 that we were too expensive, as people perceived it. The price-value thing was not where we needed to be, and we started losing business. Then you get to a question about what quality is worth to you. We have the highest quality standards in the supermarket industry, bar none. They are transparent. They are up there on the website. They're years of work. There is a cost to food that's produced in that manner. If it's worth it to you, great. If it's not, we understand. We are not all things to all people. You can buy cheap pink slime if you want and you'll pay less, but you're going to get what you get. So often people reduce the conversation to the simple price, when in fact it's a more complex, multidimensional conversation about price and quality. We've brought prices down. And people are telling us at the checkout stand. They notice the effort, and they appreciate it, and they're rewarding us with their business.
Click over for the rest, including the part where he addresses Wall Street corruption and disses a few competitors.
Walter Robb
 on 
Whole Foods' Recession Lessons (BusinessWeek)