There are a lot of reasons to dislike the current rally underway that's brought stocks once again to within Snooking distances of major highs. My inbox is full of them, including several subject lines that read  "re: this bullshit rally"
I have my reasons to be skeptical, too.  While we are not 100 percent fully invested, we are long stocks.  I talked about why here.
And while there are many reasons to be skeptical, there are three reasons to respect what you're seeing in front of you:
1.  Sector rotations in an uptrend are healthy and we are seeing a delicious one from staples and other defensive areas into the beaten-down cyclicals.  This is what a bull would want to see obviously.
2.  It's not an Apple Rally.  We've seen too many of those, lord knows.  But $AAPL is actually down today.  This is bigger than Apple.
3.  Advance / Decline is a crucial indicator, maybe one of the most crucial, in terms of trend following and gauging the health of a move up.  And the A/D line suggests broad participation.  I show it to you (for the NYSE Comp) below along with the underlying NYSE composite price action (and the 50-day thrown in for good measure):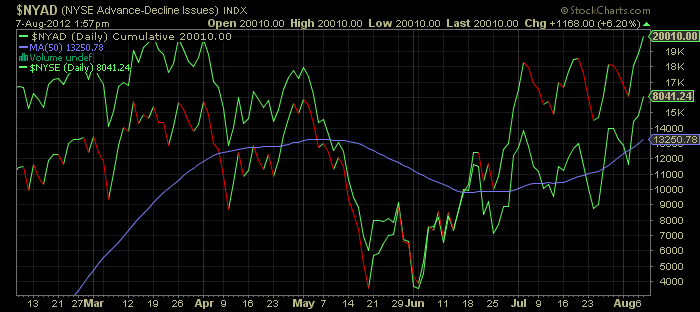 I'm not telling you that this push toward the highs isn't built on fairy dust and unicorn hooves, it is.  But there are some notable reasons why it should be respected, including the three above.