A few things on this before we get to the really exciting news…
First, this is the first story I was told when I got into the business as a college freshman coldcalling over the summer, and I witnessed a lot of it go down in the later stages personally.  I knew all of the players and I have many friends who were actually there, young guys being taught everything you're not supposed to do in the brokerage business by the big shots they thought were gods.
Second, we need this film to be doubly good to make up for the horror story that was Wall Street 2.  I know they've been kicking this film idea around for awhile, I'm guessing the ongoing financial scandalpalooza combined with the success of the film Margin Call finally kicked it into gear.  It's finally happening.
Third, in my book I've published the only known, complete version of the scripts that Jordan Belfort and his Stratton Oakmont gang used to such devastating effect in the mid-90's.  And believe it or not, there are still thousands of brokers down on Wall and out in Jersey/Long Island still using them.  Jordan's book is a lot more about his personal quest to do every ounce of cocaine on earth while somehow keeping his sanity and business and family together under the eye of the regulators and police.  It's a great book even though he doesn't much get into the mechanics of how clients were defrauded on a daily basis, but I cover that in Backstage Wall Street.
With that said, I turn your attention to the fact that Jon Favreau has now joined the cast of The Wolf of Wall Street, which was already fully loaded with an amazing set of actors – from Leo to Jonah.  Not to mention Marty Scorsese at the helm.
Supposedly they begin filming in NYC this August.
The Vulture has been covering this film's pre-production very well: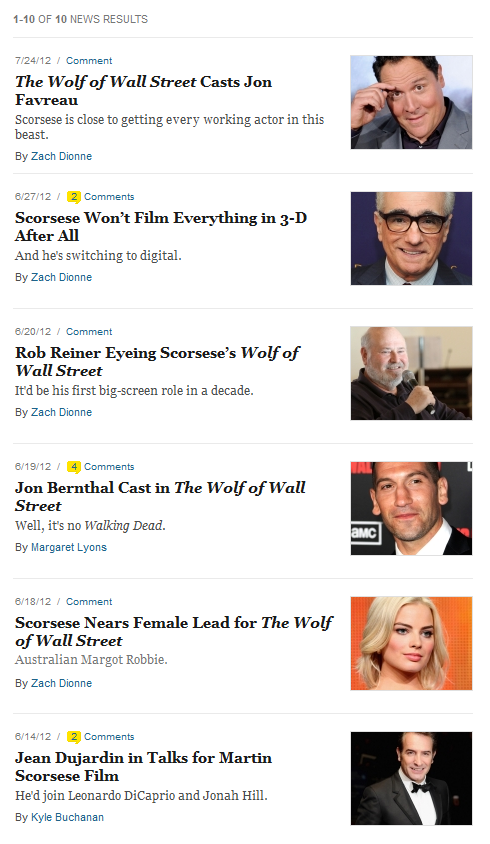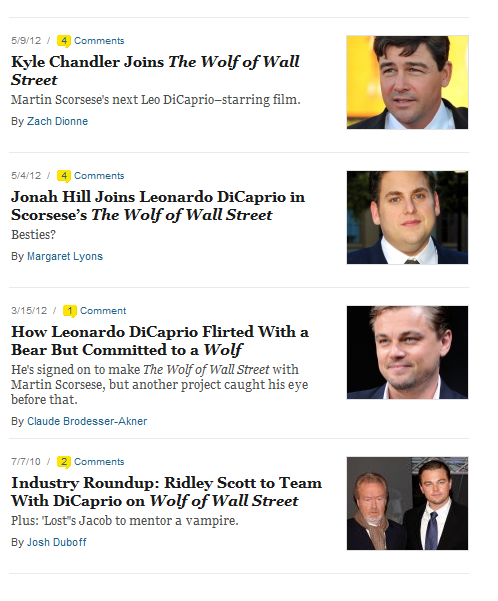 Check out the Vulture for more.
Also:
Backstage Wall Street is now $9.99 for Kindle, catch the excitement!
Jordan Belfort's book, the source material, was great, too