361 Capital portfolio manager, Blaine Rollins, CFA, previously manager of the Janus Fund, writes a weekly update looking back on major moves, macro-trends and economic data points. The 361 Capital Weekly Research Briefing summarizes the latest market news along with some interesting facts and a touch of humor.
361 Capital is a provider of alternative investment mutual funds, separate accounts, and limited partnerships to institutions, financial intermediaries, and high-net-worth investors
361 Capital Weekly Research Briefing
July 9, 2012
Timely perspectives from the 361 Capital research & portfolio management team
Written by Blaine Rollins, CFA
---
One step forward, two steps backward…
The markets tried to get upward traction post the Greek elections and the EU Summit, but they just couldn't hide the fact that the global economy is still slowing down. Governments around the world are failing to inject any confidence into the system, and the only lever that they have been pulling is attached to the currency presses. Lower rates will do nothing to create growth at this point, and its only impact has been to hurt those who have prudently saved for retirement. There are several ways to efficiently create economic and job growth in the U.S. and around the world. We are approaching the final innings for those leaders to listen to the best ideas available before the financial markets remind them just how difficult it will be to get re-elected.
Friday's jobs number was the 3rd consecutive weak monthly reading.
Payroll growth needs to be twice the reported figure just to absorb population and immigration growth.

As soon as the June jobs data was released, the equity markets tanked and the economists expressed their displeasure…
"I hate to say it, especially as it sounds so fatalistic, but it is the unfortunate reality for now: Friday's weak job report does more than confirm the prospects of a sub-2 percent growing U.S. economy with unusually high and stubborn unemployment; it also signals even greater fragility ahead for both the country and the global economy. This report will make households and companies less optimistic about their future, accentuate political dysfunction, and increase the cost of inadequate policy responses and poor global coordination. Until all this serves as enough of a wake-up call for short-sighted politicians in Congress, it will make people like me worry even more about the well-being of both current and future generations." (FT/Mohamed El-Erian)
You know the outlook for jobs is bleak when even college kids are shifting their votes to the right…
At age 16, Des Moines student Megan La Suer witnessed the hubbub of the 2008 Democratic caucuses with her parents, both Obama backers. "People were going crazy," she said. "Everybody was really excited." La Suer was too young to vote in 2008 or she would have cast a ballot for Obama, she said. But after studying health care and economics at the University of Iowa, she came to her own conclusions about the federal budget and economic policy. "The big thing is I want to have a job when I graduate," said La Suer, now 20. "Obama has promised that, and I don't think we've seen the results that he's promised." (USAToday)
And about that recent pullback in Spanish bond yields…Never mind.


As more and more analysis and talk comes out of the EU Summit from a week ago, it is becoming more clear that forward progress will be difficult. If you would like the full torture of reading the EU statement, it is linked here: (EU Statement). But still worth keeping a close eye on the Spanish and Italian bond markets.
Keep the Deutschemarks in the drawer for now…
The head of Allianz said if Germany were to return to the Deutschemark it would send GDP plunging and send the country into a deep depression. GDP ultimately would fall 25%. Such a move would be very irresponsible according to the CEO. (Reuters)
But maybe dust off the Markkas…
Finland would rather leave the Euro zone than pay down the debt of other countries in the currency bloc, Finnish Finance Minister Jutta Urpilainen said in a newspaper interview Friday. "Finland is committed to being a member of the euro zone, and we think that the euro is useful for Finland," Urpilainen told Financial Daily Kauppalehti, adding though that "Finland will not hang itself to the euro at any cost and we are prepared for all scenarios."…"Collective responsibility for other countries' debt, economics and risks; this is not what we should be prepared for." (WSJ)
As for the markets this week, here were the most interesting movers:
Apple Inc./AAPL +3.8% (that didn't take long…here comes the Mini iPad)

Ag Commodities/DBA +2.9% (drought conditions in most of the Midwest)

H.K., Singapore, Thailand/EWH, EWS, THD +3.7-2.4% (SE Asian has a bounce)

Home Construction/ITB +2.2%

20+ Yr U.S. Treasury/TLT +2.0%

Small Cap/IWM +1.1% > Nasdaq100/QQQ -0.1% > Large Cap/SPY -0.5%

Semiconductors/SMH -2.4% (some ugly earnings pre-releases in the sector)

Copper/JJC -2.6% (Dr. Copper returning part of its bounce)

Germany/EWG -2.9% (Plan B to save the Euro must be Germany buys it all)

Euro/FXE -3.0% (falls to a new 1 year low as hope fades)

Italy/EWI -6.1% (just following their bond market lower)

Spain/EWP -7.4% (ditto)
Contrarians will be shorting TLT this week?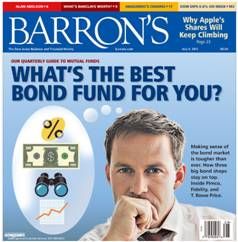 What the "smartest man" in the world is doing with his money…
"So what am I doing with my money? It is hard to hide in stocks. Even Danone is reporting disappointing earnings; people are so worried they aren't even buying yogurt. The French auto companies are in trouble. I think gold is going much higher. I am buying energy stocks because I want to own something real. Preserving capital is my focus now, not making money, but I like IBM and Apple. Also some Swiss multi-nationals. If Obama wins in November the market will go down. A Romney victory will create a rally, but once he gets into office he will find there is not much he can do to make things better." (Blackstone/ByronWien)
Great news for retirees (and every citizen) in Tennessee…
States are competing for wealthy retirees and are enticing them with tax breaks. Last month, Tennessee lawmakers cut taxes to keep wealthy retirees in the state and to woo others. In separate bills, Tennessee lawmakers made significant changes to Tennessee's gift and estate taxes. They phased out the estate tax over four years. They repealed the gift tax retroactive to January 1, 2012. Lawmakers also reduced the food tax from 5.5% to 5.25%. "Retirees evaluating tax-friendly states will now view Tennessee much more favorably," said Jason E. Havens, a board-certified lawyer who also serves as General Counsel and Editor-in-Chief of WealthCounsel. (Forbes)
As oil prices dive, the country most in need of Aladdin and his magic lamp is…
Iran says prices below $100/barrel are not acceptable.
Falling crude oil, plunging natural gas, and shaking govt. subsidies also rough on the solar industry…
General Electric Co. has told state and local officials that it plans to postpone construction of its solar panel plant in Aurora, CO by 14-18 months as the price of solar cells has plummeted. The Primestar plant, to be located near Interstate 70 and Tower Road, was set to become the largest solar panel factory in the county and employ 335 people. "It is a take-a-breath moment," said Tom Clark, chief executive of the Metro Denver Economic Development Corp. "They are taking stock of a rapidly changing market." (The Denver Post)
Quote of the week…
"We were the poster boys of prosperity, and we're now the poster boys, in some ways, of austerity." (Ciarán Ó hÓgartaigh, Dean of the University College Dublin Business School, talking about Ireland's economy)
Bill Gates' summer reading list…
The Better Angels of our Nature

– Pinker

The Quest

– Yergin

Den Xiaoping and the Transformation of China

– Vogel

The Cost of Hope

– Bennett

Behind the Beautiful Forevers

– Boo

Limits to Growth: The 30-Year Update

– Meadows

Abundance: The Future is Better Than You Think

– Diamandis/Kotler

Thinking, Fast and Slow

– Kahneman

The Man Who Stayed Behind

– Bennett
Hope that everyone had a great and safe 4th of July.

Blaine Rollins, CFA, is managing director, senior portfolio manager and a member of the Investment Committee at 361 Capital. He is responsible for manager due-diligence, investment research, portfolio construction, hedging and trading strategies. Previously Mr. Rollins served as Executive Vice President at Janus Capital Corporation and portfolio manager of the Janus Fund, Janus Balanced Fund, Janus Equity Income Fund, Janus Aspen Growth Portfolio, Janus Advisor Large Cap Growth Fund, and the Janus Triton Fund. A frequent industry speaker, Mr. Rollins earned a Bachelor's degree in Finance from the University of Colorado, and he is a Chartered Financial Analyst.

In the event that you missed a past Research Briefing, here is the archive…
361 Capital Research Briefing Archive