361 Capital portfolio manager, Blaine Rollins, CFA, previously manager of the Janus Fund, writes a weekly update looking back on major moves, macro-trends and economic data points. The 361 Capital Weekly Research Briefing summarizes the latest market news along with some interesting facts and a touch of humor.
361 Capital is a provider of alternative investment mutual funds, separate accounts, and limited partnerships to institutions, financial intermediaries, and high-net-worth investors
361 Capital Weekly Research Briefing
July 2, 2012
Timely perspectives from the 361 Capital research & portfolio management team
Written by Blaine Rollins, CFA
---
Some progress at the EU Summit. Here is a good summary piece…
The measures agreed exceeded market expectations, though based on Merkel's pre-summit assertion that Germany would not be signing up to anything significant, expectations were not difficult to beat. The markets rallied, but was investor euphoria justified, or was this just another EU Summit fudge? Some important steps were taken at this Summit, but none of them game changers and a number of details have yet to be hashed out.
(EconomistMeg)
As a measure of success for the EU, just keep an eye on Spanish bond yields…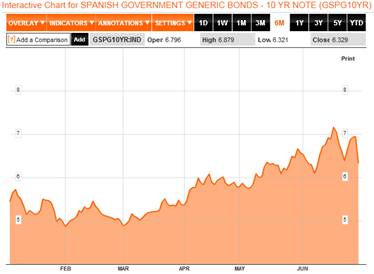 On China, it was the New York Times last week and Barron's this week…

"Get ready for a hard landing with 3% to 4% growth"…
"I'm being conservative when I say that the coming bust in China's real-estate market will be a thousand times that of Dubai," Jim Chanos…
Meanwhile the Shanghai Composite fell 6% in June to make it the worst performing large equity market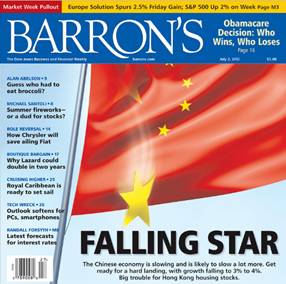 CNBC also finding reasons to worry…
Cash-strapped local governments in China have begun auctioning off fleets of officials' luxury cars as part of efforts to bolster revenues hit by the country's slowdown. Wenzhou, a south-eastern coastal city hit hard by the cooling economy, sold 215 cars at the weekend, fetching Rmb10.6 million ($1.7 million). It plans to sell 1,300 vehicles – 80 percent of the municipal fleet – by the end of the year… Wenzhou is not alone. Across the country, from Kunming in the south to Datong in the north, officials have been tightening their belts, paring back on banquets, curtailing travel, and trimming the fleets of tinted-window luxury cars that have long been standard issue – even in the middle ranks of government.
(CNBC)
SCOTUS makes a decision that could not be more politically down the middle…
The long-anticipated Supreme Court ruling on President Obama's signature legislation, the Affordable Care Act, as expected, created an earthquake across the American political landscape. But the ruling itself – and now the political implications likely to result – was anticipated by almost no one.
(Telegraph)
Quote of the week…
"It is not our job to protect the people from the consequences of their political choices." (Chief Justice Roberts)
A brutal week for company specific earnings data points…
Ford noted Int'l profits "under pressure" due to continued weakness in Europe and competitive pressures in S. America.
Lowe's indicated they still don't see the U.S. housing market reaching a bottom until the middle part of 2013 and expect modest same store sales growth of 1-3%.
Nike's quarter showed slowing revenues and higher inventory levels. China showed a "significant slow-down" in the quarter (China futures orders were +2% vs. street estimates of +13-16%). And on the call, they noted "significant macro-economic head-winds".

Wonder if this CEO dropped his appetizer fork into the hot lava after seeing the Nike results?
Cartier owner Richemont's CEO: "I feel like I'm having a black tie dinner on top of a volcano. Okay? That volcano is China"…"I am not going to say that this is sustainable."
As for the markets this week, here were the most interesting ETF movers:
Home Construction/ITB +10.4%
Oil/USO +6.5% (but was +9.4% move on Friday alone)
Agriculture/DBA +6.4% (see drought chart below)
Agribusiness/MOO +4.9%
Small Cap/IWM +3.0% > Large Cap/SPY +2.1% > Nasdaq100/QQQ +1.2%

And for the entire Q2, the interesting movers were:

Natural Gas/UNG +20.4%
Home Construction/ITB +14.6% (good thing for last week)
20+ Yr U.S. Treasury/TLT +11.8%
Utilities/XLU +6.5%
Spain/EWP -12.9% (but they have the best soccer team in the world)
Brazil/EWZ -18.4%
Oil/USO -18.7%

A glance at the LT valuation trend shows that U.S. Equities are not overvalued…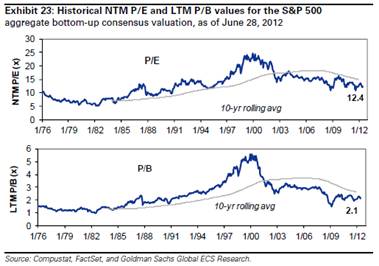 (Goldman Sachs)
Great news for Greece as they found their next several coupon payments…
Former Defense Minister Akis Tsochatzopoulos, who is in pre-trial custody for money laundering, pocketed at least 2 billion euros in kickbacks for defense deals he signed while in office, the legal brief on his case suggests. The 73-year-old ex-minister is believed to have received 81 million euros for the procurement of Russian missiles alone.
(Ekathimerini)
Once the EU finishes bailing out the Spanish banks, they had better look at their Utilities…
…the companies that make up the electricity sector in Spain are running a deficit of 24 billion euros, due to the system of price fixing that is in place – a system that many say simply does not work. One of the problems that the sector is facing is that the design of the price-fixing system was based on continual growth in the market. But due to the crisis, demand for electricity has plummeted since 2008. The association that represents the sector, Unesa, is calling on the government to introduce reforms to the system, and to make these public "as soon as possible" in order to avoid "even greater damage" to the power companies.
(Elpais)
Finally a big acquisition for the markets, and it is an all cash deal…
Bristol-Myers Squibb will acquire Amylin Pharmaceutical for $31.00 per share in cash for an aggregate purchase price of approximately $5.3 billion. The total value of the transaction, including Amylin's net debt and a contractual payment obligation to Eli Lilly, together totaling about $1.7 billion, is approximately $7 billion.
And more good news regarding capital flows into the U.S.
Lennar Corp., one of the U.S.'s largest home builders, is in talks with the China Development Bank for approximately $1.7 billion in capital to jump-start two long-delayed San Francisco projects that would transform two former naval bases into large-scale housing developments, according to people familiar with the discussions.
An email quote that explains why bank stocks will always sell at a discount to the market…
"This is between you and me but really don't tell ANYBODY." (Barclay's banker)
Where retail investor assets are today…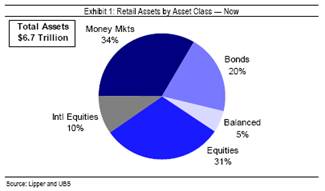 What stage of development are your asset managers in?
One institutional investor, whose firm withdrew its money from Paulson's funds in 2011, says that most hedge funds follow a familiar developmental pattern. During the first stage, funds often improve quickly, but they're also small and therefore difficult for large institutions to invest in. The second stage is when the fund's managers are working hard and have shown some success; that's when the upward curve is steepest, and the most astute investors get in. Stage three, which the institutional investor called "cresting," usually comes after the fund has become quite large and performance starts to drop off. "By stage four, they are starting to buy baseball teams and those kinds of things," says the investor, who asked not to be identified because it might affect his company's relationships with other fund managers. "It's not always the case, but we found that with those stages, performance is usually not as good as it was earlier." The investor adds, "I think for us that was a danger. We consider them a three or four—we knew they definitely weren't a one or two."
(BusinessWeek)
Food inflation is coming…Along with property insurance hikes for those of us in Colorado and Utah…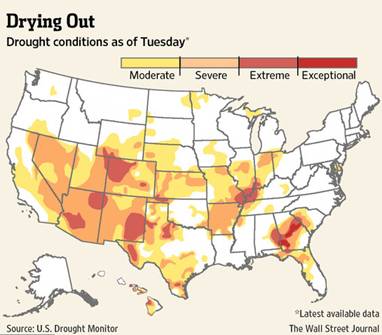 (WSJ)
Corn supplies in the U.S., the world's biggest exporter, are declining at the fastest pace since 1996 just as a Midwest heat wave damages the world's largest harvest for a third consecutive year. Stockpiles were probably 3.168 billion bushels (80.47 million metric tons) on June 1, 47 percent less than on March 1, the average of 22 analyst estimates compiled by Bloomberg shows…"We have a potential disaster developing for the U.S. corn supply," said Peter Meyer, the senior director for agricultural commodities at PIRA Energy Group in New York who cut his corn- crop forecast after surveying fields in Illinois, Indiana and Ohio last week. "This year may be the worst yet."… Crop conditions on June 24 were the worst for that time of year since 1988, with 56 percent rated good or excellent, down from 77 percent on May 18, USDA data show. The National Weather Service said June 21 that unusually warm, dry conditions would probably continue into next month.
(Bloomberg)
Meanwhile, the big tailwind to the U.S. as detailed in a new paper at Yale…
Economy-wide Benefits from Shale Gas Induced Gas Price Reduction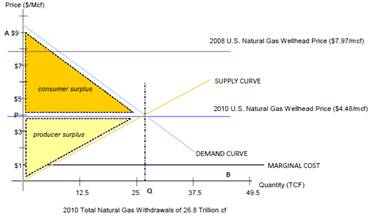 Economic benefit to current gas use…that consumer benefits from the technology of shale gas drilling and new gas production can be expected to exceed $100 billion per year, year in and year out as long as present production rates are maintained. Economic benefit for future switching…the gain to consumers of replacing one barrel of oil with a natural gas fuel equivalent is approximately $70/bbl. Current U.S. consumption of crude oil is approximately 15.0 million bbls per day. Replacing 1.0 million bbls per day of crude oil with the 6 billion cubic feet (bcf") equivalent of natural gas, would generate approximately $25.6 billion ($70/bbl*1 million bbls*365 days) of consumer surplus for the U.S. economy over one year.
("The Arithmetic of Shale Gas", Yale University, 6/15/12)
And the U.S. housing lender of last resort is…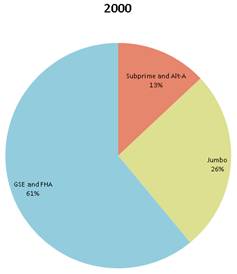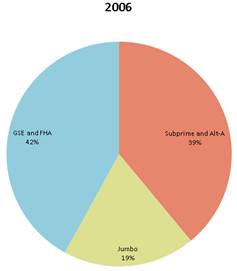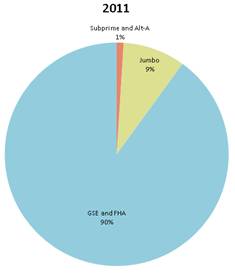 (Sober Look/Inside Mortgage Finance)
Tweet of the week…
@rupertmurdoch: Watch Katie Holmes and Scientology story develop. Something creepy, maybe even evil, about these people.
Number of the week…
It looks like Tom Cruise's unlucky number is 33 – as all three of his ex-wives called it quits when they reached that very same age. Mimi Rogers, Nicole Kidman and Katie Holmes were all in their early thirties when their marriages to the Hollywood leading man took a turn for the worse.
(DailyMail)
Embarrassment of the week…
Parents to Sue LA Unified School District for Not Naming Daughter Valedictorian
(Breitbart)
Just announced Google Nexus 7 gathering strong, positive reviews…
It is not a computer and it isn't an iPad, but for $200, this reading/listening/viewing device will sell well and force Apple to come to market with an equal sized iDevice.

Meanwhile, a tweet talking Waterloo, Ontario…
@JeffMacke: Inspired by $GOOG "Jellybean" $RIMM is renaming their vapor-OS "Cyanide Capsule"
A great graphic and thought…
The Miracle that Is the iPhone (or How Capitalism Can Be Good for the Environment

San Diego looking to the iPad to improve learning in the classroom…
The San Diego Unified School District has purchased nearly 26,000 iPads that it will provide to students in classrooms this fall, making it one of the largest programs of its kind to date. The district has bought $15 million worth of iPads for use in 340 classrooms this fall, according to San Diego's 10 News. The money has come from a voter-approved funding program known as "Proposition S," which sets funds aside for up-to-date technology in the classroom… The district has not indicated exactly what software students will use, though a likely candidate would be Apple's own iBooks software, which was enhanced for digital textbooks with the release of iBooks 2 early this year. The iPad 2 units will be utilized in 5th- and 8th-grade classrooms, as well as some high school classes.
(AppleInsider)
Track and Field's oldest record in the books fell this week…
Steve Prefontaine set it in 1972 at his home track in Eugene for the 5,000 meters (13:22.80). This week Galen Rupp broke Pre's record by 0.13 of a second…also on his home track of Eugene. Go Ducks.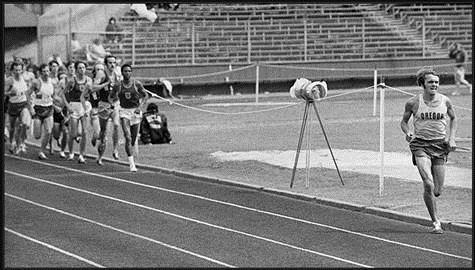 Need to feel older today?
Remember in Back To The Future, when Doc sets the DeLorean to a future date?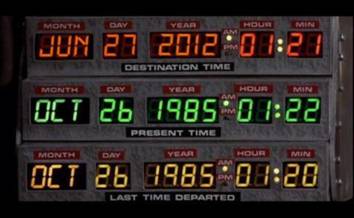 And to someone who never feels older…Happy 75th Tom.
Wall Street hasn't been the same since you left 10 years ago. Maybe time to bring back some of that ageless cowboy energy to the equity markets?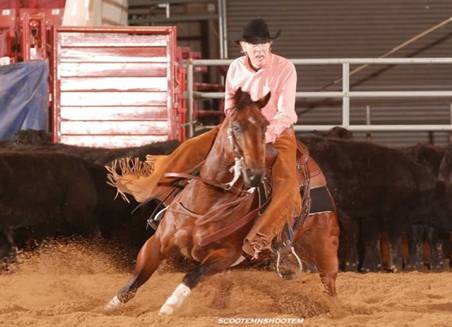 Blaine Rollins, CFA, is managing director, senior portfolio manager and a member of the Investment Committee at 361 Capital. He is responsible for manager due-diligence, investment research, portfolio construction, hedging and trading strategies. Previously Mr. Rollins served as Executive Vice President at Janus Capital Corporation and portfolio manager of the Janus Fund, Janus Balanced Fund, Janus Equity Income Fund, Janus Aspen Growth Portfolio, Janus Advisor Large Cap Growth Fund, and the Janus Triton Fund. A frequent industry speaker, Mr. Rollins earned a Bachelor's degree in Finance from the University of Colorado, and he is a Chartered Financial Analyst.
In the event that you missed a past Research Briefing, here is the archive…
(361 Capital Research Briefing Archive)