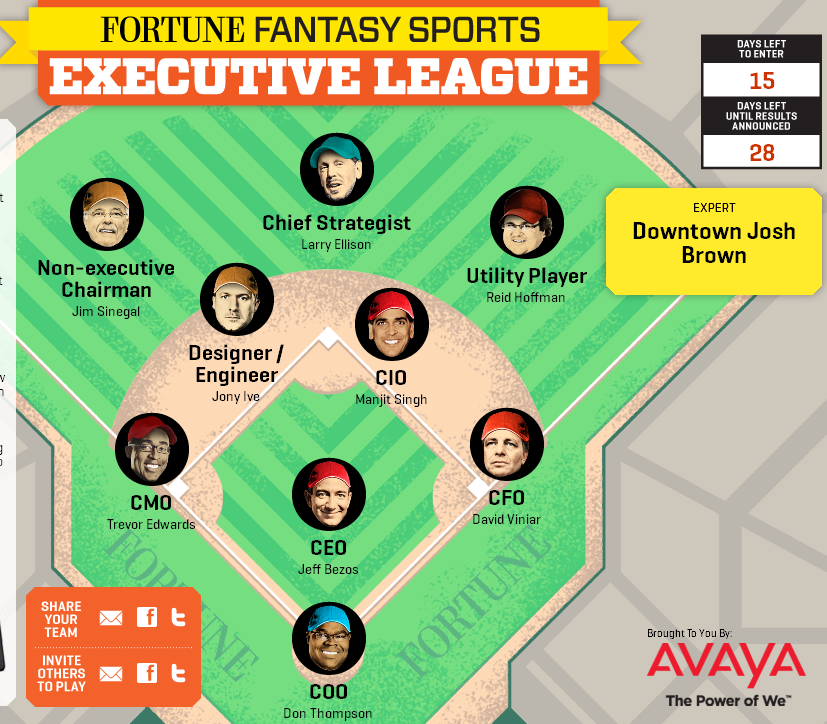 The folks at Fortune put together a fun contest – they tapped 40 "experts" to put together a dream team of executives to run a hypothetical company which will serve as a benchmark against the team that you put together yourself.  It's like Fantasy Business, I guess.
I'm one of the experts and my team was just published – along with the rationale behind my picks…
Josh Brown: My overall strategy was big personalities, big names, and big company experience over other factors. Like most people that play fantasy sports, I was looking for an all-star team. I did think about how they'd perform together but in general, I kept thinking that everyone wants to win anyway, so they'll figure out how to get along.

These are all people with proven wins already. You look at a guy like Jony Ive, for example, he had to work with Steve Jobs for many years. And as much as we lionize Steve Jobs, it's hard to find someone who would say he was a sweet man. So, sure, I have no idea if Jony Ive would play well with Trevor Edwards, but part of being a superstar in business is working well with people, regardless of whether you get along with them.
Follow the link for the rest and to enter your own dream team for the contest:
The @reformedbroker drafts his Executive Dream Team (FORTUNE)