361 Capital portfolio manager, Blaine Rollins, CFA, previously manager of the Janus Fund, writes a weekly update looking back on major moves, macro-trends and economic data points. The 361 Capital Weekly Research Briefing summarizes the latest market news along with some interesting facts and a touch of humor.
361 Capital is a provider of alternative investment mutual funds, separate accounts, and limited partnerships to institutions, financial intermediaries, and high-net-worth investors
361 Capital Weekly Research Briefing
June 25, 2012
Timely perspectives from the 361 Capital research & portfolio management team
Written by Blaine Rollins, CFA
---
Another boring week in the markets…the S&P 500 fell -0.6% and the Nasdaq 100 rose +0.6%.
Of course if your eyes were open during the week, you would have noticed a 3% swing in the S&P 500. Traders may send their thanks to European leaders, the Federal Reserve, the weakening economy and the German Soccer team.

Some good news last week…Spanish bond yields took a pause from their move higher…

But Euro pressures remain…Stop asking for more help, Germany tells Greece
"The ball is now in Greece's court," said German Finance Minister Wolfgang Schaeuble. "It's in their hands to win back the confidence of the people of Europe. They're only going to accomplish that with concrete actions and deeds." The poll of 4,000 people in Germany, France, Spain and Italy showed 78 percent of Germans and 65 percent of French people wanted Greece to leave the euro zone, with 51 percent in Spain and 49 percent in Italy also backing a Greek exit. Big majorities in all four countries, which have a combined population of 254 million, did not expect that Greece would ever repay its bailout loans. The poll, conducted by the Ifop Institute for Bild am Sonntag and leading newspapers in France, Spain and Italy, showed only small minorities in the four states want to scrap the euro and return to their respective national currencies. "The poll shows two things," Schaeuble said. "An overwhelming majority want the euro…and secondly it shows how much trust Greece has forfeited among Europeans." (Reuters)
German Chancellor Angela Merkel comments:
"Each country wants to help but if I am going to call on taxpayers in Germany, I must have guarantees that all is under control. Responsibility and control go hand in hand,"

"If I give money straight to Spanish banks, I can't control what they do. That is how the treaties are written," (Telegraph)

MERKEL SAYS SHE DOES NOT SEE ANY REASON TO SPEAK ABOUT A NEW AID PACKAGE FOR GREECE ON TOP OF THE TWO ALREADY AGREED.

Guess who won the Germany v. Greece match?


(WSJ)
Even Jamie Dimon dropped a Euro quote on the Hill this week…
"I am far more worried about Europe than I am about this trading position. I hope the legislators over there can overcome their complications, and keep the euro zone alive." Jamie Dimon, JPMorgan CEO
But of course this is all the fault of the U.S…
"Why should North Americans risk their assets to help Europe?" (Canadian journalist) "This crisis was not originated in Europe… seeing as you mention North America, this crisis originated in North America and much of our financial sector was contaminated by, how can I put it, unorthodox practices, from some sectors of the financial market." (EU commission president José Manuel Barroso)
…It has nothing to do with the acquired debt, early retirement age or 3 months of annual vacation for Europeans…
A junior minister in the Italian government, Gianfranco Polillo, has claimed that his country's factory workers are taking three months of holiday a year. Polillo said he had reached this conclusion by dividing the total number of hours worked in Italy by the number of workers. "And I discovered that an [average] worker is in the factory for nine months and for three months, more or less, on holiday." The three months presumably includes sick leave, but in an interview published by La Repubblica this morning Polillo made it quite clear that he thought that was not the whole story. "We're in the Bel Paese, my dear friend", he said. "That's what they call it, and that's how we plan to be able to continue — accustomed to leisure". The minister proposed that every worker should put in another week's work. The effect, he says, would be to increase Italy's shrinking GDP by a full percentage point. (GuardianUK)
In the meantime, Italy's PM has thrown down an immediate deadline…
Italy's prime minister, Mario Monti, has warned of the apocalyptic consequences of failure at next week's summit of EU leaders, outlining a potential death spiral that could threaten the political and economic future of Europe. The Italian leader is to hold talks with Chancellor Angela Merkel of Germany, the French president, François Hollande, and Spain's prime minister, Mariano Rajoy, in the hope that the single currency's big four countries can pave the way for a breakthrough at next week's meeting. (Guardian)
Meanwhile, economic activity in the U.S. continued to disappoint starting with the Philly Fed Index…
The survey's indicators for general activity, new orders, shipments, and average work hours were all negative this month, suggesting overall declines in business.

(Philadelphia fed)
Philly Fed Number of Employees data point implies a sub-50,000 NFP number for June…


(Harris Private Bank & Business Insider)
Architectural billings index dropped sharply in May. This is a 9-12 month leading indicator for construction.


(mcoscillator)
And some earnings comments last week…
Ryder System, Inc. today revised its earnings guidance for the second quarter and full year 2012 primarily due to lower than expected results in its Fleet Management Solutions business segment. The lower FMS results reflect a reduced demand environment primarily for the commercial rental product line, and actions taken to reduce used vehicle inventories…caused by lower than expected demand and, to a lesser extent, pricing. The Company expects a slower demand environment to continue through 2012.

Darden Restaurants (Olive Garden, Red Lobster, Longhorn Steakhouse)…"We believe the business environment in fiscal 2013 will be similar to that in fiscal 2012, with slow and uneven recovery in both the economy and our industry…Given our expectation that economic recovery will continue to be frustratingly slow in fiscal 2013, we are assuming blended same-restaurant sales growth for the year for our three large casual dining brands, Olive Garden, Red Lobster and LongHorn Steakhouse of between +1% and +2%, which is just below the long-term range we target."

Procter & Gamble trimmed its Q4 guidance in a presentation to a conference in France. Management moderately tamped down earnings and revenue expectations for Q4 due to the impact of the very strong dollar and high commodity costs. The CEO warned that growth in developed markets had dropped off significantly, while in emerging markets various forms of protectionism were crimping sales.

Danone – "Swift Deterioration In Consumption In Southern Europe, Esp. Spain". Since the end of Q1, Danone has faced a swift deterioration in consumption in Southern Europe that has proven steeper than anticipated, especially in Spain.

Recent weaknesses building a difficult outlook for equity prices…


(JPMorgan)
Team Goldman (and many others) were not happy with last week's Fed (in)action…
We are recommending a short position in the S&P 500 Index with a target of 1285 (roughly 5% below current levels) and a stop on a close above 1390. This morning, the Philly Fed print of -16.6, down sequentially and worse than expected, provides further evidence that weakness has extended into June. Although yesterday's FOMC delivered easing as expected, with a dovish statement, positive risk sentiment ahead of the FOMC had already buoyed markets. And we now think, with incremental US monetary policy on hold, the market will need to confront a deteriorating growth picture near term. The risk to our recommendation is that the data soon reverts to the 2-percent growth path our economists expect, that China growth turns, or that European policy-makers' rhetoric buoys risk sentiment further from here, with the upcoming end-of-June summit a focal point on this count. (Goldman Sachs – Published June 21, 2012)
Take note of the updated June 2012 Fed Economic Projections…

One good impact of the slowing global economy, < $3 gas prices will be here soon…
The darkening clouds of the slowing economy could provide a bright spot for consumers: gasoline at $3 a gallon — or less — by autumn. Nationally, regular gasoline averages $3.47 a gallon, down 47 cents from this year's high in April and well below the $5-a-gallon fears fanned earlier this year by energy speculators, Middle East tensions and oil refinery glitches that crimped supplies. Those issues appear to be over, at least for now. Thursday, benchmark West Texas Intermediate crude oil fell 4% to $78.20 a barrel, the lowest price since early October and off 20% year-to-date. Coupled with slumping wholesale gasoline contracts for fall delivery, "the market is suggesting gas below $3 by Halloween, and certainly by Thanksgiving," says Tom Kloza of the Oil Price Information Service. With production up, oil inventories at 21-year highs and tepid consumer demand, gas prices have fallen for 11 weeks. They're expected to drop more sharply after the peak summer driving season. (USAToday)
Still a positive backdrop for housing construction as homes for sale hit a 10 year low…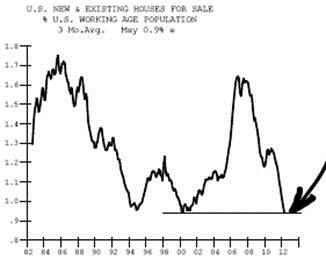 (ISI Group)
For those watching the Supreme Court this week…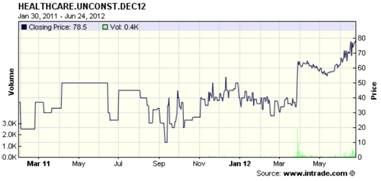 (Intrade – US Supreme Court to rule individual mandate unconstitutional by 31 Dec 2012)
Be careful of trades where there is a clear consensus bet…
Leading hedge fund managers are betting on a significant sell-off in German government bonds in the coming months after a sharp fall in yields on the debt paper driven by a flight to safety in the Eurozone. More than 50 percent of managers polled at an industry conference in Monaco on Tuesday said they expect Bond yields to double within a year. Gavyn Davies, the founder of hedge fund Fulcrum Asset Management, told the Gaim conference that every hedge fund's analytical model was signaling that the German bond market was too expensive…Among those hedge fund managers already shorting German bonds is John Paulson, the U.S. hedge fund manager who rose to prominence in 2007 thanks to correctly betting that the U.S. housing market would collapse. Bill Gross, the chief investment officer of the world's largest bond fund, Pimco, is also bearish on the prospects for German debt. (FT)
Top Morningstar conference quotes last week:
"Equities are boring, bonds are disgusting. It's a difficult environment & the outside world is scary." Jeremy Grantham

"We are dinosaurs. The public has almost given up on stock pickers" Will Danoff, Portfolio Manager of Fidelity Contrafund.

More accurate accounting will reveal the problems of promising 8%/yr in a 1-2%/yr risk free return world…
New accounting rules are likely to show that public pension plans could face hundreds of billions of dollars in additional liabilities, putting new pressure on state and local governments to act. (WSJ)

How the cost of raising kids has changed in the last 50 years…


(USDA via The Atlantic)
For financial advisors interested in this new, untapped market, two words of advice: double strap.
This year, Apple opened up its developers event for the first time to 13- to 17-year-olds. The Cupertino, Calif., company supplied 150 teens with scholarships to cover the event's $1,599 entrance fee, arranged a student lounge with beanbag chairs and Skittles, and invited their parents to chaperone. The teens, or their parents, still had to sign Apple's customary nondisclosure agreements. "We used to think that inviting students as young as 18 years old was great," said Apple's marketing chief, Phil Schiller, in an interview last week. But he said Apple's iPhone and iPad software, called iOS, has lately attracted interest from an even younger group of developers. "We would get emails after the developer conference from students, 16, 15, 14 years old, saying I already have X number of apps in the app store. I'm a developer. Can I take part in this too?" he said. (WSJ)
Tweet of the week..
@dandrezner: Dear Larry Ellison: would you be interested in Crete? All the best, Greece.
Many great sunsets this week, but this photo stood above the others…


(@isardasorensen)

Attend 361 Capital's Executive Briefing on Thursday, June 28 at 4:30p.m. ET
Learn more about 361 Capital and the 361 Managed Futures Strategy
Register Now
Blaine Rollins, CFA, is managing director, senior portfolio manager and a member of the Investment Committee at 361 Capital. He is responsible for manager due-diligence, investment research, portfolio construction, hedging and trading strategies. Previously Mr. Rollins served as Executive Vice President at Janus Capital Corporation and portfolio manager of the Janus Fund, Janus Balanced Fund, Janus Equity Income Fund, Janus Aspen Growth Portfolio, Janus Advisor Large Cap Growth Fund, and the Janus Triton Fund. A frequent industry speaker, Mr. Rollins earned a Bachelor's degree in Finance from the University of Colorado, and he is a Chartered Financial Analyst.
In the event that you missed a past Research Briefing, here is the archive…
(361 Capital Research Briefing Archive)